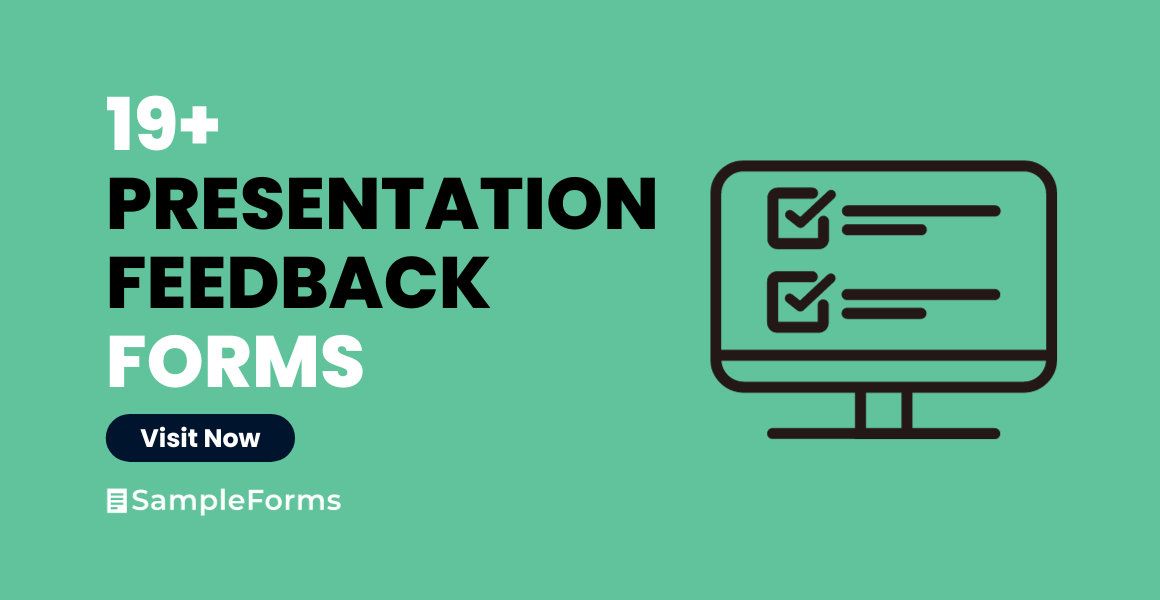 If one were to provide feedback, then that person is providing an opinion on certain products or services. Which is why there are a lot of businesses that make use of feedback forms so that they understand more on how their clients and customers feel on what they are being provided with.
Knowing how to use feedback forms is one thing, but it is different from learning how to create one. So business have to properly design feedback forms that can help them acquire the information that can benefit them. This can also help them create feedback forms that target a specific type of audience that their business caters to, helping them ensure their own success.
Oral Presentation Feedback Forms
Oral Presentation Peer Feedback Form
Generic Oral Presentation Feedback Sheet Form
Presentation Evaluation Feedback Form
Presentation Evaluation Feedback Form Sample
Student Presentation Feedback Form
Student Project Presentation Feedback Form
Honors Day Student Presentation Feedback Form
Group Presentation Feedback Forms
Small Group Presentation Feedback Form
Group Presentation Evaluation Form
Peer Presentation Feedback Forms
Peer Review Student Presentation Form
Peer Presentation Feedback Form
What Is a Presentation Feedback Form?
A presentation feedback form is what supervisors use for when they are required to look into all the details regarding a presentation that they must rate. People who conduct presentations are given a topic to work on, in which they must provide more substance regarding that topic to present to a particular audience.
These forms can help the presenter understand which parts of their presentation were rather very well received, and the parts that need more work. So if you are planning on creating feedback for any presentation, then there are Feedback Form Templates which you may use.
How to Write a Presentation Evaluation
If you are going to evaluate a presentation and have the need to write up a form to record the results, then be sure you place in the following information:
Name of the presenter or presenters
Title of the presentation
Date of when the evaluation was conducted
Date of when the presentation was done
Aspects of the presentation the must be rated
A rating system which shows how these aspects are rated
Comments on what could have been done for improvement
Comments on the parts of the presentation that should be praised
You will have to be sure that all of the information above is included so that you are able to write up and conduct a proper event evaluation. In the event that you are going to have to assess different types of events, you will need to know other information that you are required to place in your evaluation.
To help you with this, there are Feedback Form Examples that cater to all the different types of presentations that you will most likely have to evaluate. You may view any of them so that you are able to understand  how you are going to create one for yourself, or you may decide to make use of the examples available.
Presentation Skills Feedback Forms
Seminar Presentation Skills Feedback Form
Presentation Observation Feedback Form
Presentation Observation Feedback Form Sample
Presentation Audience Feedback Forms
Audience Feedback Form Sample
Assessed Presentation Audience Feedback Form
General Feedback Forms
Speaker Feedback Survey Form
Customer Feedback Form
Paper Presentation Feedback Form
The Importance of Presentation Feedback Forms
Presenters who acquire feedback through these forms can benefit greatly. It is similar to when acquiring the results of Training Feedback Forms wherein you gain a better understanding on your performance. By gaining feedback, you are able to understand whether or not you were able to get the point of the presentation across.
This can also help the presenter to understand the methods in which they presented their topic, and whether or not they were suitable for the discussion.
As the evaluator, using these forms can help point out the problems found in any presentation. These forms can allow the evaluator to provide details of the issues regarding how the presenter explained the topic, or other aspects of the presentation such as the use of visual aids and other equipment.
This also gives the evaluator the opportunity to present ideas and advice on how these issued can be solved, thus helping the presenter prepare for future evaluations.
Criteria for Presentation Feedback
If you are to provide feedback on any type of presentation, then it is best to rate the following:
Organization. You will have to look at how the presenter was able to structure the presentation. See if the presenter was able to get the point of the subject across clearly, as well as determining whether or not the flow of the transition of information was well received.
Knowledge on the Topic. It is very important that the presenter has a good grasp on whatever topic he or she wishes to explain to the audience. So rate whether the presenter did in depth-research on the topic, as well as being able to properly express the topic with detailed information.
Creativity. If the presentation allows for it, then properly rate how the presenter was able to make use of things such as visual aids or any other method in which the person was able to present the idea of the topic.
Conclusion. You will have to determine whether or not the presenter was able to get the point of the topic across in a clear and concise manner, or if the presenter had difficulties as well as lacking information regarding the topic that was assigned.
So in the event that you would like to make use of Free Feedback Forms to create your own presentation feedback, then be sure to follow the criteria above to assist you.
Research Presentation Feedback Forms
Research Presentation Feedback Form in PDF
Research Presentation Feedback Form Sample
Tips for Acquiring a Positive Presentation Feedback
Prepare all you will need ahead of time. You will need to know everything about your topic to ensure that you can provide information that is critical to your presentation.
Know the criteria of the feedback. Doing this can help you understand what will be judged and can help you better prepare.
Practice ahead of time. If you practice on how you are going to discuss about your topic, this gives you the opportunity to fix statements that you might think lacks information, as well as helping you with your nervousness.
If you are going to provide visual aids such as PowerPoint presentations, then be sure that you do so in a way that it is easily viewed by the audience. You will need to know what text, color, and background will suit your presentation, as well as making sure that it is all visible to your audience, and more importantly the evaluator.
Whether you are handed out the results of Teacher Feedback Forms or Seminar Feedback Forms which shows how others through about your performance, you will always strive to attain only positive comments. So be sure to follow those tips to help you gain the feedback you would like.