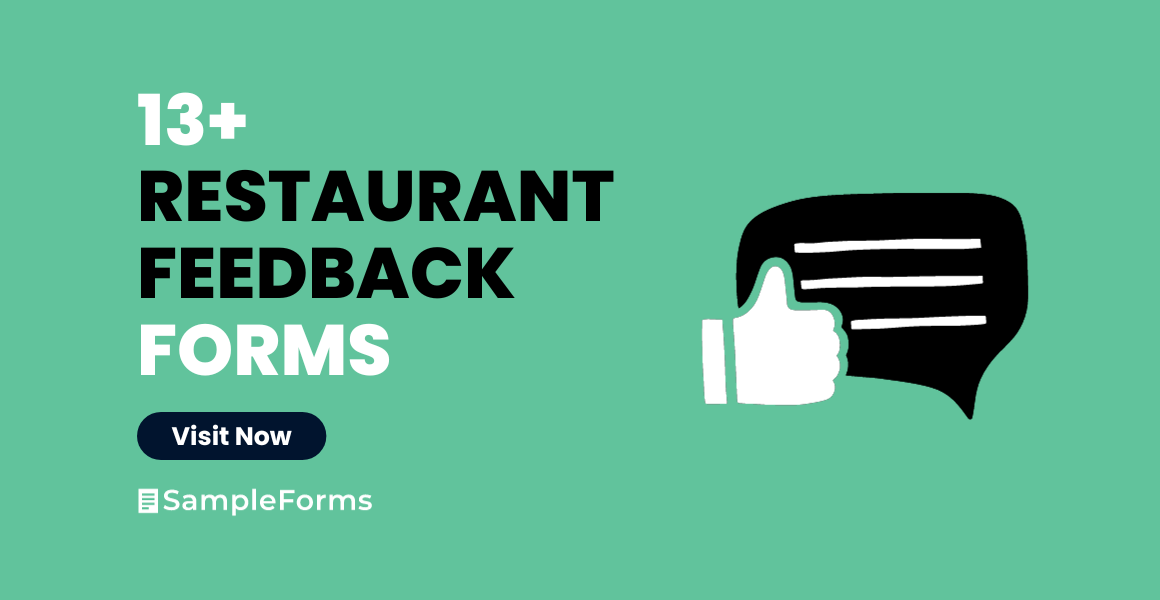 A restaurant business is no easy task and it is a wrong thought to think that an accessible location and skilled cooks are all it takes for a sure success. Various factors need concern there from the acquired revenue, given hospitality, decided price, and more. For a good basis in checking how restaurants are doing, gathering customer feedback helps. A restaurant feedback, specifically, can check and show if the majority of consumers or observers in a resto finds the whole service impressive or poor. That takes place after customers fill out the details through professional restaurant forms available for download.
FREE 13+ Restaurant Feedback Forms in PDF
1. Cafe Customer Feedback Form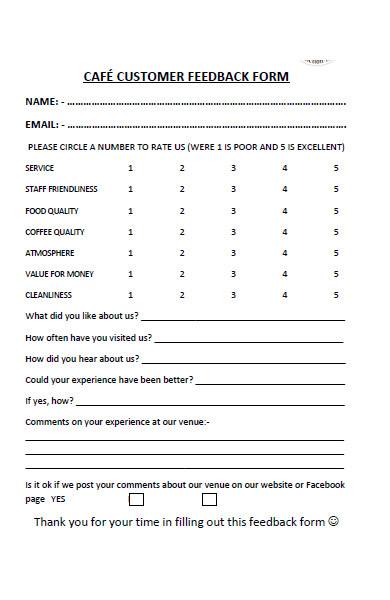 2. Restaurant Customer Feedback Form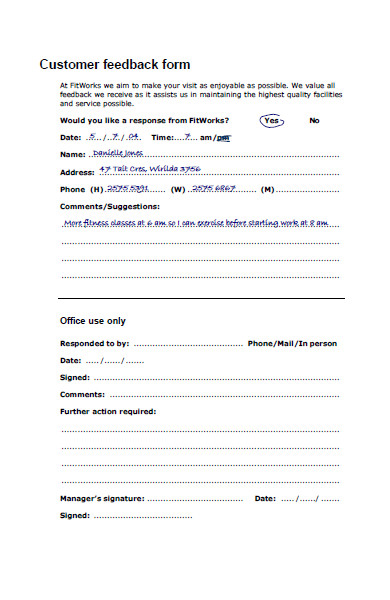 3. Facility Rental Feedback Form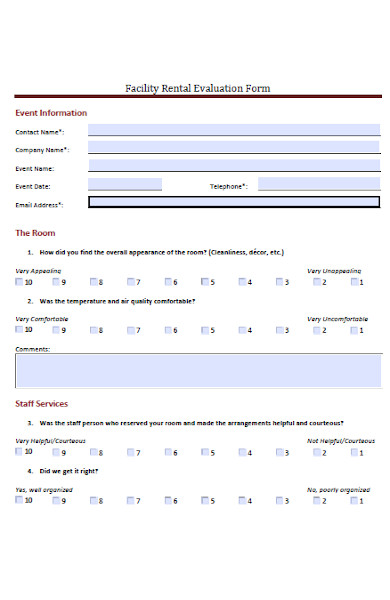 4. Restaurant Service Feedback Form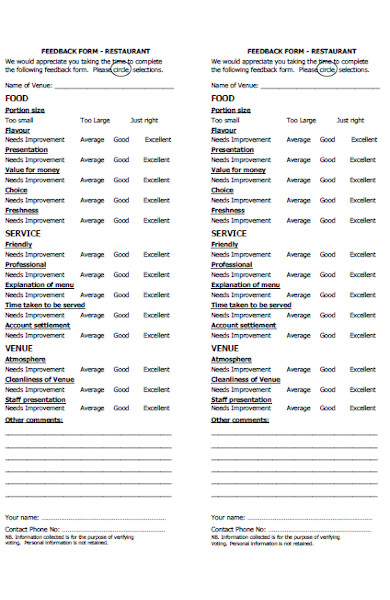 5. Special Functions Feedback Form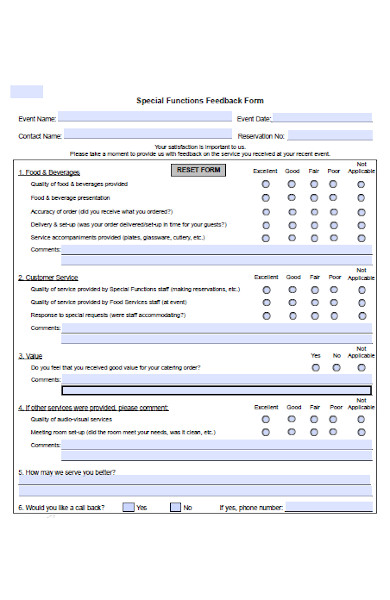 6. Basic Restaurant Feedback Form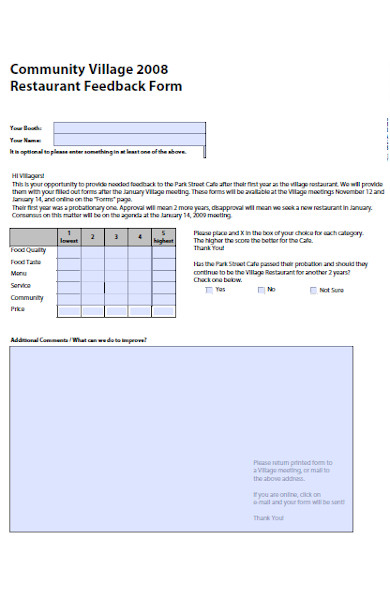 7. Customer Service Feedback Form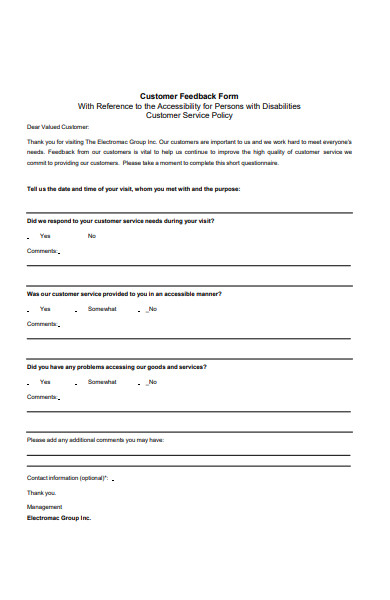 8. Hotel Feedback Form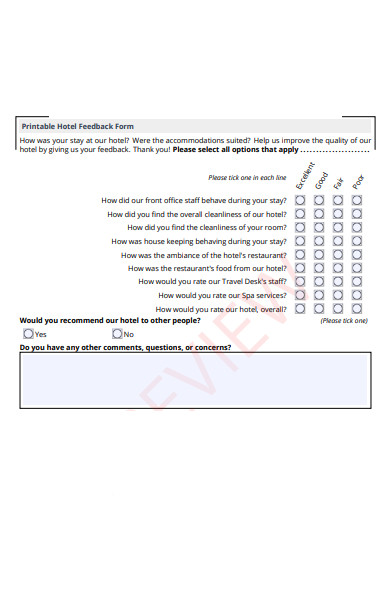 9. Simple Restaurant Feedback Form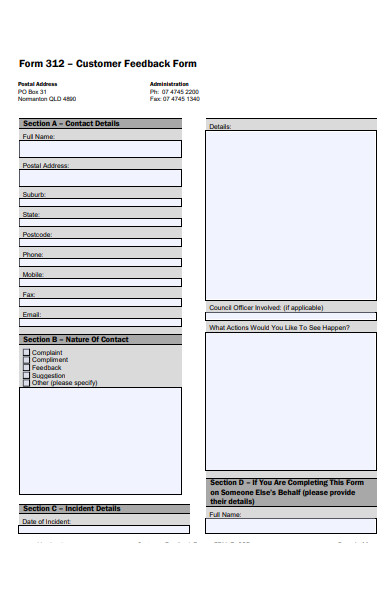 10. Catering Feedback Form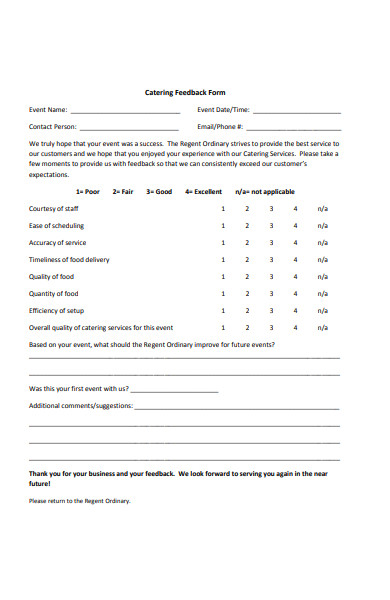 11. Food Feedback Form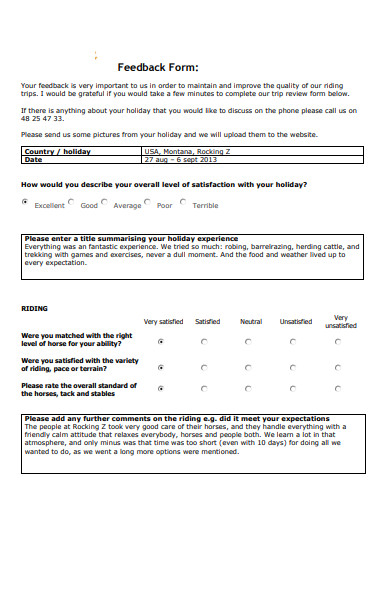 12. Best Restaurant Feedback Form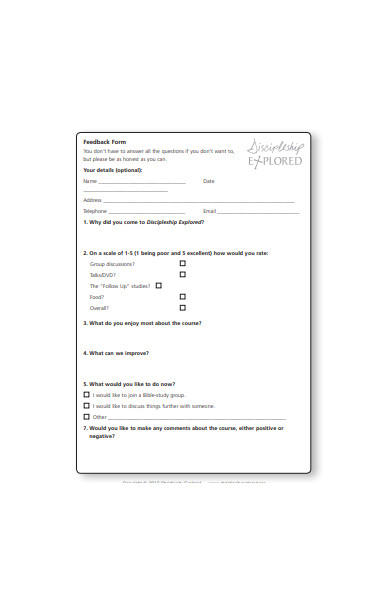 [/ns_row]
How Is a Restaurant Feedback Form Defined?
A feedback form refers to any document that gets used to judge or evaluate a particular topic's performance. Restaurant feedback forms are just the same, except that these documents are focused directly on evaluating restaurants and not other irrelevant issues. Restaurants may require an evaluation so the resto owner can identify if operations are doing well. The same goes for the need to find out the potential problems and issues going on at the resto. Figuring out ways to manage everything properly will be the goal, so a booming business in the food industry runs continuously.
Expect restaurant feedback sheets to contain the criteria for judging, and all information will be grouped accordingly according to what factors get judged in each part. A checklist type of document is a typical example wherein checks get marked to every category which clients find applicable to the restaurant. Giving ratings like a standard survey is another approach wherein anyone taking the sheet can rate in choosing number 1 as the lowest score or five as the highest. After people complete the forms, managers or restaurant owners can gather insights about the results already.
What Are the Benefits of Restaurant Feedback Forms?
A series of advantages can get achieved upon making a good restaurant feedback form. To focus on the prominent benefits will be a great start to identify why such documents are considered beneficial. These known benefits consist of the following:
Makes Monitoring Easier

It is typical for the manager and anyone concerned about a restaurant's performance in customer satisfaction to find ways of monitoring the business. The feedback sheet will contain instructions and criteria of what to check among restaurants until those will get advised adequately. It may turn out ambiguous and time consuming to rely on guesses and random standards. Therefore, it is much better to stick with a more manageable approach for knowing a restaurant's progress via client feedback.

Acts as a Catalyst for Future Solutions

What customers have to say regarding restaurants is nothing to belittle because some comments make a lot of sense. Others could be rude in additional comments, but owners can look into the perspective of such customers as well regarding where they come from. Maybe there is a problem with the restaurant itself or the crew that new solutions become necessary. A restaurant customer complaint may reveal the issue and open a conclusion for new solutions. In other words, the data gathered from the form will eventually help managers learn from the errors and identify the right answers.

Can Get Customized

Feedback forms need not have the same content and information as other standard sheets because customization is welcome. For example, people who prepare a long checklist can edit the whole format into a tabular sheet instead to save space. What qualifications to add on the criteria can also get changed in case there are additional info to include and examples to omit. Having that freedom from editable templates is what makes the forms easy to work with.

Observes Reliable Documentation

All things written there serves as proof of documentation. People may not believe that a restaurant got evaluated through feedback without evidence, and showcasing the documents will shut down those doubts. There can even be some details documented for safekeeping like the restaurant employee performance evaluation. The employees rated by customers never have to view the sheets because others might compare their work from other workers, and it could start some drama at work. Some results get kept confidential anyway. The point is that feedback has a source, which is through the document.
Chick-fil-A Holds Title for the Best Restaurant Chain in America
The American Customer Satisfaction Index or ACSI is an organization that gathers data from thousands of customers. In 2019, ACSI reached around 23,000 clients for their study. As a result of the crowd-favorite restaurant chains, Chick-fil-A remains as the top favorite American restaurant chain. Besides their delicious meals and fame in the food industry, they also held such a title due to serious customer service training. Such a factor eventually helped the business reach sales up to $10.4 billion. The best part is how Chick-fil-A already managed to maintain that title for four years straight. Such a business has beaten Taco Bell, Domino, Subway, Pizza Hut, McDonald's, and many more. What customers prefer matters because their opinions can determine which restaurant chains are better than other businesses out there.
About restaurant feedback sheets, how Chick-fil-A values customer service is worth pointing out. Listening through a client's feedback is one way of showing concern or serving customers anyway. Upon knowing what consumers want, any business can top up their game by adjusting to the consumers' needs that can also help the company. Moreover, figuring out solutions with the help of feedback also makes it easy to handle competition because the food industry is quite robust. Competitors might adapt to beneficial changes leading to customer satisfaction ahead by learning from consumers, so ignoring opinions from people who pay is highly discouraged.
What's Inside Most Restaurant Feedback Forms?
While understanding the definition and benefits of a restaurant feedback form is clear, the next concern lies in familiarizing what becomes found on the form. Different factors are often around but there are crucial parts that are commonly present. Such components are also what completes the said document. These examples are:
Customer Information

It helps to be sure that the one filling out the restaurant feedback documents are real customers because anyone can disguise themselves as a customer. Data gathering might not be a successful process if everything stated there was false. While others can write anonymously, it is more precise to ask for the customer information to identify the name, address, contact details, and other relevant information about the consumers. This part of the sheet is for profiling purposes and ensure that different people are taking the forms.

Judging Criteria

In giving a blank form with only a restaurant feedback title in the document, a customer might have a hard time knowing what to write about. The word feedback itself is too broad, but giving choices through criteria will be much easier since it will contain the information that guides clients on what to input. For example, this part can get divided into commenting about the resto's cleanliness first before talking about the food quality, presentation, or customer service. That way, a comment for each category will be given.

Rating System

After stating the criteria, rating systems follow wherein there are choices provided for clients to select regarding what numerical rating fits every aspect in the restaurant. A good example is when the resto starts serving a new product, and a product launch feedback will matter to check if most individuals loved the food or not. If the rating choices have options of 1-5, then a delicious meal may receive the 5 rating. However, if the presentation is weak, then a one or two rating can be appropriate. It depends on the opinions of customers regarding how much they are willing to give while judging.

Comment Section

Not everything in a restaurant assessment or feedback requires consumers to choose every single time. They deserve to voice out other opinions and additional comments too. Leaving blanks on the forms for comments is appropriate in case consumers want to share more that is absent on the criteria and options provided. There could be long sentences or pictures attached to this part, too, when they want to prove a point. Learning such comments can be an eye-opener for other concerns that require attention.
How to Deal with a Restaurant Feedback Form
Using the best template to customize and set the restaurant feedback sheet makes the process easy, but there are other considerations to pay attention to as well. The making process needs serious attention anyway before creating something that can ruin a company's reputation or cause possible problems afterward. Nobody wants to fail in perfecting these documents for sure. The same goes for how the sheets get used after making those. Here are common ways on how restaurant feedback forms get dealt with:
Step 1. Decide on the Format
Feedback forms get created in different formats, and the common examples are to print or to use it online. The resto crew can send out printed materials of restaurant feedback sheets so clients can write info there before leaving the place. Another idea is to no longer print because forms can get taken online. Other formats to finalize are if the sheets get made through PDF, Google Docs, Apple Pages, and more. It depends on the creator's preference or if the format is making things a lot better upon finalizing the formatting process.
Step 2. Keep the Instructions Clear
Any document meant to get filled out requires some instructions, so those who input any information there will not have to commit errors. How consumers rate through a resto service feedback may need an instruction if it was unmentioned if numbers need to be shaded or encircled. The same goes for mentioning if the number one refers to the lowest or the highest rating as it can get mixed without explicit instructions. At least both consumers and people checking the feedback will have a smoother experience of understanding the total output.
Step 3. Specify the Details for the Criteria
Another common mistake for these sheets is if the criteria seem vague. Maybe the word presentation was merely mentioned, and the rating system options get immediately given on the side. That should be detailed enough for understanding, like in stating if the food presentation is excellent, well-designed, or perhaps pleasant to look at since presentation alone is broad. A better view of each category of such criteria will make it understandable for consumers, so they never have to get wrong in evaluating anymore.
Step 4. Collect the Sheets Again for Evaluation
As the forms get given, the need for data collection must happen after. It will be pointless if they take the sheets without sending those back because how can the documents be evaluated and checked? Most importantly, a review is necessary if the consumer completed filling out the details before collecting since incomplete information may affect the interpretation of results afterward.
Step 5. Review the Results to Form Solutions
After the data collection, evaluating the results comes next. This part is where managers or evaluators can finally conclude if most results and feedback about the restaurant business is doing exceptionally well or perhaps it needs improvement. It becomes expected that forming solutions to gather a much better outcome at some point will be the purpose of maintaining a successful restaurant. Sharing the interpretation of data to the rest of the workers in that resto will help everyone turn aware of the pros and cons, and knowing what to do for better services comes into mind.
Even in a business that is often very busy, like the restaurant, finding time to gather feedback always matters. Indeed, it usually gets stressful to cook for plenty of meals daily, especially during lunch and dinner time, as those are the peak hours in most cases among restaurants. However, underlying problems could be causing the resto to flop despite being able to serve meals without fail. Poor customer service, unsanitary food, overpricing, and other related examples are some negative things that no resto owner would want to hear about his or her business. Thankfully, restaurant feedback forms have a way of informing these owners on the progress of each operation until the result can start enhancing later on.