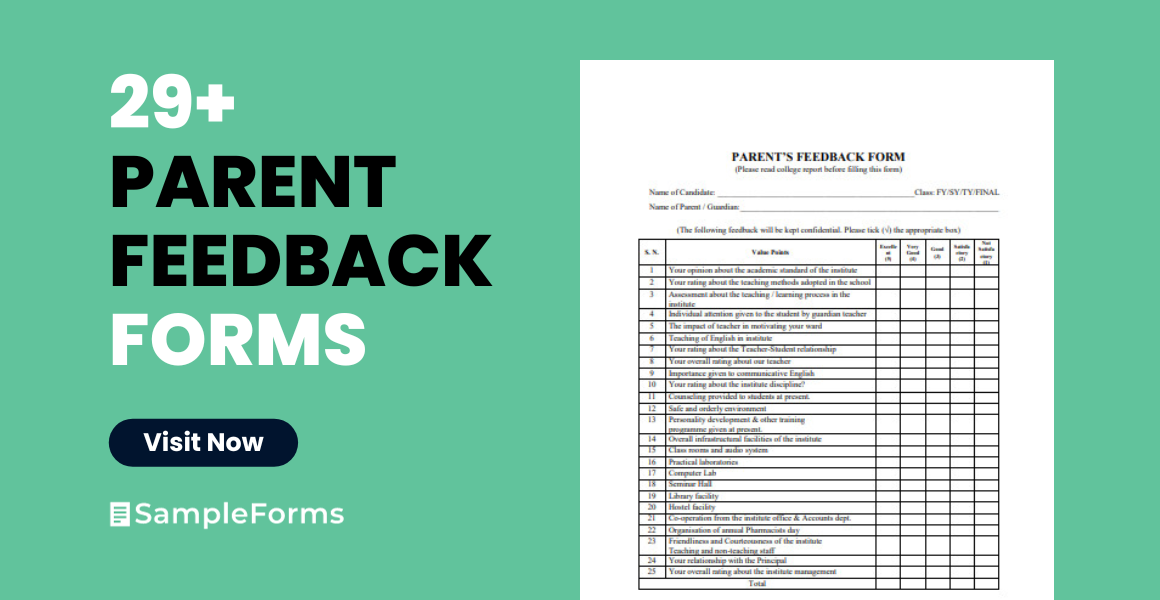 The parents naturally have plenty of concerns for their children, and this includes their kids' education. In school, there is a chance for any parent to speak out about important matters like the students' health, school facilities, or any event. Such reactions can be gathered through parent feedback forms. These forms contain significant information of questions and answers which mothers and fathers can take while basing on their own evaluation. Welcoming these forms will be a great opportunity to be in good terms between parents to the teachers, students, and the school itself.
What is Parent Feedback Form?
A Parent Feedback Form is a tool used by educational institutions to gather opinions and feedback from parents regarding their child's educational experience. This form typically includes questions about the school's curriculum, teaching methods, communication, facilities, and overall environment. It serves as a valuable resource for schools to understand parents' perspectives, identify areas for improvement, and enhance the quality of education and school life for students. The feedback collected can lead to constructive changes and foster a collaborative relationship between parents and the school. You also browse our Feedback Forms for Parents.
What is the best Sample Parent Feedback Form?
A well-designed Parent Feedback Form is crucial for gathering valuable insights from parents about their child's educational experience. Here's an example of an effective Parent Feedback Form:
Parent Feedback Form
School Information
School Name: [__________]
School Year: [__________]
Parent/Guardian Information
Name: [__________]
Relationship to Student: [__________]
Contact Email: [__________]
Contact Phone: [__________]
Student Information
Student's Name: [__________]
Grade/Class: [__________]
Feedback Questions
Overall Satisfaction:

How satisfied are you with your child's overall educational experience at our school?
Very Satisfied
Satisfied
Neutral
Dissatisfied
Very Dissatisfied

Communication:

How effective is the communication between the school and parents?
Very Effective
Effective
Neutral
Ineffective
Very Ineffective

Academic Support:

How satisfied are you with the academic support provided to your child?
Very Satisfied
Satisfied
Neutral
Dissatisfied
Very Dissatisfied

School Environment:

How would you rate the school environment in terms of safety and inclusivity?
Excellent
Good
Average
Below Average
Poor

Teacher Engagement:

How satisfied are you with the level of engagement your child has with their teachers?
Very Satisfied
Satisfied
Neutral
Dissatisfied
Very Dissatisfied

Extracurricular Activities:

How satisfied are you with the variety and quality of extracurricular activities offered?
Very Satisfied
Satisfied
Neutral
Dissatisfied
Very Dissatisfied
Open-Ended Questions
What do you appreciate the most about our school?

[____________________________________________________]

What areas do you think need improvement?

[____________________________________________________]

Any additional comments or suggestions?

[____________________________________________________]
Consent for Follow-Up
I am willing to be contacted for further feedback.
Signature
Parent/Guardian Signature: [______] Date: [  ]
This template can be customized to fit the specific needs of your school. It can be printed for physical distribution or created as an online form using various form-building tools.
29+ Parent Feedback Forms in PDF | Ms Word | Excel
1. Sample Parent Feedback Form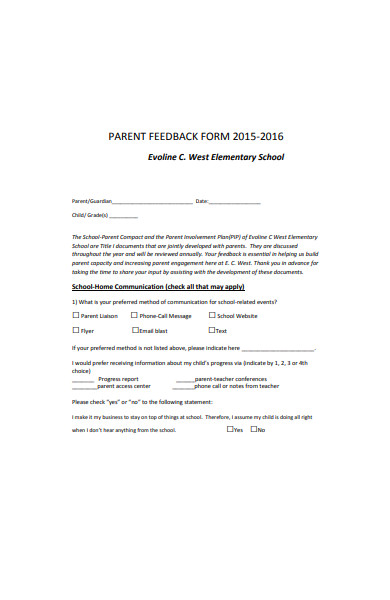 2. Parent Feedback Form to school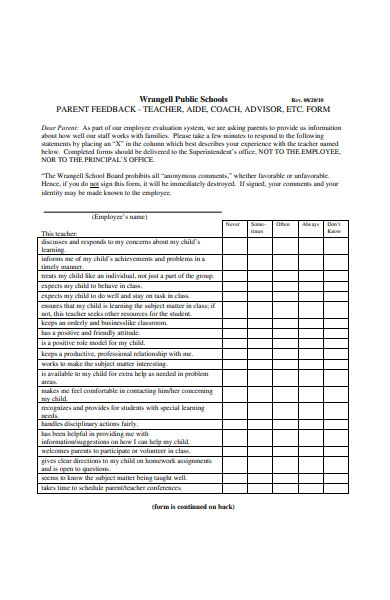 3. Parent Feedback Form Template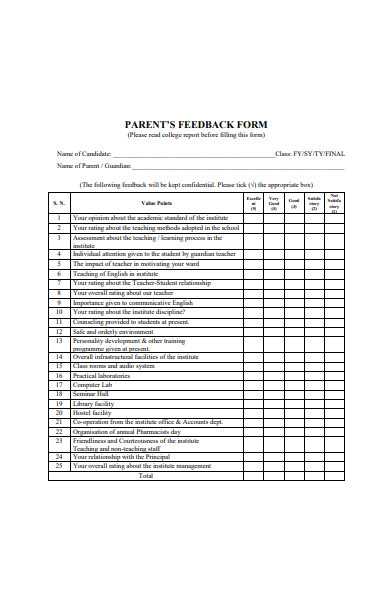 4. Parent Feedback Form in PDF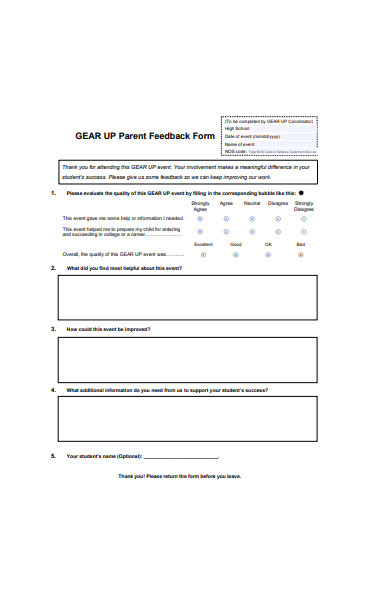 5. Simple Parent Feedback Form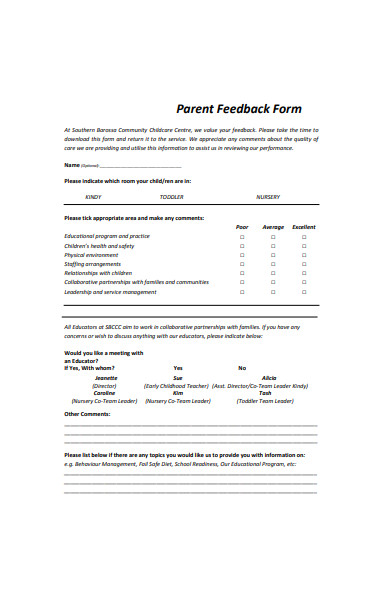 6. Parent Feedback Form to College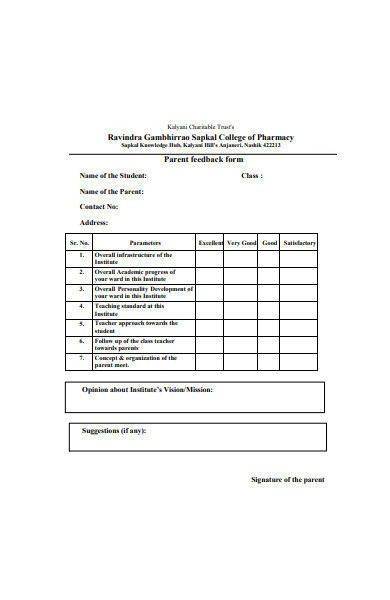 7. Basic Parent Feedback Form Template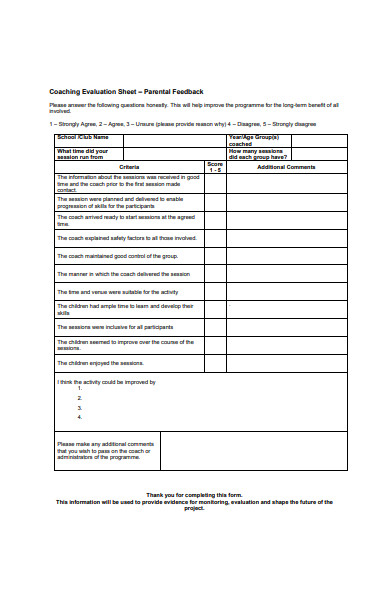 8. Online Parent Feedback Form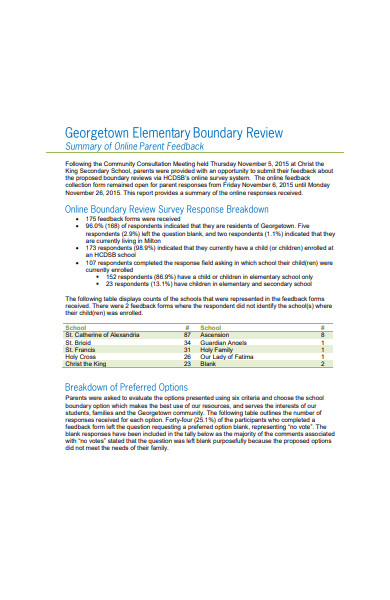 9. Simple Parent Feedback Form in PDF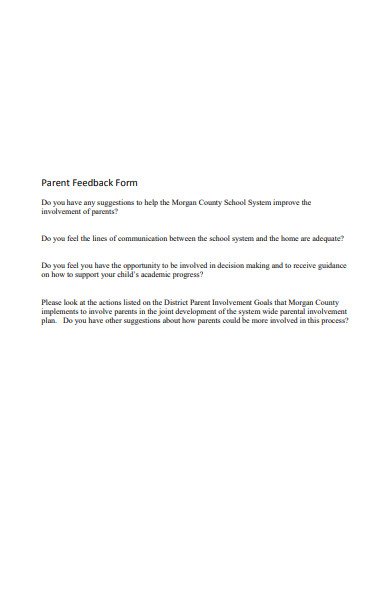 10. Parent Feedback Form to University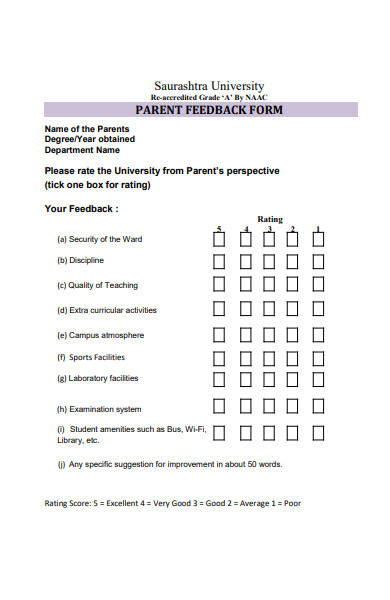 11. Parent and Caregiver Feedback Form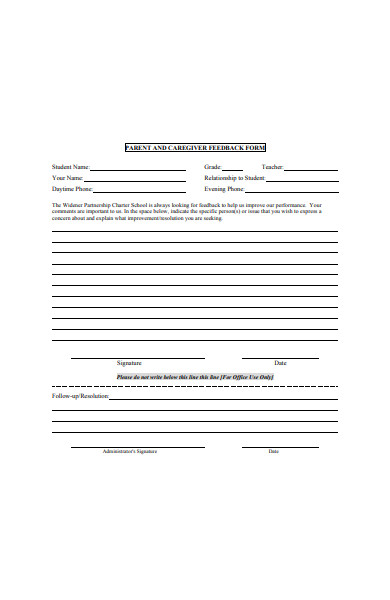 12. Parent to Governor Feedback Form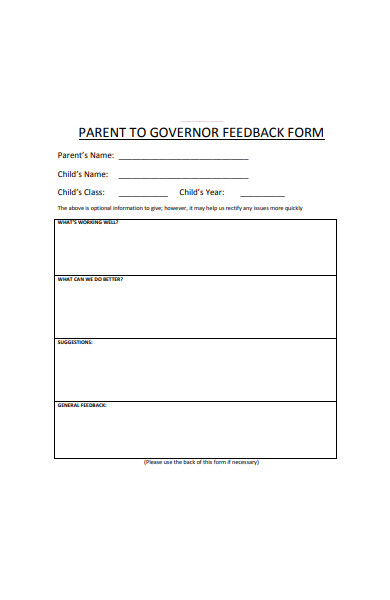 13. First Time Parent Group Feedback Form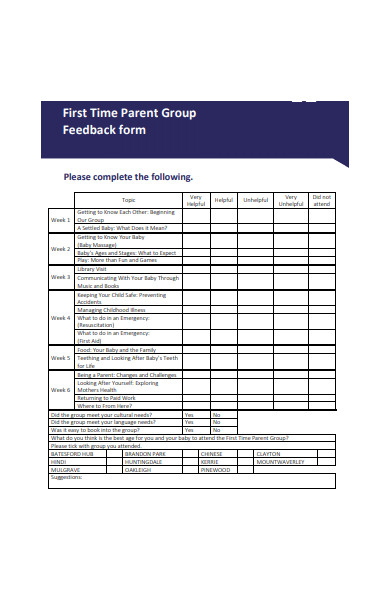 14. Sample Parent Feedback Form Template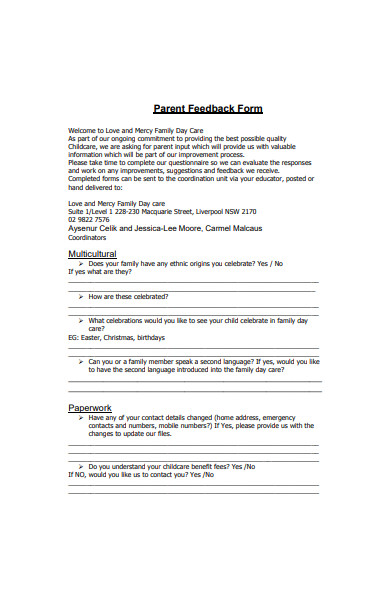 15. Blank Parent Feedback Form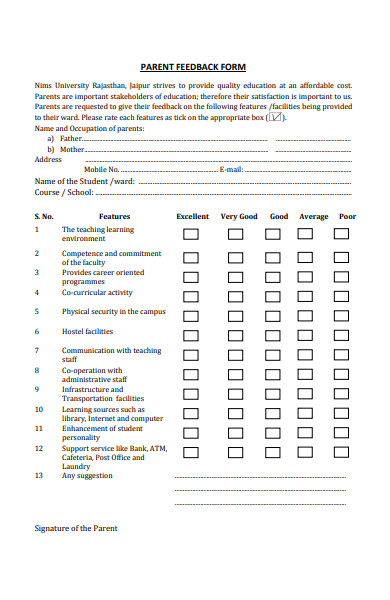 16. Formal Parent Feedback Form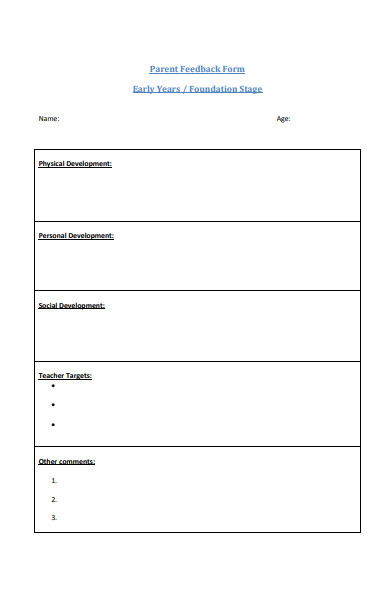 17. Parents and Friends Feedback Form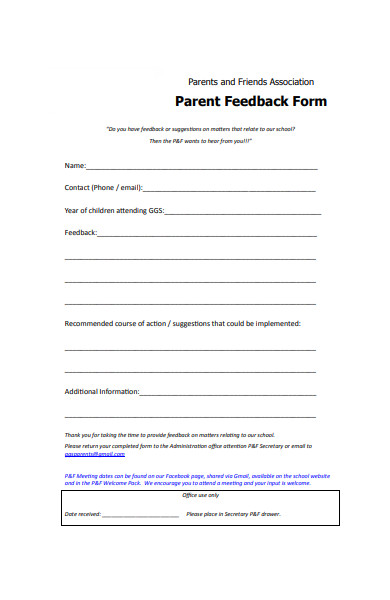 18. General Parent Feedback Form in PDF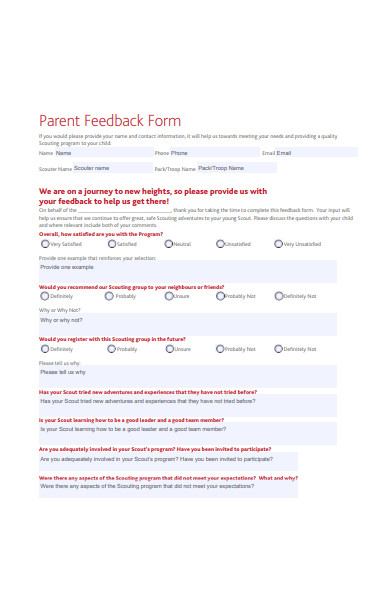 19. Parent or Guardian Feedback Form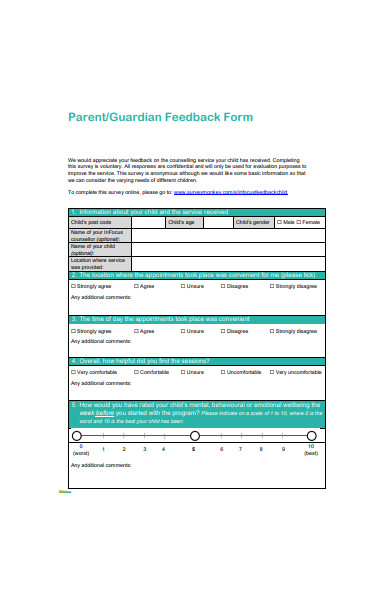 20. Forest School Parent Feedback Form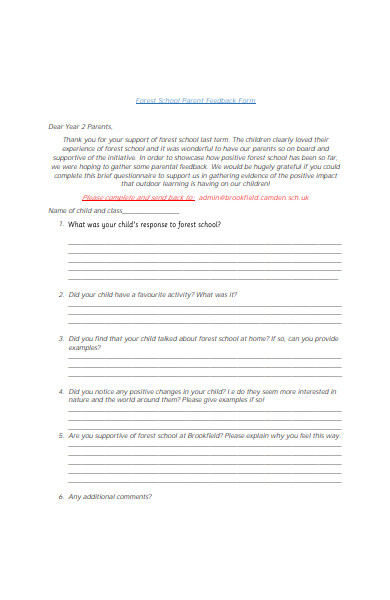 21. Standard Parents Feedback Form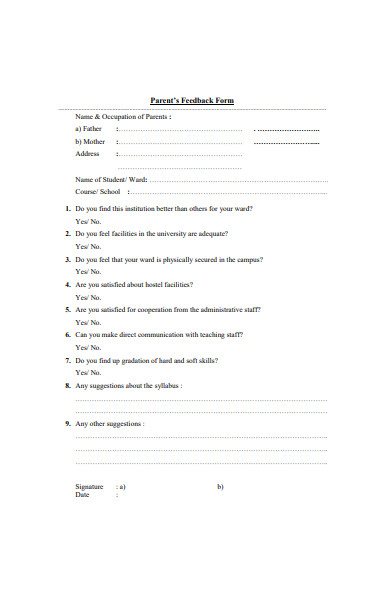 22. Printable Parent Feedback Form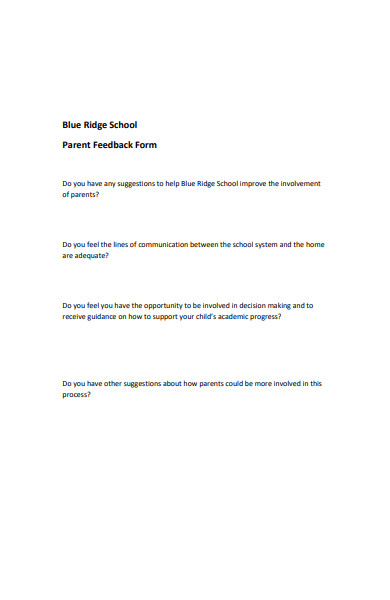 23. Parent Feedback Form Format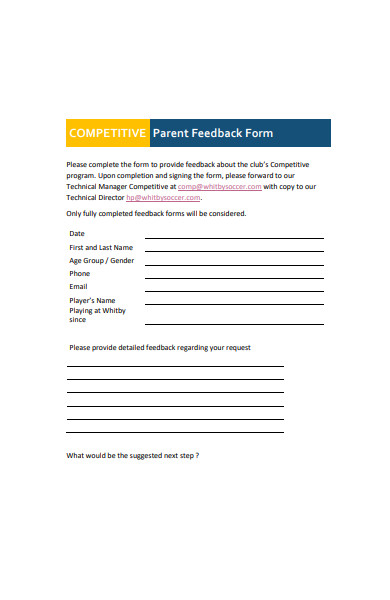 24. General Parent Feedback Form Sample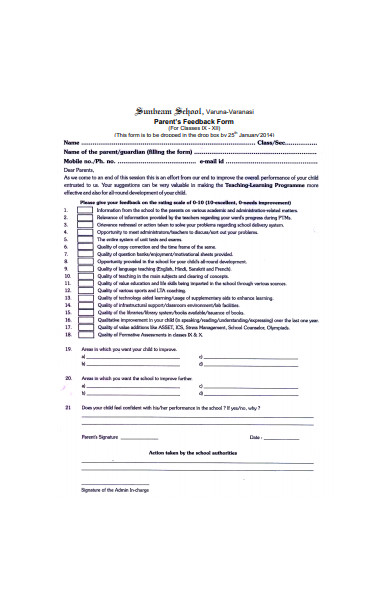 25. Parent Feedback Form to Institute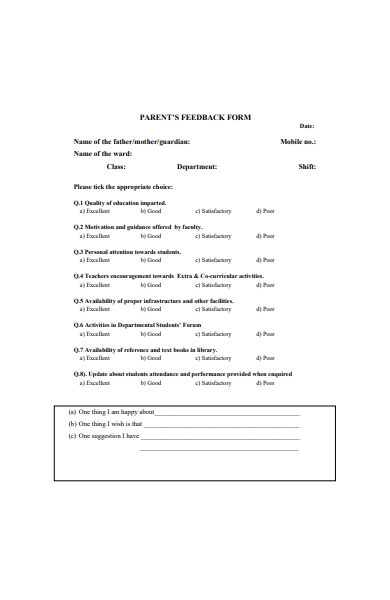 26. Parental Involvement Policy Feedback Form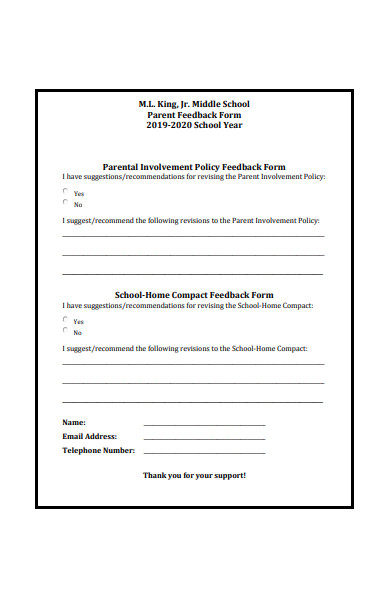 27. Blank Parent Feedback Form in PDF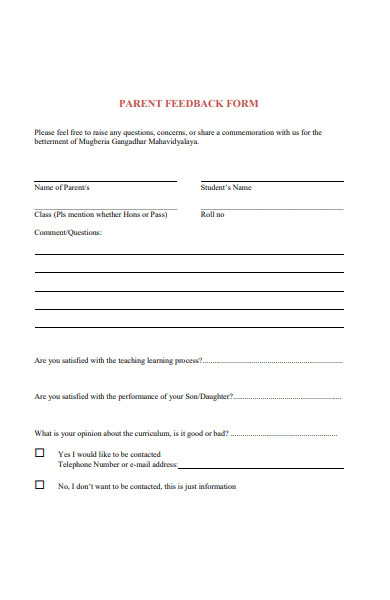 28. Standard Parent Feedback Form Template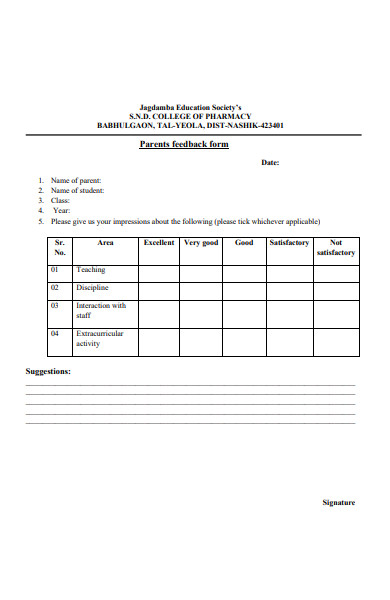 29. Printable Parent Feedback Form Sample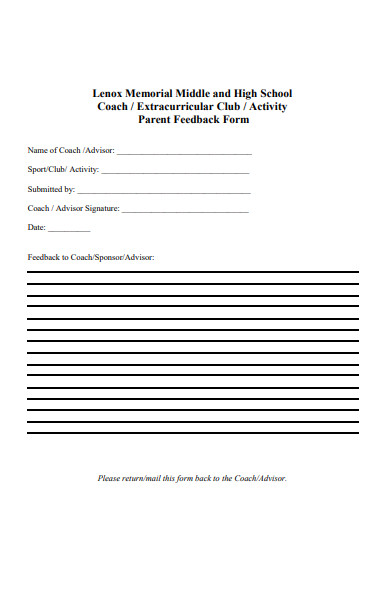 30. Parent Student Feedback Form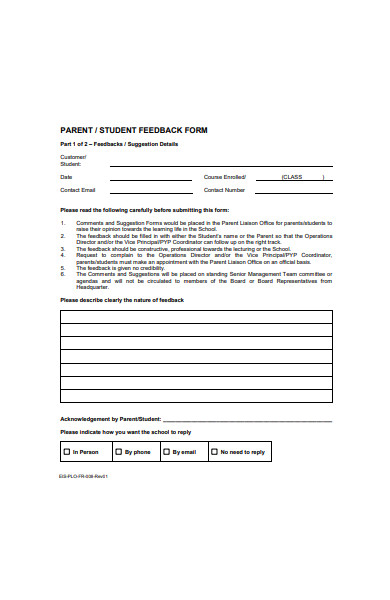 What Are the Benefits of Parent Feedback Forms?
Easy to Work with

A parent feedback sheet observes convenience as it contains instructions, questions, and choices in filling out the form. Parents need not question themselves about what to write because there are guidelines found on the document. Answering what gets asked and choosing from choices is undoubtedly easy, but there are also parts where additional comments get welcomed for more understanding. A typical example is that personal information form will get asked first until options are available to rate if something is excellent, meets expectations, or even poor.

Comparative Analysis

Once organizers gather all the feedback documents from parents, an analysis can get made. People eventually notice if the majority of people were satisfied with particular services or the other way around. It is helpful not only to base on one parent because other people got different opinions. Having plenty of results to compare can be an eye-opener in realizing what most individuals agree and disagree with.

Easy Target

Feedback documents specifically mention that the forms are for the parents so the target will easily get reached. It can be time-consuming to interview every parent for a meeting, so at least all targets get acquired by merely asking for feedback and collecting all the results after. Failing to gather the right target audience will be ineffective because maybe non-parents end up taking the form too, and those will cause miscalculations for the analysis of results. You should also take a look at our Different Formats for Feedback Forms.

Basis for Solutions

Feedback is helpful to be the catalyst for making effective solutions afterward. If results from the feedback assessment turn out good or bad, then there will still be a solution formed. At least what parents write down on the documents have a massive impact on future applications in school like in improving the education and welfare of the kids or students. Making random solutions without results to assess may cause ineffectiveness, so gathering the outcome from feedback is essential.
NYC School Survey's Collaborative Parent-Teacher-Student Feedback
Ensuring effective education is extremely important that various schools are practicing various changes and beneficial solutions to make sure those will happen. One effective solution can get learned from the NYC School Survey feedback for parents, teachers, and students. The Department of Education opened this official survey for feedback to ensure that voices get heard from any parent, teacher, or student concerning the school. There are even different languages and formats used to complete the surveys to accommodate more individuals. The feedback gathered in this survey will eventually be used for the improvement plans to benefit the school.
Relating parent feedback, NYC School Survey's example proves that even parents play a huge part in schools since everything is not about the students and teachers only. It is the parents that often pay and send such students to the institution anyway. By gathering feedback from all subjects, there will be a bunch of things to learn regarding what can make the school better. Refusing to learn from feedback will only have schools or organizations to work with a blind eye for not considering the public's real reaction.
Why Use Parent Feedback Forms?
To Identify Strengths

It is useful for organizers in schools and specific organizations to know about their strengths while basing from the school forms with parents' feedback. Learning about the right side makes them confident that they are doing the right thing for the services, and they must maintain that positive feedback to satisfy parents continuously. For example, if parents see that the classroom and its facilities for students are excellent, then the school organizers will have to boast that feature and maintain such excellence to avoid receiving a bad reputation.

To Recognize Weaknesses

Aside from learning the positive side, discovering the weaknesses is just as important. There is no need to put down parents for being honest if they disliked certain factors like in the unrealistic teaching mechanisms or perhaps the school's poor health service. No matter what reason is considered a weakness, their feedback should be part of the improvement plan until weaknesses transform into strengths after.

To Participate

Many parents might say that they are never really heard among school activities and related topics. This reason is why there is a need to welcome the parents for communication, too, with parent feedback. Having parents' participation will make them feel welcome and recognized. Thus, feedback forms grant that participation and organizers can learn a lot from the comments of these parents.
How to Create a Standard Parent Feedback Form
Step 1. Determine the Focus of the Parent Feedback
Parent feedback documents are easy to make with the whole downloadable and printable templates available. The first concern in the making should start by specifying what such parent feedback focuses at. The form can ask for reactions in a parent-teacher conference evaluation form, a student gathering, or any event. At least any parent writing on the sheet will quickly get the message on what to comment about when the topic gets mentioned ahead.
Step 2. Give Easy Instructions
It is usual for anyone new in giving feedback to wonder on how to provide information through the sheet. Thus, it is a wise choice in keeping instructions visible, so people will know the ways for completing the form correctly. The instruction itself must also be understandable enough, or confusing details could get mentioned. Nobody wants to leave parents with a stressful experience with feedback that is supposed to be easy to understand anyway.
Step 3. Organize the Presentation
Create a lasting impression in terms of the design. Even feedback forms deserve an attractive look, but it needs not to get too creative where people have to try so hard to improve the overall presentation. It is enough when the format and design blend together beautifully because nobody may take certain documents seriously in looking too generic or uninspired. At least an excellent presentation shows that there is effort observed upon making the sheet. You can also see blank forms.
Step 4. Set the Terms
It is significant to provide clear terms on the sheet for awareness about the responsibilities the parents must observe while completing the form. A notable example of what to clarify is the schedule of when to send the feedback form with the complete details. Lesser questions get asked by anyone writing on the sheet if the terms get introduced ahead.
Why Is It Important To Give Parents Feedback?
FAQs
What Makes Feedback Effective?
Feedback is effective when both the ones commenting and those who receive comments aim for improvement solutions. It is not right in simply giving reactions and criticisms through feedback forms because there is room for improvement to learn along the way too. Ensuring a positive outcome next time matters the most, so learning from feedback should not get ignored. You can also see best forms.
How Do I Write Good Feedback?
Good feedback will be based on how information gets presented. The key is to be constructive rather than criticizing only. Focusing on the main points will be better than just adding flowery words. Honesty is also important by stating facts in a friendly manner until any stimulus will turn out to be positive. In addition, you should review our Meeting Feedback Forms.
How Are Feedback and Survey Related?
Feedback and surveys often go hand in hand, and that is because they can function together. Feedback gathers evaluations, and surveys also work as such, except statistics will be involved to count the results from the data collected. They are also both necessary to obtain and analyze the gathered data.
What Makes Parent Feedback Important?
Parent feedback is important because what parents say influences the school. For example, teachers finally learn from the reactions of mothers and fathers about what they want for their kids so the teachers can adjust or maintain certain standards to fulfill their wishes. Expect such feedback to be educative on both the parents' and teachers' part. You may also be interested in our Professional Feedback Forms.
What Are Common Questions Found in Parent Feedback?
Questions depend on what topics get covered. For example, a parent-teacher conference could have happened. Questions from the parent feedback may compose of questions related to the conference. Did the conference cover all the important topics? Was the conference effective? In what way can the conference be improved? More examples can get asked as long as it is relevant.