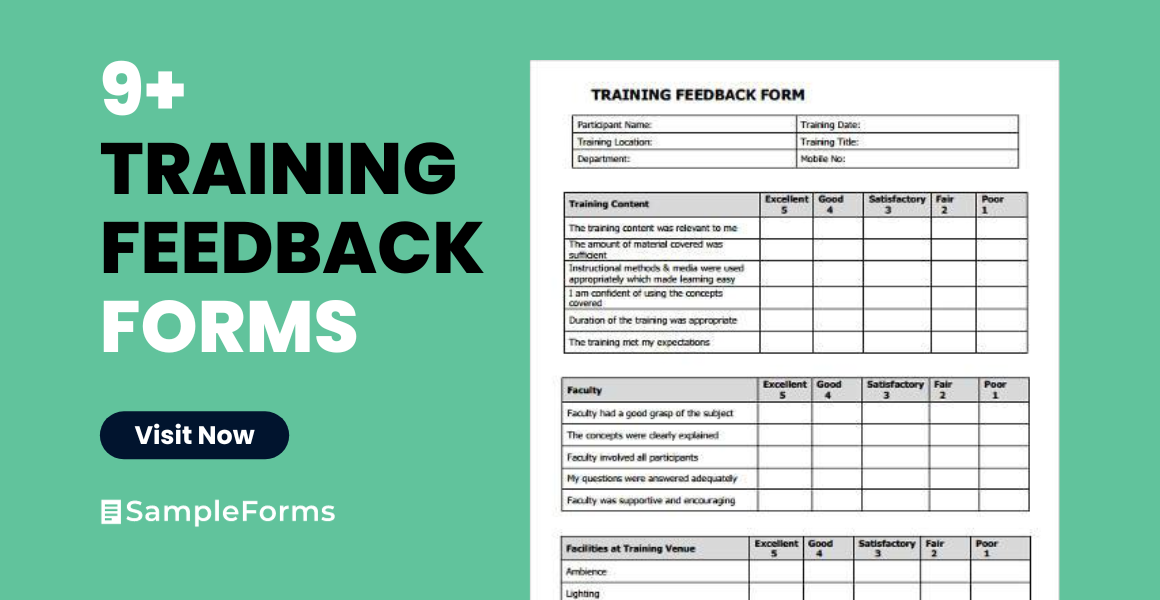 Companies that need new employees, or schools that need teachers, or any other facility that needs workers requires them to undergo the proper training so that they live up to  standards and that their performance benefits both themselves and who they're working for.
However, you need to know whether or not the training actually did anything to improve potential employers or not. Training Feedback Forms allow company owners to know if their training methods are efficient or not.
What is the Training Feedback Form?
A Training Feedback Form is a tool used to evaluate the effectiveness of a training session. It gathers participants' opinions on various aspects of the training, including content relevance, presentation style, trainer expertise, learning outcomes, and the overall training environment. This form allows trainers to receive constructive feedback, identify areas of strength, and pinpoint aspects needing improvement. By analyzing the responses, organizations can refine their training programs, enhance the learning experience, and ensure that the training objectives are met. The feedback collected is crucial for the continuous development of training strategies and for maximizing the return on investment in employee development initiatives. You also browse our blank forms.
What is the best Sample Training Feedback Form?
Below is a sample template for a Training Feedback Form that can be used to gather participants' opinions on a training session:
---
Training Feedback Form
Training Title: _______________________________________________________
Date: _______________________
Trainer's Name: _______________________________________________________
Please rate the following aspects of the training:
Content Relevance:
Excellent
Good
Average
Poor
N/A
Trainer's Knowledge:
Excellent
Good
Average
Poor
N/A
Trainer's Presentation Skills:
Excellent
Good
Average
Poor
N/A
Interaction and Participation:
Excellent
Good
Average
Poor
N/A
Training Materials Provided:
Excellent
Good
Average
Poor
N/A
Venue and Facilities:
Excellent
Good
Average
Poor
N/A
Overall Satisfaction:
Excellent
Good
Average
Poor
N/A
What did you like most about the training?
---
What aspects of the training could be improved?
---
How will you apply what you have learned?
---
Additional Comments:
---
Would you recommend this training to others?
Participant's Name (Optional): _________________________________________
Signature: _____________________________ Date: ___________________
---
This form should be distributed to participants after the training session to collect immediate feedback. It's important to ensure that the form is anonymous to encourage honest and constructive responses, unless participant identification is necessary for follow-up or certification purposes. You should also take a look at our fillable forms.
9+ Training Feedback Form Samples in PDF | MS Word | Excel
Sample Training Feedback Form
Employee Training Feedback Form Example
Printable Training Feedback Form
Training Feedback Form in Doc
The Different Kinds of Feedback Forms
There are multiple kinds of Feedback Forms for training, but let's look at the ones that are most commonly used.
Employee Feedback Forms – These are for company owners, especially major ones, who need to know the feedback of their own employees, whether it's about training or the workplace or any other factors that could improve their performance.
Student Training Feedback Forms – For Schools that need to know if their students are doing well or not, this lets them see if they need to improve anything in their educational system so that they produce quality graduates.
Training Session Feedback Forms – These are for those training sessions that people go through before they're either hired or not. These let employers know whether or not their training method was helpful in any way.
Companies can keep things simple by handing out Printable Training Feedback Forms in either PDF or Word formats.
Student Training Feedback Form Format
Sample Training and Presentation Feedback Form
Training Session Feedback Tool Form
Sample Training Course Feedback Form
Standard Training Feedback Form
Why Training Feedback Is Important?
Training feedback is really important to a company hiring employees or universities that hand out specific courses to those that require them. These people who undergo the training should be able to give out open and concise feedback to the company or schools so that they'll know whether or not they have to improve their training methods, or which specific aspects thereof may need to be improved upon. In addition, you should review our Course Feedback Forms.
The Consequences of Improper Training and Feedback
If training isn't done right, then it could mean big losses for the company. An example would be that a potential employee could go to waste because the training wasn't sufficient enough, or he/she sees that the training is lackluster and that the company might not be worth his time and he should be applying elsewhere. Assuming something like this happens, it's best for the company to hand out forms or surveys to those that do take the training. Company owners and employers should be able to take all form of criticism, whether positive or negative, with an open mind so that they know which areas they should improve on so they produce quality employees. You may also be interested in our Training Review Forms.
Remember that people should never be afraid to give their comments about how they went through training. If you're a potential employee undergoing training right now, give an honest feedback. Who knows? You might just end up improving a company.
How to Create the Training Feedback Form?
Creating a Training Feedback Form involves a thoughtful process to ensure you collect relevant and actionable data. Here's a step-by-step guide to help you create an effective form:
Define the Purpose: Determine what you want to learn from the feedback. Is it to assess the trainer's effectiveness, the quality of the content, or the overall experience?
Choose the Format: Decide whether the form will be digital or paper-based. Digital forms can be more efficient and easier to analyze.
Design the Layout: Ensure the form is user-friendly. Group related questions together and use a clear, readable font.
Select Question Types: Use a mix of question types:

Rating Scales: For quantifiable feedback on specific aspects of the training.
Open-Ended Questions: To allow for detailed responses and suggestions.
Multiple Choice: For quick and easy responses on straightforward questions.

Draft Clear Questions: Write questions that are direct and easy to understand to avoid confusion. Avoid leading questions that could bias the responses.
Balance the Content: Include questions about different aspects of the training, such as the venue, materials, content relevance, and trainer effectiveness.
Keep It Concise: A shorter form is more likely to be completed. Aim for a balance between gathering enough data and respecting the participants' time.
Pilot the Form: Test the form with a small group before using it to ensure the questions are clear and the form is easy to complete.
Include Demographic Questions (if relevant): Sometimes, it's useful to gather information about the participants, such as their department or role, to contextualize the feedback.
Ensure Anonymity: If you want honest feedback, make sure participants know their responses will be anonymous.
Add a Thank You Note: End the form with a thank you to the participants for their time and feedback.
Review and Revise: After each training session, review the feedback and adjust the form as necessary to improve its effectiveness. You may also be interested to browse through our other Best Forms and Printable Forms
Tips for creating an Effective Training Feedback Form