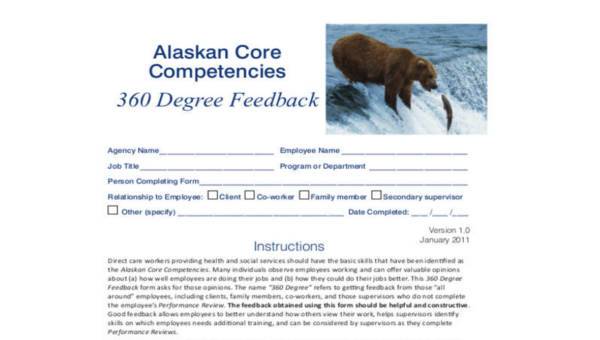 Anxious about the employee performance appraisal you are to undergo soon? If so, being prepared and knowing all that you need to know about such procedures may just appease you. Performance appraisals need not be daunting when you know what to expect from those Feedback Forms from your supervisors.
Other than being prepared, it also helps to know the benefits brought by such procedures – both to you as an employee and to the company. Being aware of your strengths and weaknesses will help you progress, as well as allow you to know what you can do to be able to contribute better to the organization you are a part of.
360 Degree Appraisal Feedback Form
360 Degree Manager Feedback Form
360 Degree Customer Feedback Form
360 Degree Performance Feedback Form
360 Degree Feedback Form Example
The Whats and Hows of 360-Degree Feedback
360-Degree Feedback is a procedure followed by many organizations when conducting employee performance appraisals. In a nutshell, it is where an employee receives anonymous feedback from different people within the organization (e.g. supervisors, co-workers), and at times, from entities outside of the organization (e.g. clients). Along with rating scales and objective-based evaluations, 360-degree feedback has become a common system many organizations have adopted when evaluating the performance of employees.
Just like how businesses acquire feedback from customers using Customer Feedback Forms, most organizations produce 360-degree feedback forms which they distribute to members hailing from different departments. Apart from performance and competency, it also serves to measure an employee's behavior by gathering the opinions of different members on how they perceive the employee.
This type of feedback also looks into the skills and capabilities of an employee; among these skills are goal-setting and planning. Using this method, it will also be determined whether or not an employee possesses leadership skills, or if they are able to work efficiently within a team.
More importantly, 360-degree feedback is also known to be effective when assessing the character of an employee. Because after all, other than skills and knowledge, exemplary character should be part of the criteria when considering to hire or keep an individual for the operations of an organization.
Staff 360 Degree Feedback Form
Free 360 Degree Feedback Form
360 Degree Feedback Form in PDF
Advantages of 360-Degree Feedback
Knowing the opinions of others on your performance can be intimidating. However, it will also prove to be beneficial. Businesses utilize Service Feedback Forms to garner opinions from customers. In doing this, they are able to improve the quality of their services or products.
It is the same with a 360-degree feedback procedure. These are the benefits of conducting 360-degree feedback as a means of performance appraisal:
Promotes self-awareness. When the feedback gathered from different members of the organization is conveyed to you, you are able to develop self-awareness. You are bound to learn what you are doing right in the organization, as well as what you are doing wrong.
Measures techniques and resources used. 360-degree feedback is effective as it mainly focuses on how you go about your responsibilities and tasks rather than what your actual duties are.
Strengthens interdepartmental communication. In a 360-degree feedback procedure, individuals from different departments in the organization provide their opinions on your performance, and even vice versa. As a result, healthy and effective discourse is developed and eventually strengthened.
Encourages personal development. Knowing your areas for improvement in the workplace can translate to positive changes in the lifestyle habits you follow, therefore promoting personal growth.