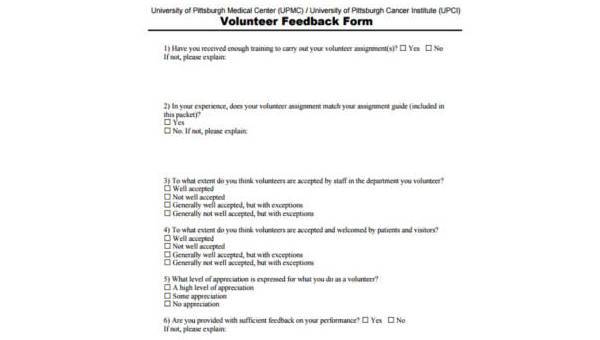 A volunteer is a person who actively takes on a task, responsibility, or project on his or her own accord without needing to be assigned, ordered, or told to do so. Usually, a volunteer is not paid for the work or service that they provide. An example would be when a volunteer may desire to work at a company's charitable events with or without pay, and may even request to do so without being asked or told to.
Volunteer Feedback Forms are for organization or event owners so that they'll know just how the volunteers thought of their events along with they kinds of tasks they had to perform.
Volunteer Event Feedback Form
Volunteer Feedback Form Example
Volunteer Feedback Form in PDF
Volunteer Feedback Survey Form
The Different Types of Volunteer Feedback Forms
There are a wide variety of Volunteer Feedback Forms for those volunteers who wish to assess the events that they participated in. Here are some of those examples:
Volunteer Training Feedback Forms are for those volunteers that give feedback on the kind of training they received during the program.
Volunteer Program and Event Feedback Forms are for volunteers to evaluate the program or even the entirety of it, whether it was enjoyable or worthwhile or not.
Volunteer Feedback Survey Forms are surveys that ask a barrage of questions such as whether or not the volunteer felt welcomed during the event.
Volunteer Feedback Evaluation Forms are used to evaluate just how well a volunteer performed during a program or event.
All these are used to assess both the event and the volunteers participating in an event. Event organizers can even use Free Program Feedback Forms in either PDF or Word format to keep things simple.
Volunteer Program Feedback Form
Volunteer Feedback Form in Word Format
Volunteer Feedback Evaluation Form
Volunteer Feedback Form Example
The Importance of Volunteer Feedback
Volunteer feedback is a structured way to learn the opinion of volunteers regarding their service experience with certain organizations. It also allows volunteers to provide recommendations for improvements to enhance the effectiveness of the organization's services and programs. Volunteer feedback is critical in determining just how well an event or program did. The feedback can determine what kind of impact these events have.
These kinds of feedback should always be conducted on a regular basis. For example, volunteer feedback can be collected during volunteer in-service meetings, or they can be collected while doing the service itself. They could serve as a springboard for further discussions about the volunteer service experience. The person responsible for making volunteer feedback is one who coordinates and manages volunteer efforts. These people are the ones who make sure that the volunteers perform well and make sure that the programs or events are a success.
Hence, Volunteer Feedback is very important for both the organization and the volunteers themselves.