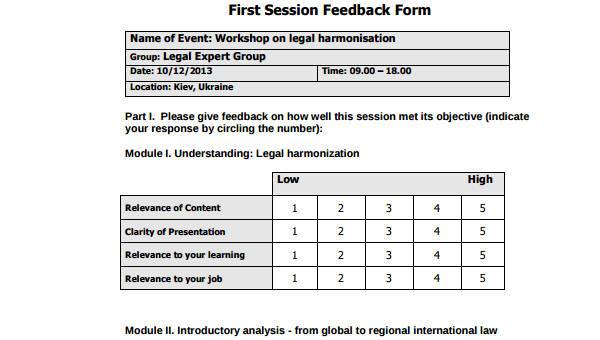 One way to measure the outcome of any particular event is through the use of Feedback Forms. These forms provide an avenue to discuss performance, introduce suggestions for improvement, and talk about goals for the future. Giving and receiving feedback can be considered as one of the most important methods of communication to engage with members of a team. Giving feedback is not just a one-way process; it involves an exchange of information with the aim of realizing what has been omitted or neglected along the process.
Training Session Feedback Form
Sample Guidance Feedback Form
Individual Session Evaluation Form
Session Feedback Evaluation Form
Session Feedback Form Example
Training Feedback Forms can help you understand the success level of a certain program and satisfaction of its participants. In doing so, you can also find any loopholes that you can work on to improve the next sessions. In drafting these types of forms, you should take into consideration some steps so as not to waste both the participants' and your effort. Set the purpose of why giving feedback is important and, as much as possible, try not to be so personal. Some aspects of the members' performance should also be highlighted. Gathering information about how each member feels about their performance or what they could have done differently should also be given equal importance.
Data should also be available to support any given feedback to encourage transparency. In the case of some organizations who spend a great amount of money on training sessions, it is really important for them to know how effective the training was and what the participants felt about the process. It also serves as a way to check whether a particular training is able to fill the competency grasp within the organization. Feel free to download some of the sample forms here for your reference and use.
First Session Feedback Form in PDF
Counseling Session Feedback Form
Education Session Feedback Form
Teaching Faculty Feedback Form Example
One of the main objectives in providing feedback or evaluations is to determine whether the efforts put into planning and execution met the expectations of attendees, speakers, exhibitors, and sponsors. One way of doing this is through a Workshop Feedback Form. To formulate a realistic and comprehensible type of this form, one must determine the primary objectives of the event, how this particular event will be able to help them as an individual, and a suitable venue and time at the participants' convenience. It should also be helpful to ask the participants whether they will still be willing to participate in the same event in the future and how likely they are to recommend such an event. Participants should also determine whether a certain agenda was met and how they can incorporate their experience into their personal or professional lives.
One must also consider establishing a comprehensive follow-up plan and communicate to the participants whatever decision reached during the workshop. If a workshop is to address a difficult or sensitive topic, it is especially important to make the group feel comfortable before starting anything. Establishing a certain goal in implementing a workshop should be its primary concern to be able to provide a clear direction for the participants.