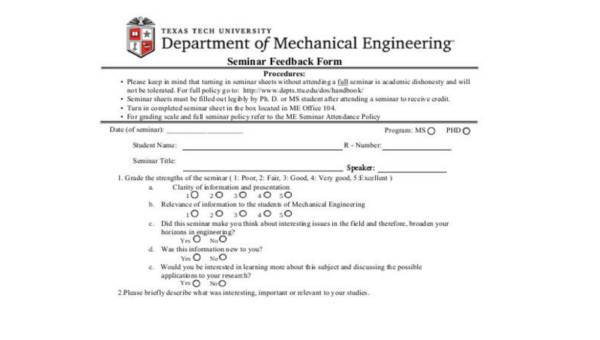 A seminar is a conference or meeting that's used to discuss certain topics or to train people. Some companies have seminars where they want their employees to be aware of the status of the company and what kind of company they are. Some jobs even have training seminars to make sure that their employees know what they have to do before they perform what's required of them for the job.
However, it's also important to make sure that these seminars are properly evaluated. Those who hold seminars need to know how the audience felt about it, along with the different comments on how they think they can improve future seminars.
A way for them to be able to figure these out is by looking at Seminar Feedback Forms, examples of which you can find below.
Workshop Seminar Feedback Form
Financial Seminar Feedback Form
Training Seminar Feedback Form
Seminar Event Feedback Form
Technical Seminar Feedback Form
The Various Types of Seminar Feedback Forms
There are many different types of Seminar Feedback Forms which those who participated in seminars can use to make sure they let those who hold the seminar know how they felt and what they though about it. Here are some examples of these types of forms:
Seminar Presentation Feedback Forms are the kind of forms used by the audience of the seminar to give feedback on how the topic was presented during the seminar.
Financial Seminar Feedback Forms are forms used by those who want to assess seminars that focused on financial matters. The topics in these seminars are usually things like how to handle finances, how to properly budget, where to allocate certain finances, and so much more
Training Seminar Feedback Forms are used to evaluate seminars that are focused on training. People who participate in these seminars properly evaluate the training they received during the whole seminar and determine if it was useful or not.
Seminar Feedback Form in PDF
Seminar Feedback Survey Form
Seminar Feedback Form in Doc
Seminar Feedback Form Example
The Importance of Properly Giving Seminar Feedback
It's really important for those who participated in seminars to give it an evaluation that lets them determine whether it was indeed useful or not. There are reasons why there are forms such as Seminar Workshop Feedback Forms, and one of these reasons is to make sure that these seminars improve on any aspect that participants feel might be lacking.
This also benefits those who hold seminars. They can use the feedback to make sure that they know what they can improve on or if they did a good enough job in presenting the topics and if they were able to get everyone to actively participate and understand the point of the seminar.