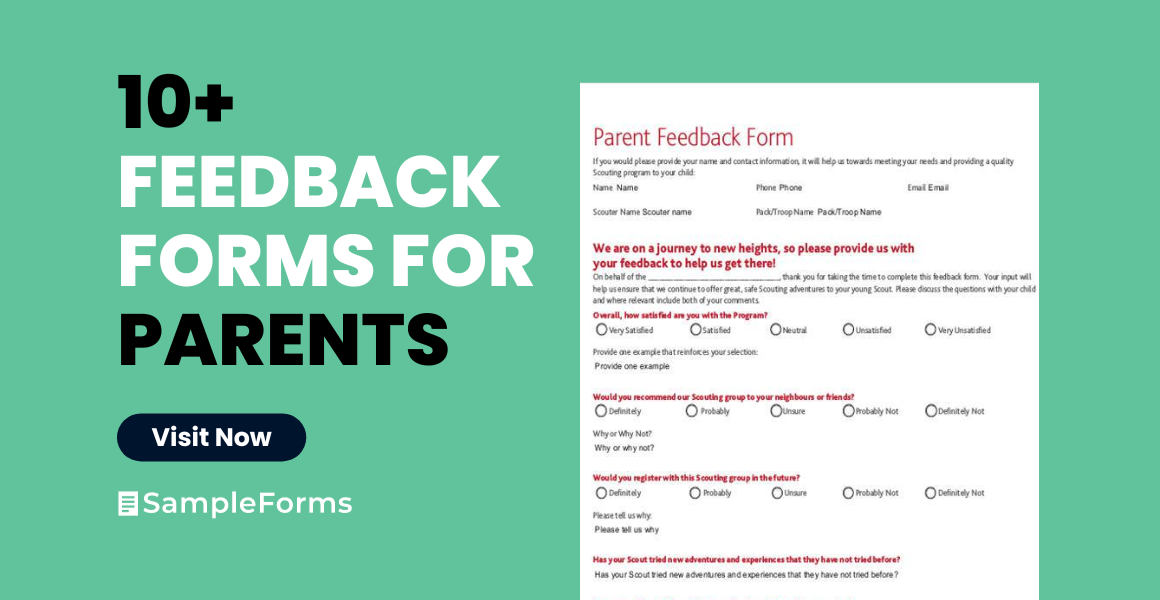 Having someone produce you with productive feedback can tell you a lot of vital information. For one thing, it could tell you about all of the problems that you have that's preventing your from reaching your goals. Not only that, but the right feedback can also tell you how to solve these problems.
This is the reason why just about every single business tries to get much feedback as they can regarding their products and services. With it, they are able to gain the valuable business information that will tell them as to whether they're reaching for success or if they're failing to get customers to want to come to them.
Parent Feedback Form for Teacher
Parent Feedback Form for School
Parent Feedback Form Example
What are Parent Feedback Form?
Parent feedback forms are, as the name states, the kind of documents that are made use by parents for when they have to provide their suggestions and opinions. What information they provide depends on the situation or event that they're taking part in. It could be that they're handing out feedback for a workshop, meeting, or maybe even their child's daycare center. With these forms, they can provide valuable insight only parents can give such as how they think about a certain program or the different aspects that contribute to the success or failure of a parent conference.
Reason Why Feedback From Parents Is Important
It can keep help people feel motivated.  If a teacher receives feedback from a parent in regards to his or her teaching skills, wherein the feedback contains nothing but praise, then the one can expect that the teacher's morale to be boosted. Because of that, the teacher will be more motivated to be better in educating the child or children of the parents.
It can increase the growth and happiness from both sides. Whatever type of feedback a parent gives, it can definitely help people or programs learn more about what needs to be done to improve. It also works the other way around, if the parent were to receive feedback from the right authoritative figures, then it will help  them develop into better parents.
Feedback from the parents can help prevent one from being discouraged from getting better. If a student receives feedback from his or her parents about the problems being had in school, could greatly affect how he or she acts. If the parents encourage their child to do even better, despite the many problems, and tells the child how to solve them, then that child just might be prevented from spiraling downwards into failure. However, the opposite could also happen should the parent now know how to provide the right type of feedback so one has to be very careful.
As a parent, it will show what you really think is best. As a parent, if you know how to provide efficient feedback, you can state your expectations in a manner that should allow certain people understand what should be changed to make things better for both them and you. So make sure that you know exactly what you want to say, and say it in a way that will clearly show what should either be changed and improved.
Parent Conference Feedback Form
Parent Feedback Form in PDF
Parent Training Feedback Form
The Different Types of Parent Feedback Forms
If you're a parent, then you must know that there are many different types of feedback forms that you can use that will allow you to show how you feel about certain people, events, programs and more. Which is why it is very important that you know the purpose of each of them. So here are some examples of parent feedback forms:
Day Care Parent Feedback Form. This is the kind of form that parents utilize in the event that they have to provide feedback for the daycare that their child is currently taking part in. After the parents have done a proper assessment all the different aspects of a daycare, then they will be able to determine whether or not it is meeting their expectations. So if they see that their child isn't learning anything from it, and/or if the environment is not one where their child should be situated in, then they can make the proper comments that will show those who run the daycare about how they feel.
Parent Feedback Forms for School. This type of form is somewhat similar to the one for day care centers but it goes much deeper in a sense that the parent has more say on how he or she would like to be involved. By making use of the of these forms, the parents are able to state how the communication between them and the school can be strengthened by adding more programs or workshops wherein the parents can take part in. So once the parents assessed the needs of the students, they can then make the proper suggestions on what the school can do to make sure that these needs are met.
Parent Feedback Forms for Teachers. This form is commonly used by parents in the event that they hire a private teacher for their child. While their child is undergoing the private lessons, the parents then assess the teacher's skills and competency until the lessons are complete. They may then make use of this form to point out whether or not the teacher was able to provide their child with the education needed to develop his or her knowledge and skills. All the parent has to do is go over the rating system and rate all the different factors that affect the teacher's performance. Doing this can show if the teacher did a good job, or if the training was not sufficient enough to help their child grow.
Parent Training Feedback Forms. This is what parents make use of  in the event that they have entered any type of training program that helps them become better parents. With parent training feedback forms,  parents are able to make their comments regarding how the training went and even point out what part of the training they found effective, as well as the parts that weren't.  So what these parents point out is very important to those who have organized the training as they are able to determine the good parts of the training that should remain constant, and it will help them learn what should be changed for better future parent training programs or sessions.
If you would like to learn more  on how to provide proper feedback, then you can go through any of our sample feedback forms in Word that can help you get just the information you need to do so.
Day Care Parent Feedback Form
Parent Workshop Feedback Form
Parent Meeting Feedback Form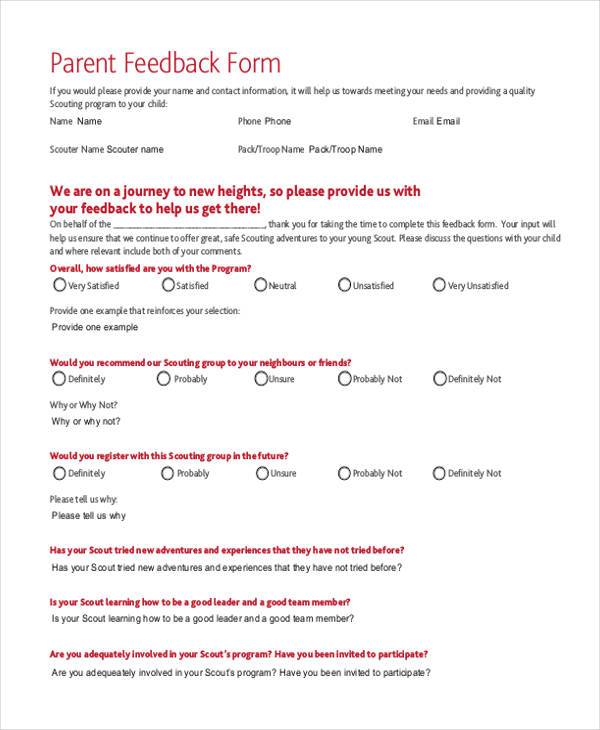 scouts.ca
Parent Teacher Conference
Elementary Parent Feedback Form
6 Steps to Providing Successful Feedback to Parents
Parents don't just give feedback, they can also receive it. If you're training someone to help him or her become a better parent, then you will need to know how to provide the right kind of feedback. So here are 6 steps that can help you do just that:
You will need to discuss your strategy with the parent. Devising a strategy on how a person should achieve certain goals to become a better parent is always essential, but it is also important that one discusses it with the parent. With this, the parent will understand better on what needs to be done in order to achieve these goals.
Make the goal clear enough for the parent to  understand. Knowing what problems there are is one thing, knowing the goal to solve it is another. You are going to have to point out what the goal is so that the parent understands what needs to be fixed or improved. Doing so can also help the parent know what to reach for, so be sure to do a proper evaluation that will tell you what goals the parent needs to meet before telling him or her.
Remember to point out the strengths of the parent. Not everything needs to be positive when handing out feedback. During the training assessment, you will need to see what it is the parent is best at and point them out. Doing this will give the parent a boost of confidence, as well as letting him or her be more open to suggestions. However, remember to point out the good parts in a way that won't make the parent feel overconfident. Point out ways that he or she can improve even further.
Be careful with what you say. If you're going to hand out any kind of negative feedback, try to remember to keep your emotions in check, as well as being careful with the words you are choosing to say.  One wrong sentence is all it takes to demoralize a parent and preventing his or her growth.  So lets say that you have a complaint  regarding how the parent behaving at home. You don't just call out the parent and lash out, but instead you must learn to say things in a calm manner and point out the problems in detail. You will then need to provide the solution or make the suggestions on how the parent should solve the behavioral problem.
So remember that whatever feedback form you make use of, remember that its only aim is to help. So if you're a parent and you either give or receive feedback, remember that the information it contains is something valuable and could have a great effect on your life and someone else's.