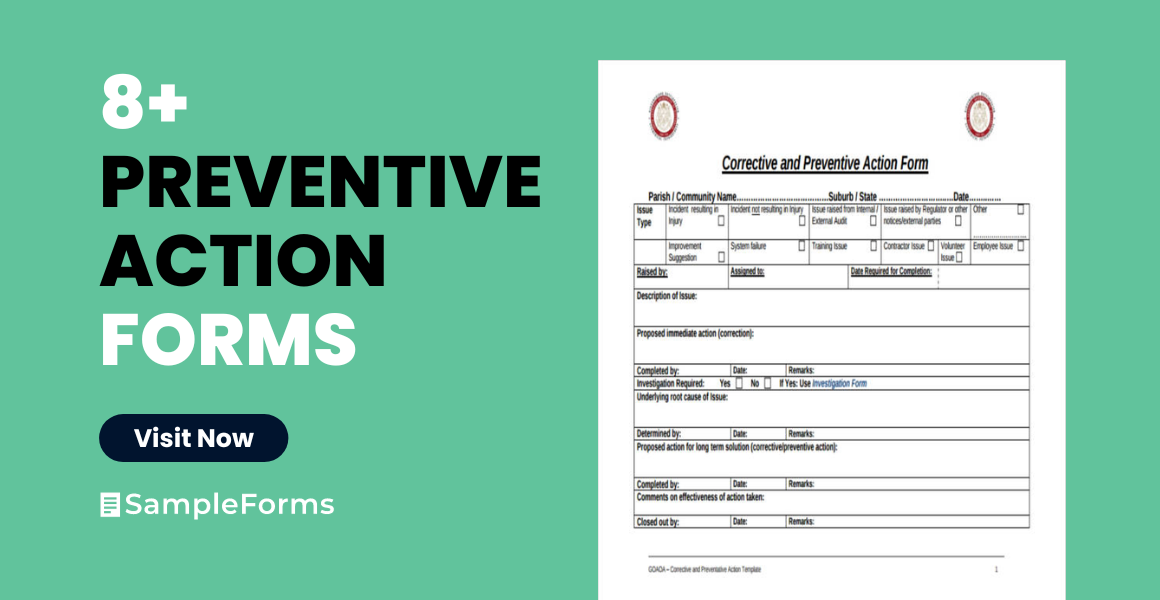 In any organization, you could tell that safety and security of everyone is ensured by orienting them with safety policies to be observed, most especially when inside the premises of the company. Few ways to ensure the company's safety is with the use of fire and smoke detectors, the cameras, water sprinkler, etc. Everyone is also oriented with the places where they could eat or smoke, etc.
In the event that any unfortunate incident occurs, the company may decide to take any corrective actions in order to prepare itself in the event that the same incident occurs again. Taking corrective action also ensures that any defective units or equipment are contained and will not cause any harmful incidents to the employees of the organization.
Corrective and Preventive Action Form
Preventive Action Request
Preventive Action Report Form
Corrective and Preventive Action Plan
What is Preventive Action?
When the team that ensures the safety of everybody in their organization find out something that might cause trouble, they decide on a plan in order to avoid such accidents from happening. In making a preventive plan, the team should have total awareness of what could possibly happen.
In figuring out a preventive action, the team does an assessment of not just the company's equipment, but also the location, the workforce, the programs held, and the entire company itself. These preventive actions can also be formulated through the suggestions and feedback of the employees, customers and/or clients, or students' actions.
What Should Be Included in a Corrective Action Plan
Corrective and preventive action plans are formulated in order to improve the organizations processes to eliminate causes of incidents or undesirable situations. When the action plan has been finalized or discussed by the team, it is then documented using a action form. The following are some necessary information that are needed to be filled up in action form:
Categorize whether it is documentation, system failure, wrong instructions, training, contractor fault, or operator fault
Requester's name, department, and contact details
Assigned, determined, and completed by (personnel's name, date, and remarks)
Descriptions of the incident or possible harm
Proposed immediate action (correction)
Root cause analysis
Proposed action for long term solution (corrective preventive action)
Responsible party
Verified by who and when
Comments on effectiveness of action taken
Initiator and implementer's name and date
For more details on how teams carry out their corrective and preventive action form, see sample action forms in PDF. These format examples are also downloadable and printable.
Preventative and Corrective Action
Nonconformance Preventive
Sample Corrective Action
Sample Preventive Action Form
General Preventive Action Form
The Top Ten Preventive Actions
Here are the following top ten preventive actions:
Examine everything that might contain or cause distractions to the company, such as the characteristics of every product and the operation procedures.
Know what are the potential risks that these products have basing on their characteristics.
Understand the differences of how each products behaves and how they are used.
Equipment that could help promote safety and security within the premises of the company should be situated in every corner.
Conduct training for safety precautions and procedures in order to increase awareness of everyone when certain circumstances are encountered.
Perform appraisals for your employees when necessary in order to develop or improve skills and qualities.
Create guidelines, rules and policies in order to control the process and practice proper usage of the equipment.
Ensure your products quality by monitoring purchase orders and supplier audits.
Conduct regular meetings to discuss hazards found and find ways in reducing or eliminating them.
Regular monitoring of day to day operations is a must to ensure safety of everyone.
These preventive actions made by personnel, employees or head department are all documented or written in preventive or corrective action forms. Feel free to browse them and find what you're looking for.