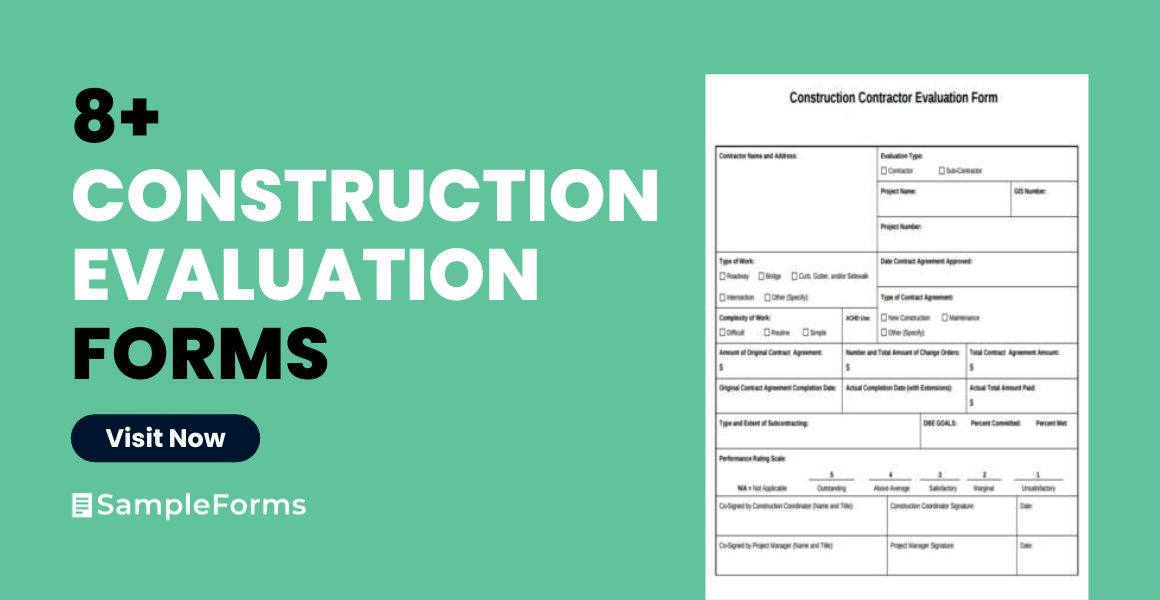 Every single day there's a new building that's being built somewhere. The faster a country develops, the greater is the investment for infrastructure. Companies that have grown to be successful always have some sort of construction plan going on to further expand their business.
What about when companies need to evaluate the progress of their construction? How would they know of what's going on and if it's being done well? Luckily there are Construction Forms that evaluate how well employees are progressing, along with any kind of construction project.
Construction Employee Evaluation Form
Construction Bid Evaluation Form
Construction Contractor Evaluation Form
Construction Worker Evaluation Form
Construction Performance Evaluation Form
The Different Kinds of Construction Evaluation Forms
There are many forms that help project leaders or company owners assess just how well and how far the progress of a construction project has gone. Here are some examples of such forms:
Evaluation of Construction Contract Forms are forms that are used to assess the contract between the company and the firms that are providing the construction services.
Construction Project Manager Evaluation Forms are forms that are used by higher-ups to evaluate just how well the project manager is handling the construction project.
Construction Employee and Worker Evaluation Forms are used to evaluate the employees involved with the construction project. These forms also assess those workers hired by the company.
Construction Performance Evaluation Forms are forms used to evaluate the performance of the workers hired by the company. These help make sure that those working on the construction project are doing a commendable and dependable job.
Construction Equipment Evaluation Forms are used to ensure that the equipment used for a construction project are well maintained and can be properly handled without cause of worry.
Construction Project Manager Evaluation Form
Construction Evaluation Form Example
Construction Superintendent Evaluation Form
Construction Equipment Evaluation Form
Construction Evaluation Form in PDF
The Importance of Evaluation Construction
Before starting a construction project, a company and the people they hired to work on it have to come to some sort of agreement on the payment, resources needed, work schedules, and more. That's why there are  Construction Agreement Forms that allow both parties to reach a conclusion as to how the project is going to start and finish.
It's important to make sure that the construction progress is properly evaluated. One mishap could lead to a fatal flaw in the building and could possibly be dangerous. Companies should also assess how the workers and employees are handling the construction project. They need to know what they're doing, and they need to know if those in charge have a good handle on the project.
If all these aspects go well, then a safe and high-quality building is guaranteed.