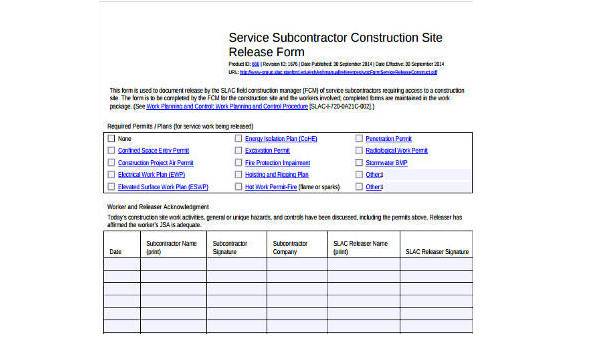 Business dealings in the contractual industry need careful analysis and security for these involve several corporations and entities to finance a construction project. The rights and obligations of different business entities within a project are laid out in the Construction Release Form. This form will help all involved parties protect their rights and interests, most especially their contributions in financing the project.
This site offers different samples of Construction Release Forms including common Construction Forms needed in the contractual business. These sample forms are here to greatly aid in your construction enterprise. You can freely download these samples without any hassle.
New Construction Release Form
Project Material Release Form
Contractor Lien Release Form
Construction Contractor Work Release Form
Construction Design Release Form in PDF
What Is a Construction Release Form?
A Construction Release Form contains valid agreements and the rights of all business parties involved in a contractual project. The main purpose of this form is to release any withholding property by the time the other parties involved have successfully paid any remaining debts for the given project. If after construction release you aspire to create another project, Construction Proposal Forms are available also on this website.
Types of Lien Release Forms
Lien is an act of retaining any valuable property without selling it. A lien is lifted by the time all remaining debts have been paid together with the release of any business obligations stated in the agreement. A claimant is one who files a lien if not properly paid for a certain business transaction.
Conditional Waiver and Release on Progress Payment Form: This form is used by the claimant if promised to be paid through a progress payment without any pauses until fully paid.
Unconditional Waiver and Release on Progress Payment Form: The form releases the debtor completely upon receiving the full payment at a particular date.
Conditional Waiver on Final Payment Form: The form releases the debtor in return of the promised final payment. The claimant is still waiting for the payment. Upon release, the claimant will no longer file lien.
Unconditional Waiver on Final Payment Form: This form releases the debtor with a declaration that the claimant received the final payment.
Subcontractor Construction Site Release Form
Construction Labor Release Form
Subcontractor Construction Release Form
Construction Claim Release Form
Importance of Construction Release Forms
Declaring a release form helps you unload the burden of unprecedented obligations. As a client, after you completely paid the contractors of the project, directly obtain release forms to be cleared from the agreement and avoid facing future setbacks. Moreover, release forms assist you in protecting yourself from payment issues. A lot goes on behind the scenes of contractual deals, which is why it's a good practice to have release forms with you to keep you updated on the agreement you signed.
The variety of Construction Release Forms on our website can give your more options on what particular release form you want to use. We don't stick to only one type of form because we want you to have the necessary documents needed in your professional field. If you aspire to join a contractual project, make sure to check out our sample Construction Contract Forms to help you begin your business undertaking. Browse through our website for more sample forms.