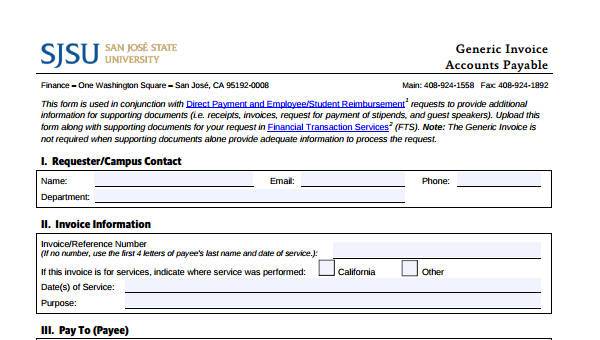 An invoice is a list of goods sent or services provided that comes with the total amount of how much it will all cost. Whenever a business provides a certain service to someone, or even to another company, they'll need to know just what kind of materials they used and what kind of service they did and properly bill whoever asked for the service.
It can be for any type of work. It can range from construction work, management work, catering work, and so much more. So these clients will need to make sure that they know just how much they'll be spending and what they'll be spending on.
How would they find out about this? Where will they get these bits of information? The one way for them to find out is by going through the Work Invoice Forms.
Work Order Invoice Form
Contractor Work Invoice Form
Work Invoice Form in PDF
Work Invoice Form in Word Format
The Different Types of Work Invoice Forms
There are various types of these kinds of forms that allow companies, or those that availed of the service, to figure out just how much everything will cost and why they cost that much. Here are some examples of these kinds of forms:
Contractor Work Invoice Forms are the kind of forms that are used by those who need to have discussions with the contractor as to the type of work being done. These help out the contractor in determining just how much everything will cost and the materials and services provided. And it'll help them out in making all this information known to the client.
Work Order Invoice Forms are for those companies that need to issue specific work orders to either another company or one of their own employees who can handle the task. These kinds of forms will help make sure that the services provided for these specific work orders will be properly compensated and that they are agreeable to both parties.
Work Invoice Form Example
Printable Work Invoice Form
Free Work Invoice Form
The Importance of Having Work Invoice Forms
It's really important that the companies doling out their services have these kinds of forms. These forms let their clients know and understand why their service would cost that much as it's stated in the invoice form. It shows them the materials used or the amount of work that was produced, along with the duration of the service.
These forms also help out those who availed of these services. It lets them see if what they're paying for is what they desire and if the amount is agreeable or not.
So if you're a company owner, then you better have these forms ready before and after any service you conduct. Otherwise, you might end up facing some serious legal issues somewhere down the line.