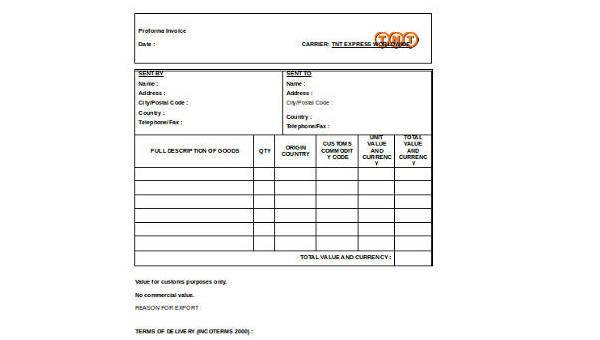 When running a business, it is very important to make sure that all the needed paperwork, reports, and documentation are properly and accurately done to ensure the accuracy of the details about the business' operations. The ability to document things accordingly allows a business to protect itself and its interests. Moreover, it allows the smooth flow of processes in terms of managing the company's finances, workforce, and other resources. One of the documents that is necessary to be looked into by a business owner is the business invoice form. It serves as the statement of the monetary value used to render services or ship goods relevant to the company's operations.
You can download from a wide array of our free Invoice Forms to help you save on time and money. Our invoice forms are easily accessible and are available in Doc and PDF formats for your easy access.
Blank Business Invoice Form
Free Business Invoice Form
Printable Business Invoice Form
Small Business Invoice Form
Business Invoice Form in PDF
There are a lot of reasons why companies should maintain an invoice system. Below is a list of advantages that an invoice provides for a business:
1. Keeps a Close Track of Client's Payments or Debts
The usage of invoices help a business to ensure that they are well aware of the information about the orders of their clients. This translates to the easy recording of the clients' payments as well as their debts. Hence, this process can make a business track their finances in an organized manner.
2. Provides Lesser Errors
Utilizing a Business Invoice allows businessmen to save on time and money because an invoice system allows them to automatically reflect costs and quotes, which minimizes mistakes.
3. Creates Transparency
Using an invoice in business transactions allows business owners to create a clear and accurate audit trail and helps in inventory processes because it records the input and output of money and products in all transactions. Through this process, companies are able to provide organized and clear information when a client makes billing queries.
4. A Sign of Professionalism
As a part of an organized business process, using an invoice assures clients that you are fully aware about your operations and how you handle your client transactions. This trust coming from the clients can provide advantages to the company's activities for branding and customer loyalty and retention.
5. Easy Way to Collect Debt
In a world where public money talks is considered off-putting, having an invoice system is the quickest, easiest, and non-awkward mode for you to ask for money that is being owed by a client. Simply send your client an email with an attached invoice so that they can see how much they need to pay along with a list of what they need to pay for.
You can choose from our wide array of Generic Invoice Forms. You can also download and customize each form to tailor to your invoicing needs.
Business Invoice Form Sample
Custom Business Invoice Form
Business Invoice Format in Word
Construction Invoice Form Sample
What Should I Include in My Business Invoice?
An Invoice Form is not a very complex type of paperwork to create or to fill out. However, one should make sure that the basic and appropriate details are covered in the form for reference purposes when doing bookkeeping or accounting. Below are the necessary details that need to be incorporated in an Invoice Form:
Invoice number
Full name and contact details of the seller
Full name and contact details of the client
Date of delivery
Date of payment made
Mode of payment
An itemized list of the product or the service rendered
A breakdown of costs
Total amount due
Payment plan or payment details
Date for when the amount is due
Invoices are necessary documents that serve as a proof of rendered goods or services. Businesses need them to properly track items and audit their cash flow. Our Invoice Forms, Generic Invoice Forms, and Standard Invoice Forms are available in Word, PDF, and in Excel format to provide easy access and flexibility. Don't be bogged by having to spend a great amount of your time whipping up an Invoice Form from scratch. Our wide-ranging Business Forms, invoice forms, receipts, and other types of documents can be easily downloaded and used for your quick and easy business needs.