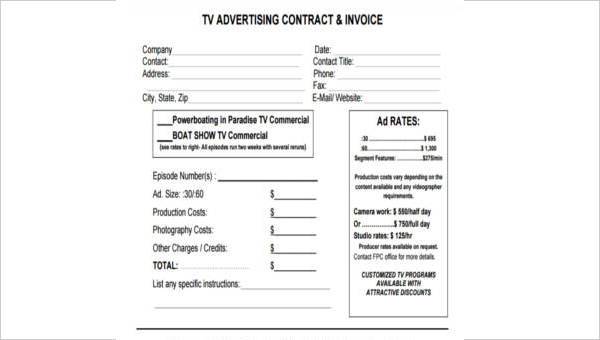 Photographers need to make a living. They're the reason why so many people are able to enjoy the wonderful memories they experienced: through the power of photographs. These photographs, when well taken, are able to capture the essence of the moment and preserve it in a still image for anyone to behold. Most people will only hire the best photographers to capture these moments because these photographers understand what to do to make sure that the magic is still intact even in a picture.
However, a photographer's service doesn't come cheap, especially for those who are professionals in their field. It takes the right equipment and the right skills to perfectly capture that single moment – and this usually comes at a high price.
So in order for a customer to know just how much they'll be paying, they'll need to check out the Photography Invoice Forms.
Photography Service Invoice
Photography Business Invoice Sample
Wedding Photography Invoice
Event Photography Invoice Example
Advertising Photography Invoice
The Different Kinds of Photography Invoice Forms
There are various types of these forms that just about any photographer can use to make sure that their clients know just how much they're going to pay. Here are some examples of these types of forms:
Photography Commercial Invoice Forms are the kind of forms that are used by photographers when their services are needed to have shoots for commercial purposes. These help commercial organizers make sure as to what they'll be paying for.
Event Photography Invoice Forms are for those photographers to hand out just how much they'll be needing for their skills during an event. It can be any kind of event, from large concerts to a small social gathering.
Wedding Photography Invoice Forms are mainly used for wedding ceremonies. These photographers are usually paid very handsomely because they're expected to produce top-quality pictures for such an important event.
Basic Photography Invoice
Commercial Photography Invoice
Corporate Photography Invoice
Example Photography Invoice
Simple Photography Invoice
The Importance of Having Photography Invoice Forms
There's a reason as to why there are forms such as Photography Blank Invoice Forms, and the reason is that these photographers need to make sure that their clients understand just how much their photographs are worth. Depending on how skilled the photographer and the kind of equipment he or she is using, the prices of these are usually extravagant but well worth it.
These help make sure that clients of these photographers understand what they're paying for. If the client isn't willing to pay for the amount that's due, then the photographer has every right to take any form of action or even just withhold the pictures that were already taken until the payment is made.