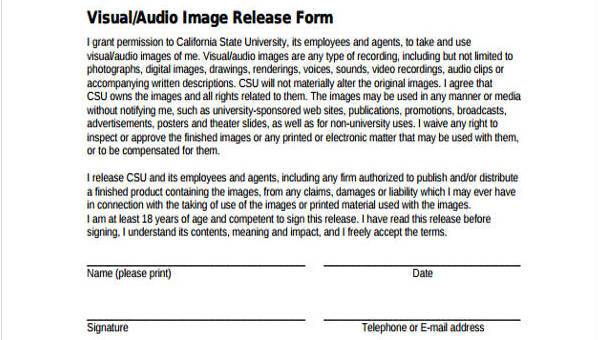 An Image Release Form, otherwise known as a Photo Release Form, Photo Consent Form, or a Photo Copyright Form is a written document that puts into writing the agreed terms between a photographer and a client. Through an Image Consent Form, a client is given the permission to store or print out hard copies of photos taken by a photographer.
An Image Release Form is a necessary document in the photo industry because it helps to protect the rights and privacy of both a photographer and the subject of the photograph. If you are planning to take photos to publish on materials that may be used for profitable or non-profitable uses, or will be publicly distributed such as on magazines, newspapers, or the worldwide web, it is important to have an Image Release Form that will serve as irrefutable proof that you were granted permission to publish or store files or images of the photos taken by a particular photographer.
Sample Photo Image Release Form
Standard Image Release Form
Photo Image Release Form Example
Video Image Release Form Sample
In many instances, an Image Release Form or Photo Release Form is usually mistaken for a Model Release Form. Although both forms are equally important, the uses and definitions of each form vary slightly.
While an Image Release Form or a Photo Release Form provides proof that permission was given to an individual to print out hard copies of a photo, a Model Release Form, on the other hand, provides a similar form of authorization but regarding a different subject.
A Model Release Form is a written document that authorizes or gives consent to a photographer to use or capture images of a subject or a model, either commercially or non-commercially in a licensed and legal way. However, when conducting a photo-shoot, both Photo Release Forms and Model Release Forms have to be signed by both photographer and model.
Tips to Remember When Administering Release Forms during a Photo Shoot
Photographs and videos contain images that may be sensitive and could affect a person's privacy. It is therefore crucial that proper consent forms and release forms are utilized to avoid legal disputes or misunderstandings that could arise from improper photo-op sessions done without proper consent. Below are some tips to help you make sure that you not only have a smooth photo shoot session but that you also have the right to actually use the photographs that you take:
1. Provide Back-up Release Form Copies
As a photographer, you need to prep your paperwork ahead of time. Print multiple copies of your release forms in case mistakes or errors occur. This also allows you to provide copies of the paperwork for the parties involved.
Printable Image Release Form
Image Copyright Release Form
Image Consent Release Form
Image Permission Release Form
Global Image Release Form
Standard Image Release Form
2.Make Your Release Forms Clear and Legible
Content is king but so is clarity. Make sure that the wording of the Release Form is properly stated and that it is easy for the client to understand.
3. Store Paperwork Properly
Always countersign, scan, and e-mail a copy of both Photo Release and Model Release Forms to the client via e-mail in order for you to generate an e-mail trail. Scanning documents also allows you to digitize your records, in the event of ruin or damage to the original copies.
Make sure your Release Forms are foolproof and will serve their actual purpose by downloading the right forms from a legit website. Our Sample Forms provide just that. We also offer other types of form templates for download such as our Copyright Release Forms.