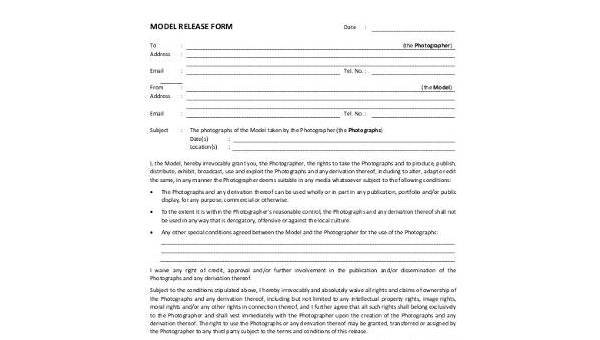 Taking shoots with professional models is extremely hard to do if you are an amateur. But with lots of experiences and offers, you will be able to achieve the quality and style you are looking for. It takes a while to understand the basics of the photography business, and it will eventually pay off if you invest in it enough.
You may also need Release Forms whenever you need to release the photographs in public to avoid complications with the law. You will be able to publish photographs in newspapers, magazines, or even online without encountering much hassle from the models, who have already granted you permission through these forms.
Free Photography Model Release Form
Standard Photography Model Release Form
Wedding Photography Model Release Form
Model Release Form in Word Format
Generic Photography Model Release Form
As a professional photographer, it is important to get your own models for your projects. Although there are different subjects and concepts, the process is still essentially the same. In order to avoid technical difficulties with the law, or copyright issues, you must submit Model Release Forms that allow you to submit the photos for future publication. Through these simplified and detailed forms, you will be able to present your purpose in releasing these kinds of photographs.
May it be for a well-known magazine or website, or just for a personal portfolio, it is important to ask permission from the people involved. When there are minors involved, there should be a permit signed by their guardian that allows them to work.
Aside from the legal and entrepreneurial aspects, it is important for photographers to hone their own style and attract more clients. This will increase the likelihood of projects and will give the photographer the opportunity to explore more shooting locations. Make your business more stable and appealing by using our forms and coming up with a wide variety of styles.
Stock Photography Model Release Form
Pet Photography Model Release Form
Photography Model Release Form in PDF
Photography Model Release Form Example
You now have your personal style and the best photography gear you can ever hope for, but in order to keep your business open and booming, you must submit Photography Release Forms that allow you to publish photographs. There are a few establishments that require permission before you can post pictures of them online or in well-known publications. Through these forms, you will be able to state your purpose for taking a photograph while at the same time respect their wishes.
These establishments require their own terms and conditions before you submit the photographs to different sites. Aside from that, you should also take care of the required paperwork that would help you be granted permission to hold the photoshoot in a certain location.
With shoots all over the world and in different locations, it is ideal to be one step ahead and make preparations for your project. Complete your personal portfolio or explore more projects in order to enjoy more client transactions. Formalize your claim over your works and enjoy more shoots with different models in the future.