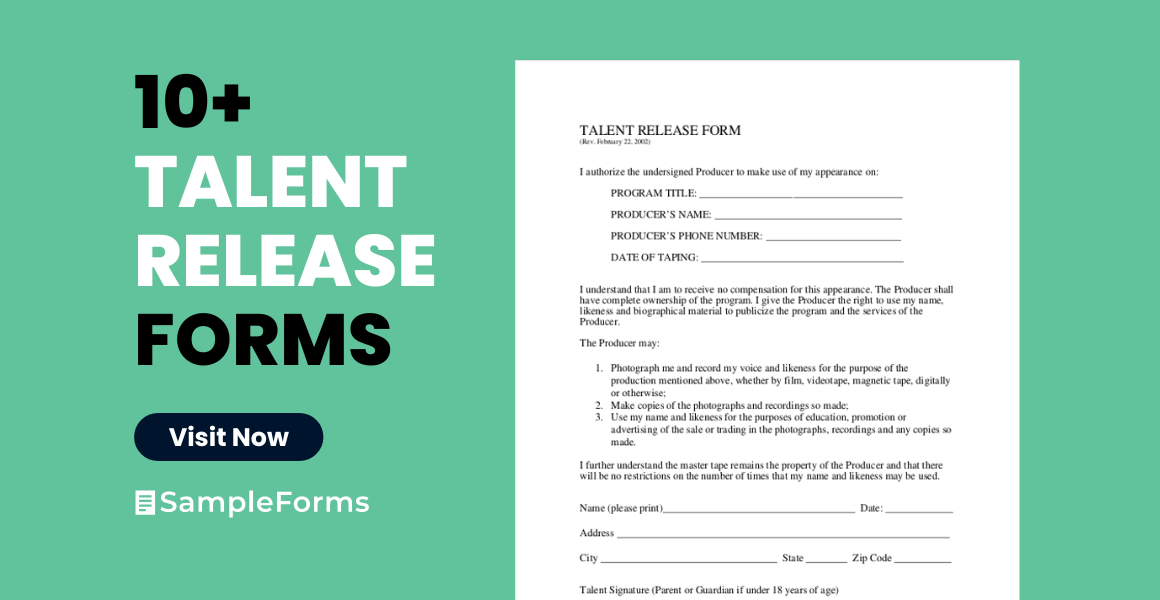 A talent release form is generally used by a party who wishes to share the talent of a person with other people. Getting this form signed from the person concerned enables the party to showcase their talent with their permission. Thus a talent release document is more of legal document which comes in handy for saving the party from any legal hassles. This form is used by film makers, production companies, photographers, recording studios etc. You may also see Liability Release Forms
Standard Talent Release Form
This is the standard design of a talent release form and can be used by any party to gain permission for sharing a person's talent. The form can be changed and personalized as per the party's requirement.
Generic Talent Release Form
This form defines a general format of a talent release form and can be used by productions houses, photographers and the likes. These can be further customized depending on the terms of agreement.
Sample Talent Release Agreement Form
Used by production companies, art clubs, music directors etc to secure permission from an artist to share their talent on a social platform, this form acts as a legal agreement between the two parties.
Talent Release Form for Video/Audio Content
As the name indicates this talent form is mainly used by recording studios and film makers to gain the permission of artists to distribute their audio and video clips on various channels.
Sample Public Access Talent Release Form
This form is usually signed by an artist to grant permission to a film maker or other parties to use his/her clippings that showcase his/her talent. By signing this form, the artist gives permission to use the clippings on a public platform.
Student Video Talent Form
This talent form is mainly used by filmmakers and talent hunters who visit schools and colleges in search of talent. They make the students sign this form to ensure that they are not later sued for using their clippings.
Sample Gotham Radio Talent Release Form
Used by Gotham Radio station to gain permission from artists and bands to play their songs on their channel, this talent form can be customized by other radio stations too for similar purpose.
Talent and Performance Release Form
This talent release form is used by TV stations, radio stations, film makers and the likes to secure permission from performers to allow them to showcase their talent and use their clippings on various social networks.
Actor/Model/Talent Release Form
Acting and modeling agencies, film makers as well as firms working in the field of talent hunting make their artists sign this talent release form to allow them to use their videos, photos and audio clips.
Sample Talent Release Form
As the name indicates this is a sample of a talent release form that gives you the format of such a form. You can use it just the way it is or can make changes depending on your needs.
Who should Use a Talent Release Form?
Any person who works in the creative field with different artists and later shares their talent on different platforms requires to use a talent release form. Using this form and getting it signed by the artist, makes the concerned party a legal owner of the clippings and photographs of the artist. This form can also be used by an artist who wants to grant permission to a company for using his/her clippings but wants them to adhere to certain regulations. Thus, using a talent release form sets both the party's minds at peace and saves them from any legal issues on a later date. Useful Lien Release Forms
Why is it Important to Use a Talent Release Form?
As it has been indicated earlier, a talent release form grants a person or company permission to showcase and share the talent of an artist. However, if they do this without the permission of the artist, there are chances that the person might object to this disruption of privacy and file a law suit. This would mean a lot of problems for the company, the legal battle notwithstanding. Using a talent release form also gives the artist a right to put down certain restrictions and regulations which the company needs to heed to when sharing the talent on various platforms. In case of a legal issue, this form works as a viable piece of evidence.
How can you Design a Talent Release Form?
Before you start designing a talent release form, it would be a good idea to consult both the parties concerned about the terms that they may want to include in the form. Put an appropriate title on the top of the form and follow this with the name and other details of the person to whom the permission is being granted. Follow this with the name of the program for which the artist is granting permission. Now put in the terms. Breaking these into smaller paragraphs would make it easier to read. At the end, place a segment where the name of the artist along with his/her personal details can be added. You can also see General Release Forms
A talent release form is an important document for people working in the creative field and thus, needs to be designed with ultimate care. In case, you do not have enough time to hire an expert or to design one yourself, it would be a great idea to download a talent hunt release form. These are readily available for download and can be easily customized to meet your needs.