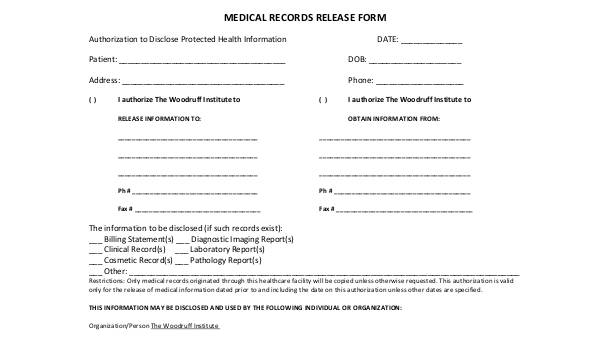 If you are searching for information on things deemed sensitive such as like medical information, we highly advise that you download Medical Forms. Medical Forms are the forms used when requesting for information regarding a particular patient. Such information is only available at a medical institution, which will always demand the necessary permits first before releasing any info to a third party.
You probably are wondering where to get these forms – well, worry not. Type in the specific form in SampleForm's search bar and the website will generate the form or forms you are looking for, or at least all the forms related to your search query.
Generic Medical Records Release Form
Patient Medical Record Release Form
Dental Records Release Form
Medical Records Request Form
Medical Record Authorization Release Form
Our website also has Medical Records Release Forms. They focus on medical records. Any information about a patient's medical history should never be permitted to be publicized. However, if they provide you with a signed version of the particular form requested, then the patient's records that are being kept will be opened. In truth, you should not fret about anything. After all, the medical information will be shown only within the hospital and will only be used as extra reference for research or clarification. In short, the patient allows the doctor or any other medical personnel to bring out his personal information.
We have a rather huge compendium of release forms dedicated to Medical Records Release Forms too. You are welcome to browse our site to gain additional understanding of the said forms and all other forms that you think you are important for future and legal purposes or which you just need to know more about. You do not need to shell out anything – not even a penny – so there's nothing to be worried about.
Medical Record Consent Release Form
Medical Record Release/Request Form
HIPAA Medical Records Release Form
Medical Record Release Form in PDF
Blank Medical Records Release Form
General Medical Release of Information Authorization Form
Like Medical Records Release Forms, Medical Release Forms function as an authorization if you need to acquire for a patient's medical data. Not anybody can just freely ask for such records since the doctors observe this vow also known as the Hippocratic Oath, where a line explicitly stipulates they must respect the privacy of their patients and not disclose their patients' information without prior consent. If an approval from the patient is confirmed, then folders will be opened. But the records must be opened within the hospital premises only and will be used as a reference only and nothing more. Although the records are tagged as released, this does not literally mean they are for full public use.
Medical Release Forms are available on out website too, and almost every form is just waiting for your download. Go ahead and do so. The instructions are so easy that even a child could do it within a few minutes. Make sure your printer is in excellent working condition though.