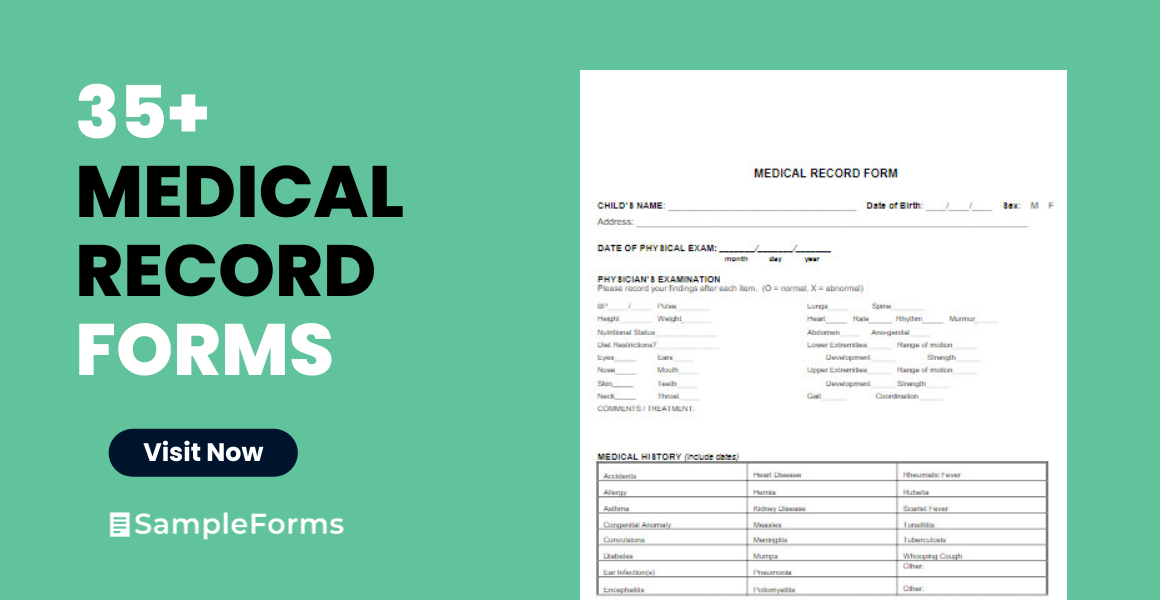 A Medical Record Form serves as the foundational document in healthcare, chronicling a patient's medical history, treatments, and interactions with healthcare professionals. This crucial printable form, varying in type and design across healthcare settings, ensures consistency in patient care, provides vital information for diagnoses, and aids in medical research. Whether you're a patient keen on understanding your health journey or a professional looking to optimize record-keeping, this guide delves into the meaning, types, examples, creation, and best practices of Medical Record Forms.
What is a Medical Record Form ? – Definition
A Medical Record Form is a systematic documentation of a patient's medical history, treatments, diagnostic tests, consultations, and other interactions within a healthcare setting. This form, maintained by healthcare professionals, provides a comprehensive account of a patient's health status, interventions, and outcomes over time. It serves as a communication tool among healthcare providers, ensuring continuity of care, and acts as a reference for medical decision-making, legal evidence, and health research.
What is the Meaning of a Medical Record Form?
The meaning of a Medical Record Form goes beyond its physical representation; it encapsulates a patient's entire healthcare journey. It's a chronological compilation of information detailing medical interventions, diagnoses, treatments, medications, allergies, radiology images, laboratory results, and notes from healthcare providers. This form offers healthcare professionals insights into a patient's health history, ensuring informed and consistent care. Furthermore, it establishes a track record for potential future references, be it for clinical, legal, or research purposes, underpinning the continuity and quality of patient care.
What is the Best Sample Medical Record Form?
Providing a best sample Medical Record Form is challenging since the specifics often vary based on the healthcare setting, the country's medical regulations, and the intended use of the form. However, a comprehensive Medical Record Form typically includes the following sections:
Patient Information:

Full Name
Date of Birth
Gender
Address
Contact Number
Emergency Contact

Medical History:

Past illnesses or surgeries
Current medications and dosages
Allergies
Immunization records
Family medical history

Visit Details:

Date of visit
Reason for visit
Diagnosis
Treatment or medication prescribed

Lab and Test Results:

Blood tests
Radiology results, such as X-rays or MRIs
Biopsy results, if applicable

Provider Notes:

Observations during the visit
Recommendations or future tests
Referrals to specialists, if needed

Billing and Insurance Details:

Insurance provider
Policy number
Billing details for the visit

Consent Forms:

For surgeries, treatments, or participation in research

Privacy Agreement:

Acknowledging the patient's rights and the institution's commitment to maintaining confidentiality

Signature Section:

Space for the medical professional's signature to verify the details
It's crucial to note that a patient's medical record is confidential, and access is typically restricted to the patient and their authorized healthcare providers. Before using any sample information form, ensure it complies with local medical regulations, guidelines, and privacy laws.
FREE 35+ Medical Record Forms
What is a Medical Record Form used for?
A Medical Record Form is used to document a patient's medical history, treatment plans, diagnoses, test results, medications, and other health-related information. This form serves multiple purposes:
Continuity of Care: It provides healthcare professionals with a comprehensive view of the patient's health, ensuring consistent and informed care.
Communication: It allows for effective communication between different healthcare providers, especially if a patient sees multiple specialists.
Legal Protection: It acts as evidence of patient care provided and can be essential in legal or malpractice cases.
Billing and Insurance: It assists in processing insurance claims and ensuring accurate billing for services rendered.
Research and Public Health: De-identified records can be used for medical research, understanding disease outbreaks, and public health interventions.
Decision Making: It helps healthcare providers make informed decisions about patient care, treatment options, and potential interventions.
In essence, a Medical Record Form is a critical tool that ensures informed and safe patient care, facilitates communication among healthcare providers, and serves as an official patient's report form with health and treatment history.
How do I request my Medical Record Form from a hospital?