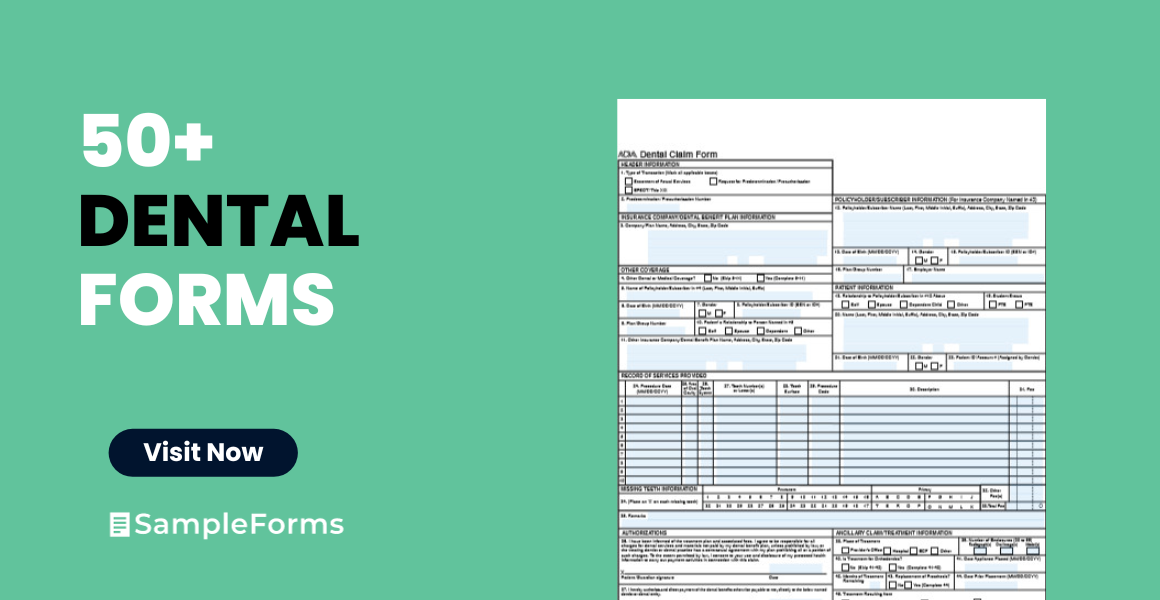 A Dental Form is a vital instrument in the orchestration of dental care, serving as a bridge between patients and practitioners. It not only captures patient's personal and medical histories but also provides insights into their dental past. With various types catering to distinct dental needs, these forms are the blueprint for informed care. From the simple patient registration to detailed treatment consent form, Dental Forms are the unsung heroes ensuring streamlined and safe dental practices. Read on to explore its intricacies, creation, and best practices.
What is a Dental Form ? – Definition
A Dental Form is a standardized document used by dental practices to gather, record, and manage pertinent information about a patient's dental and medical history, current complaints, allergies, and other relevant details. It serves as an essential tool for dentists to provide accurate and safe dental care, ensuring that they have a comprehensive understanding of the patient's dental needs and background. Additionally, Dental Forms aid in administrative tasks, insurance claims, and maintaining a coherent record of treatments and patient interactions.
What is the Meaning of a Dental Form?
The meaning of a Dental Form extends beyond mere paperwork. At its core, it represents a comprehensive snapshot of a patient's dental and overall health history, acting as a guide for dental professionals in providing tailored care. It encompasses essential details, from past dental treatments and allergies to ongoing health issues that could impact dental procedures. The form also ensures clarity in communication, aids in administrative efficiency, and offers a systematic way to track a patient's dental journey, ensuring their safety and optimizing treatment outcomes.
What is the Best Sample Dental Form?
The ideal Dental Form will vary depending on the specific needs and practices of a dental clinic. However, a comprehensive Dental Form typically includes the following sections:
Patient Information:
Full Name: ____________________________
Date of Birth: //_____
Contact Number: ____________________________
Address: ____________________________
Emergency Contact:

Name: ____________________________
Relationship: ____________________________
Phone: ____________________________
Dental History:
Date of last dental visit: //_____
Reason for today's visit: ____________________________
Previous dentist's name & contact: ____________________________
Medical History:
Are you currently under medical treatment? [ ] Yes [ ] No
Have you had any major surgeries? [ ] Yes [ ] No

If yes, specify: ____________________________

List any medications you are currently taking: ____________________________
Any known allergies (especially to medications)? ____________________________
Dental Concerns & Symptoms: (Please tick where applicable)
Toothache
Bleeding gums
Sensitivity to hot/cold
Broken/chipped tooth
Interested in cosmetic dentistry
Insurance Information:
Provider: ____________________________
Policy Number: ____________________________
Consent: I hereby provide accurate information to the best of my knowledge and understand that this will guide my dental care.
Signature: ____________________________ Date: //_____
Remember, this is a basic template. Depending on the dental clinic's requirements, specialized treatments, and patient demographics, the fillable form can be much more detailed. Incorporating sections like dental x-ray records, periodontal charts, or detailed consent forms for specific procedures can be vital for certain clinics. It's always advisable to customize the form to best suit the clinic's specific needs and ensure comprehensive patient care.
FREE 50+ Dental Forms in PDF | MS Word
How do I complete a Dental Form for a new patient?
Completing a Dental Form for a new patient involves a series of steps to ensure that all relevant information is accurately recorded, allowing for informed and safe dental care. Here's a step-by-step guide:
Personal Information:

Fill out the patient's full name, date of birth, address, and contact details.
Ensure you have the correct spelling and accurate contact numbers.

Emergency Contact:

Record the name, relationship, and contact number of someone to reach out to in case of emergencies.

Dental History:

Indicate the date of the last dental visit.
Specify the reason for the current visit.
If possible, provide details about the previous dentist or clinic for reference or record transfer purposes.

Medical History:

Detail any ongoing medical treatments.
List any past major surgeries or hospitalizations.
Provide a list of medications currently being taken. Include dosages if possible.
Note any known allergies, especially those related to medications, anesthesia, or dental materials.

Dental Concerns & Symptoms:

Check or tick off any symptoms or concerns the patient has. Be as detailed as possible.
If the form has space, describe the duration, frequency, and intensity of symptoms like pain.

Insurance Information:

If the patient has dental insurance, fill out the insurance provider's name and the policy number.
It may also be helpful to have a copy of the insurance card or details for billing purposes.

Additional Notes:

Some forms may have a section for additional comments or concerns. Use this space to note any specific fears (like dental anxiety), preferences, or past dental experiences worth mentioning.

Consent and Acknowledgment:

Many forms will have a section where the patient acknowledges the accuracy of the information provided and gives consent for treatment. Ensure the patient reads, understands, and signs this section.
If the patient is a minor, a parent or guardian should sign the form.

Review:

Once the form is filled out, take a moment to review all sections to ensure completeness and accuracy.

Submission:
Hand over the completed form to the dental receptionist or assistant.
If you're using an electronic form, there may be a "submit" button to finalize the process.
Always ensure that the patient understands the importance of providing accurate information, as it's crucial for their safety and the effectiveness of their dental care. If there are any doubts or questions, it's best to consult with the dental staff before proceeding. You should also take a look at our Dental examination forms.
Can I submit my Dental Form online?
Yes, many modern dental practices allow for the online submission of Dental Forms, especially as they transition to more digital and paperless operations. Submitting a Dental Form online offers several advantages:
Convenience: Patients can fill out forms at their leisure, from the comfort of their homes, without feeling rushed.
Efficiency: Online submission ensures that the dental practice receives the information in real-time, allowing them to prepare and review before the patient's visit.
Accuracy: Electronic forms can have built-in validations to ensure required fields are completed, reducing the chance of missing information.
Environmental Benefit: Reduces the use of paper, making it a more environmentally-friendly option.
However, when submitting a Dental Form online:
Ensure that the dental practice's website or portal is secure. Check for 'https' in the URL or a padlock symbol, indicating that the connection is encrypted.
Avoid using public computers or unsecured public Wi-Fi networks when filling out or submitting personal or medical information.
Always save or print a copy of the completed form for your records.
Follow up with the dental practice to ensure they received the form, especially if you don't receive a confirmation after submitting.
Remember, while many dental offices offer online form submission, not all do. Always check with your specific dental provider about their preferred method of receiving patient information. If you have concerns about online submission, most practices will still accept physical forms or provide alternative methods for sharing this information.
What information is typically required on a Dental Form?
A Dental Form is designed to gather comprehensive information about a patient to ensure they receive appropriate and safe dental care. Typically, the following information is required:
Personal Information:

Full Name
Date of Birth
Address
Contact Number (including alternate numbers)
Email Address

Emergency Contact Details:

Name of the emergency contact person
Relationship to the patient
Contact number(s)

Dental History:

Date of last dental visit
Reason for the current visit or any specific complaints
Previous dentist's name and contact (for reference or record transfers)
Previous dental treatments, surgeries, or orthodontic procedures

Medical History:

Current medical conditions (e.g., diabetes, hypertension)
Previous surgeries or hospitalizations
List of current medications, including dosages
Known allergies, especially drug allergies or reactions to dental materials
History of specific conditions that might impact dental care, like heart conditions, prosthetic joints, or conditions requiring premedication before dental procedures.

Dental Concerns & Symptoms:

Specific dental problems or concerns (toothache, sensitivity, gum bleeding, etc.)
Interest in particular dental treatments (e.g., cosmetic dentistry, orthodontics)

Insurance Information:

Dental insurance provider name
Policy number or member ID
Group number (if applicable)

Consent Section:

An acknowledgment that the information provided is accurate
Consent for treatment or for sharing information with other health professionals if necessary
If the patient is a minor, consent from a parent or guardian

Additional Notes or Comments:

Space for patients to provide any other relevant information or concerns not addressed in the form's predefined sections.
Some dental forms may also include other sections like dental x-ray records, periodontal charts, or detailed medical questionnaires, depending on the dental practice's specific needs and the type of care being provided.
It's crucial for patients to provide accurate and complete information on the Dental Form, as it plays a vital role in determining the best and safest dental treatment plan for them. Our Sample Dental Examination Forms is also worth a look at
What is the purpose of a Dental Form?
The Dental Form serves several crucial purposes in the context of dental healthcare:
Patient Identification: It ensures that the dental office has accurate and up-to-date personal information for the patient. This helps in scheduling, billing, and communication.
Medical and Dental History Review: Understanding a patient's medical history is essential as certain medical conditions or medications can influence dental treatment decisions. For instance, patients with specific heart conditions might require antibiotics before dental procedures, or those on blood thinners might need adjustments to their medication regimen before surgical procedures.
Symptom and Concern Documentation: It allows patients to communicate their specific dental issues, concerns, or symptoms, helping the dentist prioritize examinations and treatments.
Risk Management and Liability: In case of any complications or issues, the form serves as a record that the patient provided (or failed to provide) certain information. It's a critical component in ensuring informed consent and understanding between the patient and dentist.
Insurance and Billing: Dental forms often capture insurance information, ensuring that claims are processed correctly, and patients receive the benefits they are entitled to.
Emergency Situations: With the inclusion of emergency contact details, the dental office can quickly contact someone if an unexpected situation arises during treatment.
Establishing a Treatment Plan: By gathering a comprehensive understanding of the patient's dental and medical history, along with their current concerns, the dentist can create a more accurate and tailored treatment plan.
Tracking Patient Progress: For returning patients, updated dental forms can help in tracking changes in health status, medications, or dental conditions over time.
Legal Compliance: Dental forms ensure that practices are compliant with local regulations and laws regarding patient care and data documentation.
Enhancing Communication: By providing a structured format for patients to share their concerns, issues, and history, dental forms enhance communication between the patient and the dental care team, leading to more effective and satisfactory care.
In essence, the Dental Form acts as a foundational tool in dental care, bridging the gap between patients and professionals, ensuring safety, efficiency, and effective care tailored to individual needs.
How often should I update my Dental Form?
It's essential to keep your Dental Form updated to ensure that your dentist has the most current and accurate information about your health and dental conditions. Here's a guideline on when to update it:
Annual Updates: Even if you feel that nothing has changed, it's a good practice to review and update your Dental Form annually. This allows you to confirm that everything is accurate and gives your dental provider a chance to check if there are any new concerns or changes.
Change in Medical History: If you've been diagnosed with a new medical condition, had a significant change in your health, undergone surgery, or started taking new medications (including over-the-counter drugs, supplements, or herbal remedies), it's crucial to update your Dental Form.
Dental Changes: If you've had dental treatments or surgeries at a different clinic or have developed new dental symptoms or concerns, you should provide this information.
Medication Alterations: If there's a change in your medication type, dosage, or frequency, inform your dental office. Some medications can impact dental treatments or have oral side effects.
Personal Information: Update your form if there are changes in your contact details, address, or insurance information.
Allergies: If you develop new allergies, especially to medications, materials, or anesthetics, it's essential to update your form.
Pregnancy: If you become pregnant, it's crucial to inform your dental provider as certain dental treatments or radiographs might need to be postponed or modified.
Lifestyle Changes: Significant changes in lifestyle habits, such as tobacco use or increased alcohol consumption, can impact oral health and might necessitate changes in your dental care.
Emergency Contacts: Ensure that your emergency contact details are current, especially if there have been changes in your relationships or if your contacts have changed their phone numbers.
Post-treatment Complications: If you experienced complications or adverse reactions after a previous dental treatment, make sure this is documented for future reference.
In general, always err on the side of caution. If you're unsure whether a change is significant enough to warrant updating your Dental Form, it's best to share the information. A well-informed dentist can provide safer, more personalized care, ensuring the best outcomes for your oral health. In addition, you should review our Sample Army Dental Forms.
How detailed should my responses be on the Dental Form?
The accuracy and detail of your responses on the Dental Form directly impact the quality and safety of the dental care you receive. When filling out the form, consider the following:
Be Thorough: Offer as much detail as possible, especially concerning your medical history, dental history, and any symptoms or concerns. This helps the dentist create a tailored and effective treatment plan.
Use Clear Language: Avoid jargon or abbreviations that might not be universally understood. If you're uncertain about a term or condition name, provide a brief description.
Don't Omit Information: Even if you believe some information might be irrelevant to your dental care, include it. Sometimes, seemingly unrelated health issues or medications can have implications for dental treatments.
List All Medications: This includes not only prescription medications but also over-the-counter drugs, supplements, herbal remedies, and vitamins. Some medications can impact dental procedures or react with drugs used in dentistry.
Specify Allergies: Be clear about any allergies, including the specific allergic reactions you've experienced. For instance, instead of just writing "penicillin allergy," you might note "rash and swelling with penicillin."
Document Previous Dental Work: Mention any past dental surgeries, orthodontic work, implants, or other significant procedures. If you've experienced complications with previous dental treatments, describe them.
Clarify Doubts: If you're unsure about a question or how to answer it, ask the dental staff. It's better to seek clarification than to provide inaccurate or incomplete information.
Use the Additional Notes/Comments Section: If there's information that doesn't fit into the predefined categories on the form or if you have specific concerns, utilize the additional notes or comments section.
Regularly Review and Update: Even if you've been visiting the same dental clinic for years, regularly review and update your form to ensure it reflects your current health status.
Be Honest: Sometimes, patients might be hesitant to disclose certain information due to embarrassment or privacy concerns, such as tobacco or alcohol use, recreational drug use, or specific health conditions. However, transparency is crucial for your safety and receiving appropriate care.
In summary, your responses on the Dental Form should be detailed, clear, and honest. Providing comprehensive and accurate information equips your dental team with the knowledge they need to offer you the best possible care. You may also be interested in our Dental Consent Forms.
Can I provide feedback about the Dental Form process?
Yes, most dental clinics and practitioners appreciate feedback from their patients, including comments about the Dental Form process. Here's how you can go about providing feedback:
Speak Directly to the Dental Staff: Whether it's the receptionist, dental hygienist, or dentist, let them know your thoughts. They may take note of your suggestions and pass them on to the appropriate party for consideration.
Use Feedback Forms: Some dental clinics might have specific feedback or survey forms for patients to share their experiences. If available, utilize these forms to provide detailed comments about the Dental Form process.
Write a Formal Letter: If you have significant concerns or suggestions, consider writing a formal letter addressed to the clinic's management or the dentist. This approach can ensure that your feedback is given the attention it deserves.
Online Reviews: Many dental practices monitor their online reviews and feedback on platforms like Google, Yelp, or specialized healthcare review sites. Sharing your feedback here not only informs the clinic but also helps other patients make informed decisions.
Participate in Clinic Surveys: Some clinics might periodically send out surveys to gather patient feedback on various aspects of their service, including the Dental Form process. Participate actively in these surveys.
Raise Any Immediate Concerns: If you find a question that's unclear or a section of the form that's potentially problematic, raise the issue immediately. Immediate feedback can be especially helpful if it concerns sensitive information or potential misunderstandings.
Offer Constructive Criticism: When providing feedback, aim for constructive criticism. Instead of just pointing out issues, offer potential solutions or ways the process could be improved.
Follow Up: If you've provided feedback and are interested in seeing changes or getting a response, consider following up after some time to check on any actions taken based on your feedback.
Patient feedback form is invaluable for continuous improvement in healthcare. By sharing your experience and suggestions regarding the Dental Form process, you can contribute to enhancing the overall patient experience and the efficiency of the dental clinic's operations.
Where can I find guidelines on completing the Dental Form?
Guidelines for completing a Dental Form are typically provided by the specific dental clinic or institution issuing the form. However, if you're looking for instructions or general guidelines, here's where you might find them:
Directly on the Form: Many Dental Forms come with embedded instructions or guidelines for each section or question. Look for any footnotes, side notes, or highlighted sections on the form.
Dental Clinic's Website: If you're accessing or downloading the Dental Form from a clinic's website, there may be a separate section or page dedicated to guidelines or frequently asked questions (FAQs) about filling out the form.
Reception Desk: When you visit the dental clinic, the receptionist or front desk staff can often provide guidance or a printed instruction sheet on how to complete the form.
Ask the Dental Staff: Dental hygienists, assistants, or even the dentist themselves can provide clarity if you have specific questions about the form.
Dental Associations: While they may not have guidelines for specific clinic forms, national or regional dental associations might have general guidelines or best practices for patient data collection, which can be useful.
Online Forums or Communities: Websites or online communities related to dental health or patient experiences might have discussions or tips on completing Dental Forms. However, always cross-check the information you find online with trusted sources.
Brochures or Informational Booklets: Some dental clinics offer informational booklets or brochures to new patients. These materials might contain guidelines or tips on filling out forms, among other useful information.
Tutorials or Videos: With the rise of digital health platforms, some larger dental practices or chains might offer online tutorials or video guides on how to fill out their specific Dental Forms.
If you're ever in doubt about how to answer a specific question or what information to include, don't hesitate to ask for clarification from the dental clinic staff. It's essential to fill out the form accurately to ensure you receive the best and safest dental care possible.
How to Create a Dental Form?
Creating a Dental Form requires careful consideration to ensure all essential patient information is collected, and the form is user-friendly. Here's a step-by-step guide to help you create an effective Dental Form:
Define the Purpose: Before you start, clarify the form's main purpose. Is it for new patient registration, medical history update, consent for a specific procedure, or a post-treatment feedback form?
Choose a Format: Decide whether the form will be paper-based, digital (like a PDF), or an online form. Digital and online formats are increasingly popular due to convenience and better data management.
Start with Basic Information:

Patient's full name
Date of birth
Contact information (address, phone number, email)
Emergency contact details

Medical History:

General health status and any ongoing treatments.
History of surgeries or hospitalizations.
Allergies (especially to medications).
Current medications, including non-prescription drugs and supplements.

Dental History:

Last dental check-up or procedure.
History of orthodontic work.
Previous dental problems or surgeries.
Habits like smoking, alcohol consumption, teeth grinding, etc.

Incorporate a Pain or Discomfort Section: Ask if the patient is currently experiencing any dental pain, sensitivity, or discomfort, and allow space for them to describe it.
Add a Consent Section: If your form is for a specific procedure, include a section where patients can give their informed consent after understanding the procedure's risks and benefits.
Feedback/Comments Section: Provide space for patients to include any additional information or specific concerns they might have.
Include a Data Privacy Statement: Assure patients that their personal and medical information will be kept confidential and explain how their data will be used.
Design Matters: Make sure the form is clear, concise, and organized. Use legible fonts, avoid jargon, and make sure there's enough space for patients to fill in their answers. If digital, ensure it's mobile-friendly.
Add Instructions: Offer guidance on how to fill out the form and what certain terms or sections mean. Make it easy for patients to understand and complete.
Test the Form: Before finalizing, have a few people (colleagues, friends, or a test group) fill out the form. Collect feedback and make any necessary revisions.
Review with Legal and Medical Teams: Ensure that the form meets any regulatory or legal requirements and that it captures all necessary medical information.
Update Regularly: Health care, technology, and legal regulations can change. Make sure to review and update your Dental Form periodically to keep it current and compliant.
Provide Multiple Submission Options: If possible, give patients the choice to submit the form in person, via mail, email, or through an online portal.
Remember, a Dental Form serves as a critical communication tool between the dentist and the patient. Its design and content should prioritize clarity, comprehensiveness, and patient comfort. You may also be interested to browse through our other Dental Claim Form and Dental Medical Clearance Forms.
Tips for creating an Effective Dental Form
Creating an effective Dental Form requires a balance between capturing essential information and ensuring ease of use for the patients. Here are some tips to guide you:
Keep it Simple: Use clear and concise language. Avoid medical jargon where possible and opt for layman's terms to ensure all patients understand the questions.
Logical Flow: Organize the form in a logical sequence, such as starting with personal details, followed by medical history, dental history, and so forth.
Use Clear Fonts: Opt for readable fonts and ensure that font sizes are adequate, especially if considering older patients or those with vision impairments.
Provide Adequate Space: Ensure there's enough space for patients to fill in their answers, especially in open-ended questions.
Prioritize Privacy: Include confidentiality and data protection statements, reassuring patients about the security of their information.
Highlight Mandatory Fields: If using a digital form, highlight or mark mandatory fields that must be completed before submission.
Include Instructions: Offer guidance on how to fill out specific sections, especially if they're complex or if specific details are needed.
Use Checkboxes and Drop-down Menus: For standard answers, such as "yes" or "no" questions or common conditions, use checkboxes or drop-down menus to simplify the process.
Be Comprehensive but Succinct: While it's crucial to gather all necessary information, avoid making the form overly lengthy, which can be daunting to patients.
Stay Updated: Regularly review and update the form to include new medical discoveries, treatment options, or changes in legal regulations.
Consider Multilingual Options: If serving a diverse community, consider offering the Dental Form in multiple languages.
Add Visual Aids: Where beneficial, use diagrams or images (like a dental chart) to help patients pinpoint areas of concern or discomfort.
Feedback Section: Provide a section where patients can note concerns, questions, or any other comments they might have.
Ensure Mobile-friendliness: If your form is digital, ensure it's optimized for mobile devices, as many patients might access it via smartphones or tablets.
Add Contact Information: Provide details for the dental office, so patients can easily reach out if they have questions or need clarifications while filling out the form.
Test and Revise: Before rolling out the form, test it with a few patients or peers to gather feedback. This can help you spot any potential issues or areas of confusion.
By focusing on patient ease and clarity, while ensuring you capture all the necessary information, you can design a Dental Form that benefits both the dental office and the patients it serves.
A Dental Form is a crucial tool in dental care, bridging communication between patients and professionals. It captures essential patient information, medical and dental histories, ensuring personalized and safe treatments. The creation process demands clarity, comprehensiveness, and a focus on patient ease. Regular updates and adaptability to modern platforms, like mobile devices, further enhance its effectiveness in the ever-evolving healthcare landscape. You can also browse our Dental records release forms.