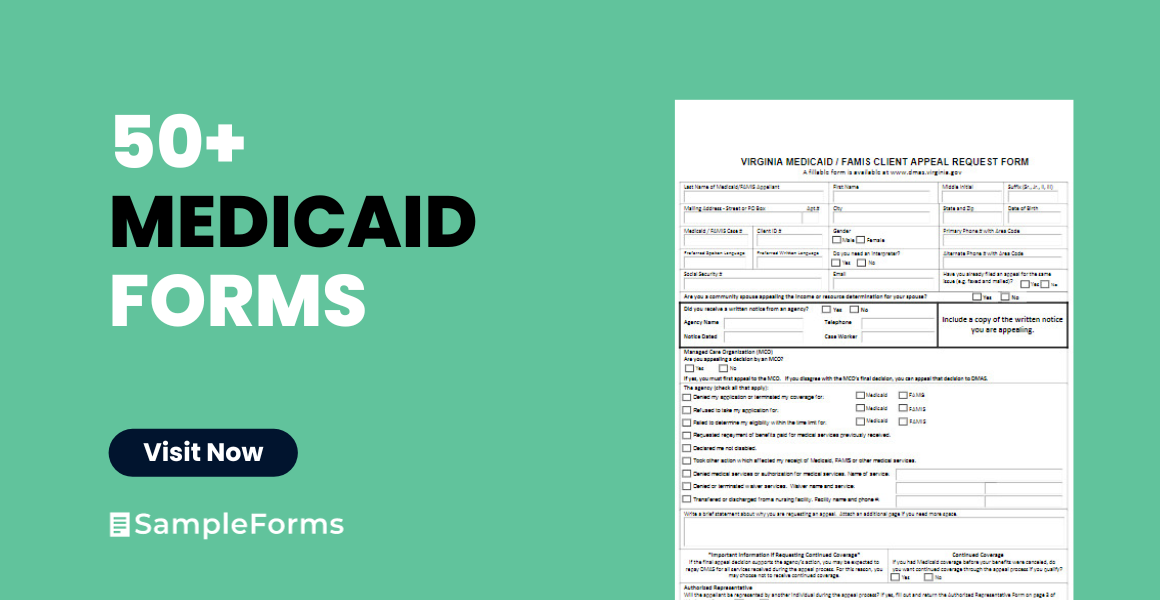 Navigating the complexities of healthcare often involves understanding essential documentation. Among these, Medicaid forms stand out as crucial tools for accessing subsidized medical services for eligible individuals. Medicaid, a state and federally funded program, offers a variety of printable forms tailored to different needs, from application to service claims. This comprehensive guide dives deep into the meaning, types, examples, creation process, and offers tips to ensure a seamless Medicaid experience, aiding beneficiaries in accessing the care they rightfully deserve.
What is a Medicaid Form ? – Definition
A Medicaid Form is an official document associated with the Medicaid program, designed to facilitate various processes such as application, eligibility determination, service authorization, and claims submission. Medicaid, a joint federal and state program, provides health coverage to eligible low-income individuals, including some with limited income or resources. These fillable forms ensure that applicants, recipients, and service providers have a standardized way to provide or receive necessary information, ensuring that benefits are delivered efficiently and accurately to the intended beneficiaries.
What is the Meaning of a Medicaid Form?
The meaning of a Medicaid Form extends beyond just a paper or digital document. It serves as a bridge connecting eligible individuals to essential healthcare forms and services funded by the Medicaid program. When individuals fill out a Medicaid Form, they provide specific details, such as financial status, household size, medical history, and more, to ascertain their eligibility for benefits. Additionally, for healthcare providers, Medicaid forms facilitate reimbursement processes. In essence, a Medicaid Form embodies the structured communication and transactional framework of the Medicaid system, ensuring that the right beneficiaries receive appropriate care, while providers are duly compensated for their services.
What is the Best Sample Medicaid Form?
The term best can be subjective, as the most appropriate Medicaid form for an individual or situation would depend on the specific needs or purposes. However, the most commonly used and universally recognized Medicaid form is the initial application form to determine eligibility.
Personal Information:

Full Name
Date of Birth
Social Security Number
Gender
Marital Status

Contact Information:

Address
Phone Number
Email (if applicable)

Household Information:

Number of members in the household
Relationship to the applicant
Each member's date of birth, gender, and Social Security Number

Financial Information:

Monthly income details for all household members (e.g., wages, unemployment benefits, alimony)
Asset information (bank accounts, properties, other investments)

Insurance Details:

Current health insurance information, if any
Policy number and provider name

Medical Information:

Details about any disabilities
Information about the need for long-term care or other specialized services

Signature Section:

A declaration stating that all provided information is accurate
Space for the applicant's signature and date
This is just a basic sample of a Medicaid application form. Specific forms may vary by state, as Medicaid is administered at the state level. Each state might have its own set of forms for different purposes, such as redetermination of eligibility, reporting changes, or claiming reimbursements. You also browse our Medicaid agreement contract forms.
FREE 50+ Medicaid Forms
What are the different types of Medicaid Forms?
Medicaid, being a comprehensive healthcare program, utilizes a variety of forms tailored to different purposes. Here's a rundown of the various types of Medicaid Forms:
Initial Application Forms: These are the basic forms an individual or family fills out to determine their initial eligibility for Medicaid benefits. They cover personal, financial, and sometimes medical details.
Renewal Forms: Used by beneficiaries to renew their Medicaid eligibility, often on an annual basis.
Change Report Forms: Beneficiaries use these to report any significant changes in their circumstances, such as changes in income, household size, or address.
Medical Assessment Forms: For certain Medicaid programs or benefits, a medical assessment might be necessary to determine the level of care required. For instance, if an individual is applying for long-term care benefits, they might need a detailed medical evaluation.
Provider Claim Forms: These are used by healthcare providers to bill Medicaid for services rendered to beneficiaries.
Prior Authorization Forms: In certain cases, before a specific treatment, medication, or service is provided, prior authorization might be required. These forms are used to seek that authorization.
Appeal Forms: If a beneficiary disagrees with a decision made regarding their benefits, they can use this form to request an appeal.
Specialized Coverage Forms: Depending on the state and the nature of Medicaid programs offered, there might be specialized forms for dental care, vision care, mental health services, etc.
Long-Term Care and Waiver Program Forms: These are specific forms used for individuals who need long-term care or who are applying for specific waiver programs that might provide services not covered under traditional Medicaid.
Provider Enrollment Forms: These are used by healthcare providers who wish to enroll in the Medicaid program to provide services to beneficiaries.
Transportation Request Forms: In some states, Medicaid provides non-emergency medical transportation services. These forms are used to request such services.
Communication Preference Forms: Beneficiaries can use these forms to indicate their preferred mode of communication (mail, email, etc.) with the Medicaid office.
Remember, Medicaid is a state-administered program, so the exact blank forms and their nomenclature can vary from one state to another. It's always recommended to check with the specific state's Medicaid agency for detailed and up-to-date information.
How Do You Use The Medicaid Form For Application?
What documents are needed to be attached to a Medicaid Form?
When applying for Medicaid, you'll typically need to provide supporting documentation to verify the information you've given on your application. The specific documents required can vary based on the state, but the following is a general list of documents that are often required:
Proof of Identity and Citizenship/Immigration Status:

U.S. passport
Birth certificate
Certificate of Naturalization or Certificate of Citizenship
Permanent Resident Card (Green Card) for non-citizens

Social Security Number:

Social Security card or a document showing your SSN (e.g., a tax document).

Proof of Residency:

Utility bills (water, gas, electric) with your name and current address
Lease agreement or rent receipt
Mortgage statement
Driver's license or state ID with current address

Proof of Income:

Recent pay stubs or a wage statement from your employer
Unemployment compensation documents
Social Security benefits statement
Pension, retirement, or annuity statement
Alimony or child support payment records
Tax returns, especially if self-employed

Proof of Assets (if required by the state):

Bank statements (checking, savings, CDs, IRAs)
Property or real estate assessment or tax documents
Stock and bond certificates
Life insurance policies

Proof of Other Insurance:

If you have other health insurance, provide policy numbers and documents.
Medicare card, if applicable.

Medical Records (if applying due to a disability):

Medical records or documentation proving the disability or need for certain services.

Proof of Household Size:

Birth certificates for children
Marriage certificate
Adoption or guardianship papers

Other Documentation:

Pregnancy verification, if applicable
Bills showing current medical expenses
Documentation of any changes in circumstances, such as a recent job loss or divorce decree
While this list covers many of the commonly required documents, it's essential to check with your specific state's Medicaid agency or program for an exact list of required documents. This ensures you have all the necessary paperwork prepared for a smoother application process. Our Medical Reimbursement Forms is also worth a look at
How do I apply for Medicaid using the Medicaid Form?
Applying for Medicaid involves several steps, and the exact process can vary depending on your state since Medicaid is state-administered. However, the following is a general step-by-step guide on how to apply for Medicaid using the Medicaid Form:
Determine Eligibility:

Before starting the application process, review the Medicaid eligibility criteria for your state. Eligibility is often based on income, household size, disability, family status, and other criteria.

Obtain the Medicaid Application Form:

Visit your state's official Medicaid website or your local Department of Health and Human Services office to obtain an application form. Many states also offer online applications.

Gather Necessary Documentation:

Assemble all required supporting documents, such as proof of income, proof of citizenship or residency, and other relevant documents.

Complete the Application Form:

Fill out the Medicaid application form accurately and thoroughly. Provide details about your income, household members, existing health coverage, and other required information.
If applying online, you may be able to upload necessary documents directly to the website.

Submit the Application:

If using a paper form, mail it to the specified address or submit it in person at your local Medicaid office. For online applications, submit through the website portal.
Ensure that all required documents are included with your application.

Attend an Interview (if required):

Some states or counties may require an in-person interview as part of the application process. If so, you'll be notified of the date, time, and location.

Wait for a Response:

After submitting your application, the state Medicaid agency will review it and verify the provided information.
You'll receive a written notice regarding the status of your application, typically within 30 to 45 days. However, the timeline can vary depending on the state and the volume of applications.

If Approved:

If your application is approved, you'll receive details about your Medicaid coverage, including any managed care plans you might need to choose from and instructions on using your benefits.
Some states might send you a Medicaid card, while others might use your Social Security Number or another identifier for services.

If Denied:

If your application is denied, the notice will provide a reason for the denial and information on how to appeal the decision if you believe it was made in error.

Regular Updates:
Once enrolled, it's essential to report any significant changes in your circumstances (like income, family size, or address) as they might affect your eligibility.
You'll also need to renew your Medicaid coverage periodically, typically once a year, but this can vary by state.
Seek Help if Needed:
If you encounter challenges during the application process, many states offer assistance programs or helplines to guide applicants. Local community health centers or social service agencies can also be valuable resources.
Always refer to your state's Medicaid website or local office for state-specific instructions and guidelines. The application process may have nuances or additional requirements unique to each state.
Where can I download the Medicaid Application Form for my state?
To download the Medicaid application form for your state, you'll typically need to visit your state's official Medicaid website or the website for your state's Department of Health and Human Services (or its equivalent). Each state has its own Medicaid program and application process.
Here's a general step-by-step guide to help you find and download the Medicaid application form for your state:
Google Search:

In your web browser, enter "Medicaid application form [Your State's Name]" and press "Enter".
Look for the official website for your state's Medicaid program or the state's Department of Health and Human Services. Make sure the site's URL typically ends in ".gov" to ensure it's the official state site.

Navigate the Official Medicaid Website:

Once on the official Medicaid website for your state, look for sections like "How to Apply", "Application Forms", "Enroll", or similar headings.
Some states might offer an online application process, while others might provide a downloadable form that you can print, fill out, and mail or submit in person.

Download the Form:

Once you locate the application form, there should be an option to download it. It might be available in PDF format or another printable format.
Save the form to your computer, and you can then print it if needed.

Additional Resources:

Some states may also have physical locations, such as local county offices, community health centers, or social service agencies, where you can pick up a paper application form in person.

Seek Assistance:

If you have difficulty finding or downloading the form, don't hesitate to call the helpline or contact number listed on the Medicaid website for your state. They can guide you through the process and might even mail you a form upon request.

Alternative Option: Some states utilize the federal marketplace for Medicaid applications. If this is the case for your state, you may be directed to apply via the HealthCare.gov website.
Remember that while the form is a critical part of the application process, you'll also need to gather and submit supporting documentation, as discussed in previous answers. Always ensure you're accessing and providing information on secure and official websites to protect your personal data. In addition, you should review our Reimbursement Forms.
Can I appeal a Medicaid decision, and is there a form for that?
Yes, you can appeal a Medicaid decision if you disagree with it. If your Medicaid application is denied, or if you disagree with any decision related to your benefits, you have the right to request an appeal or a fair hearing. The process and the specific forms used for appeals vary by state, but the general approach is quite consistent.
Steps to Appeal a Medicaid Decision:
Review the Denial Notice: When Medicaid denies your application or makes a decision you disagree with, you'll typically receive a written notice detailing the decision and the reason(s) for it. This notice should also explain your rights to appeal and provide instructions on how to initiate the appeal process.
Request an Appeal: Follow the instructions on the notice to request an appeal. Depending on your state, this might involve filling out an appeal request form or writing a letter. Some states also allow for online appeal submissions.
Time Limits: There's typically a specific time frame within which you must request an appeal, often 30 to 90 days from the date of the denial notice. Ensure you act promptly and within this time frame.
Appeal Form: If your state requires an appeal form, it might be available on the state's Medicaid website or at local Medicaid or social services offices. Complete the form accurately, detailing why you believe the decision was incorrect.
Supporting Documentation: Provide any additional evidence or documentation that supports your appeal. This might include medical records, financial statements, letters from doctors, or other relevant information.
Fair Hearing: Once your appeal is submitted, you'll usually be scheduled for a fair hearing. During this hearing, an impartial judge or hearing officer will review your case. You'll have the opportunity to present your arguments and evidence. You can also bring witnesses or be represented by someone, including a lawyer, though legal representation is not mandatory.
Decision: After the hearing, you'll receive a written decision. If you prevail, the necessary corrections or adjustments will be made to your Medicaid benefits. If the decision is still unfavorable, there might be further avenues of appeal at higher administrative levels or in court, depending on your state's procedures.
Tips:
Always keep copies of all documents, forms, and correspondence related to your appeal.
If you're unsure about the appeal process or need assistance, consider seeking guidance from local legal aid organizations or advocacy groups specializing in Medicaid or health care rights.
Some states offer a "Medicaid Ombudsman" or similar program to help beneficiaries understand and navigate the appeal process.
Remember, every state might have its nuances, so it's crucial to refer to your state's Medicaid guidelines or contact the local Medicaid office for specific information and appeal procedures. You may also be interested in our Healthcare Forms.
Where can I get help filling out my Medicaid Form?
If you need assistance filling out your Medicaid form, there are several resources and places where you can seek help:
Local Medicaid Office: Your local or county Medicaid office is often the first place to start. The staff there are familiar with the application process and can answer questions or provide guidance.
Navigators and Certified Application Counselors: Under the Affordable Care Act (ACA), Navigators and Certified Application Counselors (CACs) are trained and certified to help individuals apply for coverage through the Marketplace, which includes Medicaid. They can help you understand your options, fill out your application, and enroll.
Community Health Centers: Many community health centers provide assistance with Medicaid applications. These centers often serve underprivileged or underserved communities, but anyone can use their services.
Non-profit Organizations: Some non-profit organizations, especially those that serve low-income populations, might offer assistance with Medicaid applications.
Legal Aid Services: Legal aid offices can provide free legal help to those who qualify based on income. They might assist with Medicaid applications, especially if there are complexities or potential legal issues involved.
State Health Departments: Some state health departments may offer assistance with Medicaid applications, either directly or by referring you to the appropriate agency or resource.
Eldercare Locator: If you're seeking Medicaid for an elderly individual, the Eldercare Locator, a public service of the U.S. Administration on Aging, can connect you to services for older adults and their families.
Online: The official HealthCare.gov website has resources and tools to help you understand Medicaid and how to apply. Some states that run their own health insurance exchanges also have online tools and resources.
Phone: You can call the Medicaid helpline for your state or the federal HealthCare.gov helpline at 1-800-318-2596 for assistance.
Social Workers: If you're hospitalized or receiving medical care, the facility might have social workers who can assist with Medicaid applications, especially if the coverage relates to ongoing medical treatment.
When seeking assistance, always ensure you're working with a legitimate and reputable organization or individual. Be wary of scams or services that charge unnecessary fees. Most of the resources listed above provide help for free or at a very low cost.
How to Create a Medicaid Form?
Creating a Medicaid form requires careful consideration of the Medicaid program's regulations, eligibility criteria, and the specific information needed to assess an applicant's eligibility. Such forms are usually created by government agencies or authorized bodies. However, if you're looking to create a mock-up or understand the process, here's a step-by-step guide:
1. Understand the Purpose:
Identify the specific purpose of the form. Is it for initial application, renewal, reporting changes, or some other specific need?
2. Research Medicaid Requirements:
Refer to federal guidelines and also the specific requirements of the state since Medicaid is jointly administered by the state and federal governments. Each state may have its unique requirements.
3. Start with Personal Details:
Begin the form with sections for personal details:

Full Name
Date of Birth
Social Security Number
Address
Contact details (phone, email)
Gender
4. Include Household Information:
Number of people in the household
Relationship to the applicant
Their incomes, if relevant
5. Financial Information:
Request details about the applicant's income sources, such as employment, social security benefits, or other types of income.
Ask about assets, if applicable (some states might consider assets).
6. Health and Disability Status:
Inquire about the applicant's health status, disabilities, or need for specific medical services, which could determine eligibility or the type of coverage.
7. Immigration Status:
Ask about the applicant's citizenship or immigration status, as only legal residents are eligible for Medicaid.
8. Insurance Information:
Details about any current health insurance plans or coverage, including from employers.
9. Signature Section:
Include a declaration that all information provided is accurate.
Space for applicant's signature and date.
10. Attachments and Documentation:
List out any documents or proof required to be submitted with the form, such as income proof, proof of residency, or medical documentation.
11. Clear Instructions:
Provide clear instructions on how to fill out the form, where to submit it, and what additional documentation is needed.
Include contact details for the Medicaid office or helpline for questions.
12. Design Considerations:
Ensure the form is user-friendly, with a logical flow.
Use clear and straightforward language, avoiding jargon.
Offer spaces for all answers and, if possible, provide checkboxes or drop-down lists for common answers.
13. Review and Legal Considerations:
Before finalizing the form, have it reviewed by legal professionals to ensure compliance with all regulations.
Test the form with a small group to ensure clarity and address any issues they identify.
14. Updates and Version Control:
Ensure that there's a system in place to update the form when regulations or requirements change.
Include a version number or date on the form to track changes and ensure users are completing the current version.
Remember, if creating a form for actual administrative use (as opposed to a mock-up or for educational purposes), you'll need to collaborate closely with relevant state and federal agencies, as there are likely specific standards and regulations that the form must meet. You may also be interested to browse through our other Sample Patient Information Forms.
Tips for creating an Effective Medicaid Form
Creating an effective Medicaid form requires striking a balance between thoroughness (capturing all necessary information) and simplicity (ensuring applicants can understand and complete the form without undue difficulty). Here are some tips to help achieve this:
1. Prioritize Clarity:
Use simple, straightforward language.
Avoid jargon or overly technical terms. If specialized terms are necessary, provide clear definitions or explanations.
2. Logical Organization:
Organize the form in a logical sequence. For instance, start with personal details, then move to financial information, followed by health information, and so on.
3. Use Consistent Formatting:
Consistency makes the form appear organized and easier to follow. Use consistent fonts, headings, and spacing throughout.
4. Include Clear Instructions:
Provide clear instructions at the beginning and throughout the form where necessary. This ensures the applicant understands what's expected at each step.
5. Use Checkboxes and Drop-Down Lists:
Wherever possible, use checkboxes or drop-down lists for standard answers. This not only speeds up the filling process but also reduces errors.
6. Highlight Mandatory Fields:
Clearly mark fields that are mandatory to fill out, so applicants know what's absolutely required.
7. Leave Adequate Space:
Ensure there's enough space for people to provide their answers, especially for open-ended questions.
8. Simplify Financial Sections:
Financial sections can be complex. Consider breaking them down into sub-sections or using tables to make them more comprehensible.
9. Provide Examples:
Where necessary, provide examples of how a particular section should be filled out. This can be especially useful for more complex sections.
10. Use a Clean Design:
Avoid making the form too busy or cluttered. A clean, minimalistic design can make the form easier to navigate.
11. Offer Assistance:
Include contact details for the Medicaid office or a helpline in case applicants have questions or need assistance.
12. Address Privacy Concerns:
Clearly state how the provided information will be used and the measures in place to protect applicants' privacy.
13. Make It Accessible:
Ensure the form is accessible to people with disabilities. This might include offering it in large print or ensuring it's compatible with screen readers.
14. Offer Multiple Languages:
Depending on the region, it might be beneficial to offer the Medicaid form in multiple languages to cater to a diverse population.
15. Regularly Update and Review:
Regularly review and update the form to ensure it remains compliant with any changes in regulations and to address any feedback from users.
By focusing on the user experience and ensuring the form is both comprehensive and user-friendly, you'll increase the likelihood of accurate and complete submissions, facilitating smoother processing and better service for applicants.
A Medicaid Form is a crucial document used to assess eligibility for Medicaid benefits. It encapsulates essential personal, financial, and health information of applicants. With varying types tailored for specific purposes, these request forms must be clear, concise, and user-friendly. Understanding its meaning, types, and creation nuances can simplify the process for both administrators and potential beneficiaries, ensuring efficient and accurate health care access.