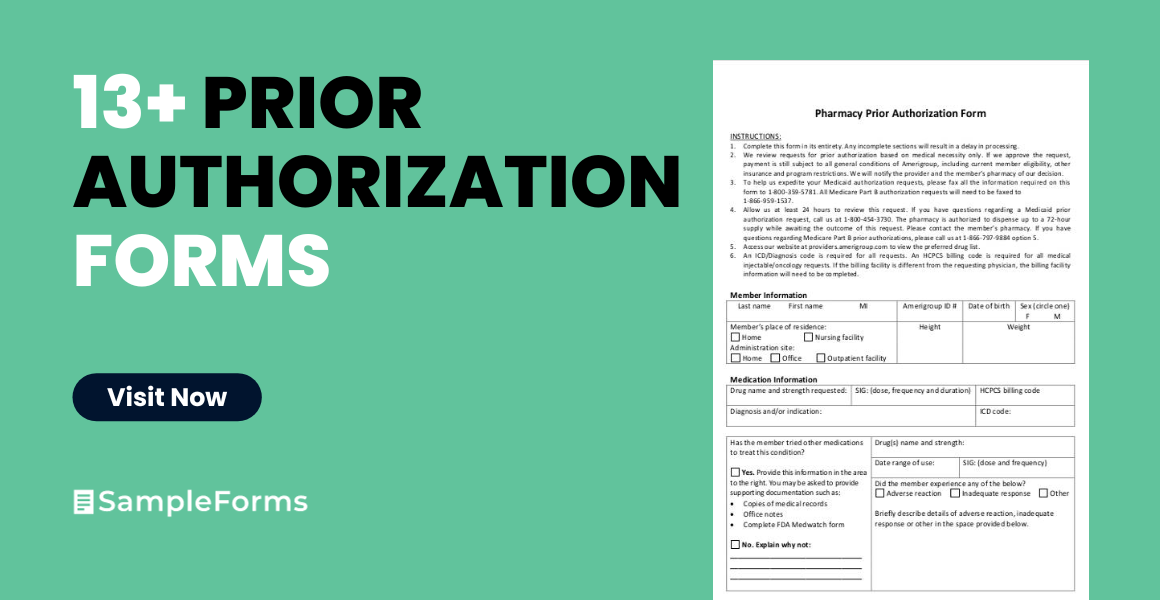 Carrying and acting on activities or using information in which you have been permitted and told to do requires a use of a legal document. Specifically, an Authorization Form is the type of form to be filled out by a person who gives someone the authority to handle matters on his behalf.
Authorization Forms may also be used for medical and tax purposes. This includes resolving an individual's tax issues by granting a third party authorization form. Two main purposes are known as to why this type of form is used: to have a representative to deal with tax matters, and to let someone inspect an individual's tax information.
Medical Prior Authorization
Pharmacy Prior Authorization
Prescription Drug Prior Authorization Request
Medication Prior Authorization Request
Pre-Authorization Form
Medicaid Prior Authorization Request
What is a Prior Authorization Request Form?
A Prior Authorization Request Form is a type of document under the category of Medical Authorization Forms. When completed and submitted, the health provider or the health insurance company will have to decide whether a patient's prescribed medicine and medical procedures will be covered by the patient's insurance plan.
A Prior Authorization Process is observed by most insurance providers before they allow a coverage, and this process usually takes up thirty working days.
How to Fill Out a Prior Authorization Form?
Step 1: Indicate which type of request you are making: either an initial, re-submission or an expedite request.
Step 2: Supply the information of the ambulance or provider supplier.
Step 3: Indicate your details on the beneficiary information.
Step 4: Write the data for the claim information, which includes the authorization period.
Step 5: State the details of whoever is the requestor of the form.
Step 6: Complete the questionnaire attached to the PA form.
To sum it up, a Prior Authorization is typically closely related to that of a Work Authorization Form wherein the involved people will have to ask for permission to continue doing a project or in the case of a physician, a medical procedure.
Physician Prior Authorization
Outpatient Prior Authorization
General Prior Authorization
Standard Prior Authorization Request
Outpatient Prior Authorization Form Sample
Non-Emergency Ambulance Transportation
Medication Prior Authorization
Simple Prior Authorization Form
What is a Prior Authorization Process?
A Prior Authorization Process is the procedure of submitting and handling a Prior Authorization Form for approval to the insurance provider of a patient. This is considered as a cost-saving method to the providers but a time-consuming action to the physicians.
The start of this process is by completing the form manually and sending it out to the provider. Then the decision for either allowing an approval, declination, or request for additional information will be given within a 30-day period. When asked for additional data, the insurance provider may present a Check Authorization Form to the patient as a legal document which permits them to use and review the patient's medical background.
How to Check a Prior Authorization Status?
Checking a patient's Prior Authorization Status is commonly done only with the use of the medical agency and insurance provider's website. The beneficiaries may also request to the providers to send them email notifications in case that their application will have a progress or a decision. To use the website, the beneficiaries or the insurance staff should log in their credentials which are their usernames and passwords. Then they will be redirected to a site wherein they can start the process of checking their authorization status.
Another type of form which is under the Medical Authorization category is an HIPAA Authorization Form This is a document which aims to protect the health data and information of an individual.