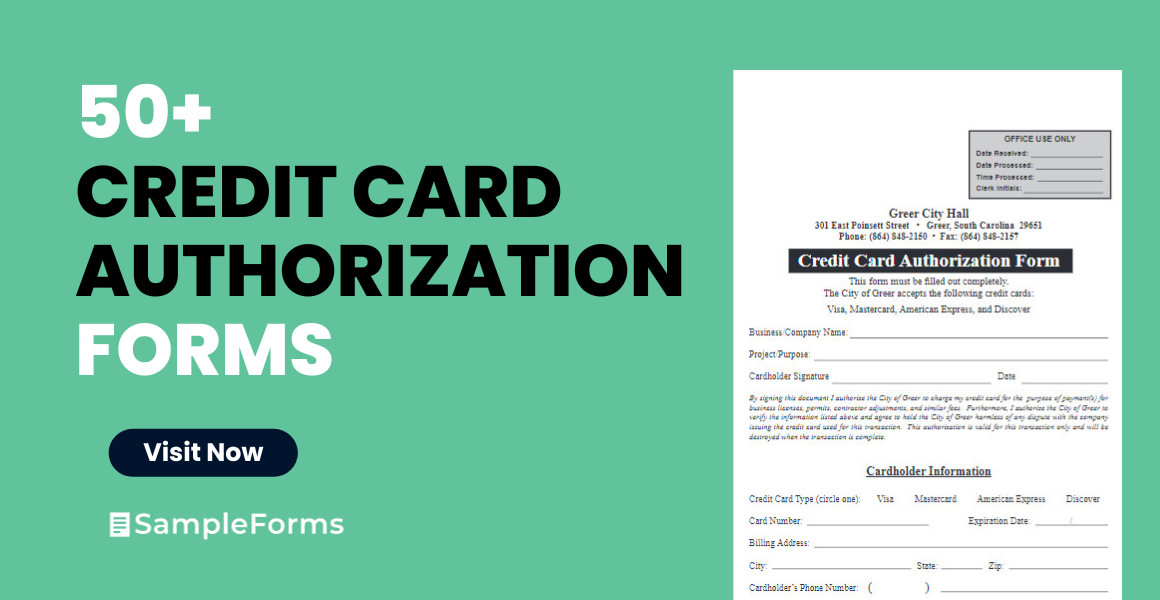 A Credit Card Authorization Form plays a pivotal role in modern transactions, offering a secure bridge between merchants and customers for payment approvals. This document, which grants permission to charge a cardholder's account, ensures streamlined financial processes while minimizing potential disputes. With various types tailored to distinct transactional needs, understanding its nuances, from its meaning to its crafting, is vital. Dive into the realm of this form to discern its significance, exemplary structures, and best practices for its effective creation and utilization.
What is a Credit Card Authorization Form ? – Definition
A Credit Card Authorization Form is a written document that a cardholder signs to grant a merchant or business permission to charge a specified amount to their credit card for a defined purpose. These printable form provides a record of the cardholder's consent to the transaction, ensuring that the merchant can securely process the charge. It's especially useful for recurring payments, phone or mail orders, and other situations where the physical card isn't swiped or inserted directly by the merchant.
What is the Meaning of a Credit Card Authorization Form?
The meaning of a Credit Card Authorization Form centers on its role as a consent tool in the financial landscape. It signifies a cardholder's explicit permission to a merchant or service provider to process a specific transaction or series of transactions on their credit card. By using this form, merchants safeguard themselves against potential disputes or unauthorized charges, as they have a tangible record of the cardholder's consent. In essence, it acts as a protective measure, ensuring transparency and trust in credit card transactions, especially in cases where the card is not physically present.
What is the Best Sample Credit Card Authorization Form?
A good sample Credit Card Authorization Form will cover all essential details for both one-time and recurring transactions. Here's a generic template for your reference:
Cardholder's Information:
Full Name: ____________________________
Address: ____________________________

City: __________ State: __________ Zip: __________

Phone Number: ____________________________
Email Address: ____________________________
Credit Card Details:
Card Type: ( ) Visa ( ) MasterCard ( ) American Express ( ) Discover ( ) Other: _______
Credit Card Number: ____________________________
Expiration Date: MM/YY: ______
Security Code (CVV): ______
Transaction Information:
Amount to be Charged: $__________
Description of Purchase/Service: ____________________________
One-Time Authorization: ( ) Yes ( ) No
Recurring Authorization: ( ) Yes ( ) No

Frequency (if recurring): _______ (e.g., monthly, weekly)
Start Date: _______ End Date (if applicable): _______
Authorization:
I, the undersigned, authorize [Merchant/Company Name] to charge the amount listed above to the credit card provided herein. I agree to the terms and conditions set forth and will not dispute the scheduled charges with my credit card company; so long as the transactions correspond to the terms indicated in this form.
Signature: ____________________________ Date: ______
Please note that this is a basic template. Depending on the business or service, additional details or clauses might be necessary. Always consult with legal counsel when drafting or using such forms to ensure compliance with local regulations and to address potential liability issues. Also, ensure secure handling and storage of these fillable forms to protect sensitive cardholder information.
FREE 50+ Credit Card Authorization Forms
51. Blank Credit Card Authorization Form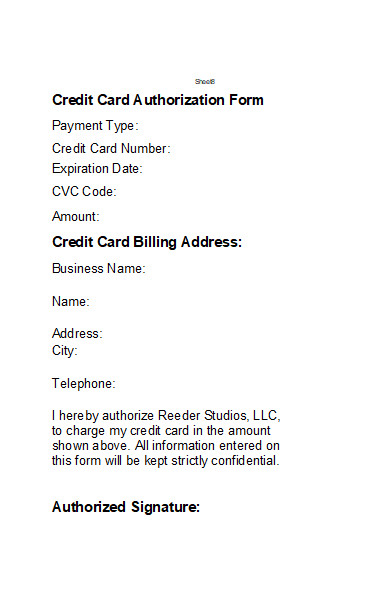 How does a Credit Card Authorization Form work?
A Credit Card Authorization Form operates as a mechanism to facilitate and secure transactions, especially in situations where the cardholder cannot present their credit card physically. Here's how it generally works:
Issuance: The merchant or service provider issues the Credit Card Authorization Form to the cardholder when a transaction or series of transactions requires prior consent. This often happens for phone orders, online purchases, recurring billings, or any situation where a card isn't directly swiped or inserted.
Completion: The cardholder fills out the form with the necessary credit card details, such as card number, expiration date, CVV, and personal information. They also specify the transaction details, like the amount or description of the service.
Consent: By signing the form, the cardholder provides explicit consent for the merchant to process the transaction(s). This signature is a critical component, as it indicates the cardholder's agreement.
Processing: Once the merchant receives the completed and signed form, they can process the transaction as authorized. For recurring payments, merchants will charge the card at the specified intervals.
Storage: After processing, merchants must securely store the form. This ensures they have a record of the cardholder's consent, which can be crucial in case of disputes or chargebacks. Due to the sensitive information on the form, secure storage is essential to prevent unauthorized access or breaches.
Revocation: If a cardholder wishes to halt recurring charges or revoke their authorization, they typically need to notify the merchant in writing. The merchant then stops future transactions and, in some cases, might destroy or securely archive the authorization form.
In essence, the sample Credit Card Authorization Form in pdf serves as a bridge of trust between the cardholder and the merchant, providing a clear record of agreed-upon transactions and ensuring both parties are protected.
Can I cancel a Credit Card Authorization Form after submitting?