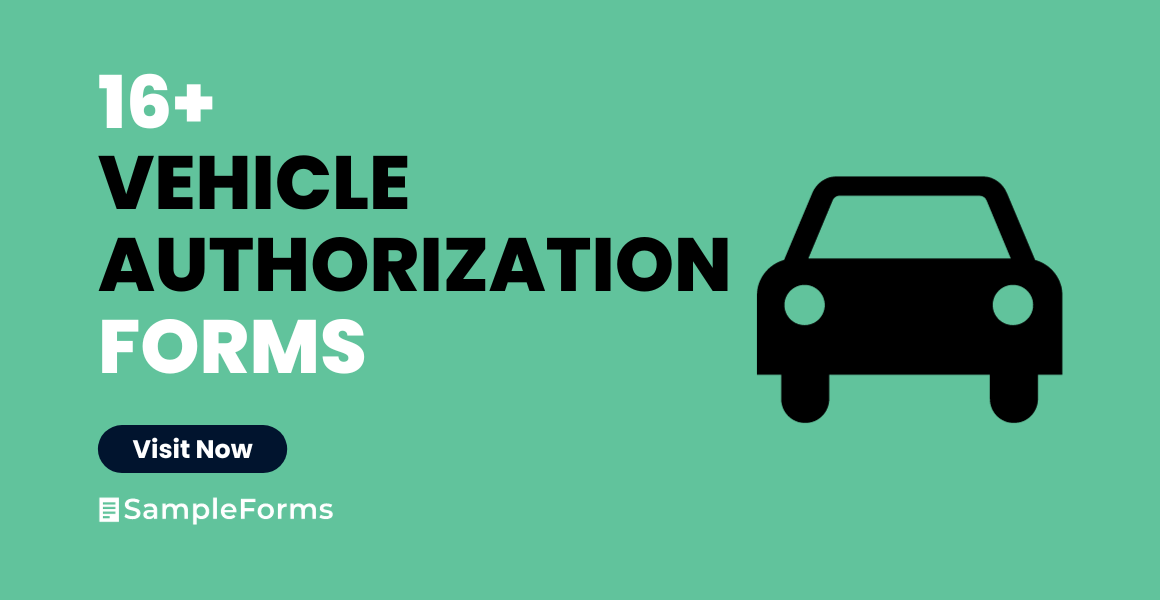 Authorizing an individual allows him the right and obligation to transact and make decisions in the event that the owner of the information or property is not around. To legally authorize a person, the owner should make an authorization letter, or fill out a ready-made Authorization Form.
Authorization documents are not only for accessing another person's data and information, but also for using another person's property and rights. Properties may indicate a vehicle, a house, or anything tangible and intangible. Registering a property may also require an authorization letter from the registrant if he is only a representative of the property owner.
Vehicle Registration Authorization
Driver Vehicle Authorization Form in PDF
Leased Vehicle
Vehicle Use Authorization
Motor Vehicle Title Service Runner
Special Equipment Authorization
Home Vehicle
Vehicle Procurement Authorization
Vehicle Authorization for Carpool Vehicles
What is a Vehicle Authorization Form?
Vehicle Authorization Forms are required to be used when a person will loan his owned vehicle to another person. A representative is the one who processes the vehicle registration, and an Authorization Form will also be used when a vehicle will be used for company services during field trips and long-hour journeys to different location. The form will serve as evidence that the vehicle user did not steal the property, and that his actions were legally permitted by the owner.
When registering another person's owned vehicle, two possible authorization forms should be prepared by the representative: the Vehicle Registration Authorization Form for allowing the registration process, and a Payment Authorization Form for accessing the account of the owner in paying the registration fees.
How to Create a Vehicle Use Authorization Form?
Step 1: Write a statement that indicates your ownership to a vehicle mentioned below.
Step 2: State the details of the vehicle including the body and plate numbers.
Step 3: Indicate that you grant an authorization to the people listed on the form.
Step 4: Name the authorized people.
Step 5: Include a start and end date of your authorization.
Step 6: Sign the form with the authorized people.
Construction Vehicle
Sample Vehicle Authorization
Vehicle Assignment Request/Authorization
Vehicle Commitment
After Hours Vehicle Authorization Form
External Vehicle Hire Authorization
Vehicle Release
Student Vehicle Parking  Authorization Form
Tips for Vehicle Authorization Forms
Lending a vehicle is not simply an act of tossing your keys to the borrower, because without adequate knowledge, you might be subjected to fees and penalties when dealing with the laws of your state. Here are tips that you should keep in mind for your Vehicle Authorization Form:
Check for particular requirements needed, such as attachments to your authorization. You can obtain the list of attachments by browsing through the authorized agency website for vehicles and by inquiring directly from the authority about granting an authorization.
Choose a responsible borrower. This refers to assuring that the driver of your vehicle is not a drunkard or anyone who commits himself to use drugs as his wake-up alarm during the ride. This will only hold you liable in the event that he will be caught by police authorities as he is under the influence of his illegal consumption.
Always indicate an end date on the form. The end date will be the end of the authorization and your permission for the borrower to use the vehicle.
Another type of Authorization Form which is commonly evident anywhere is an Employment Authorization Form. This is used by company managements to acquire information and data about the qualified applicants and their employees.