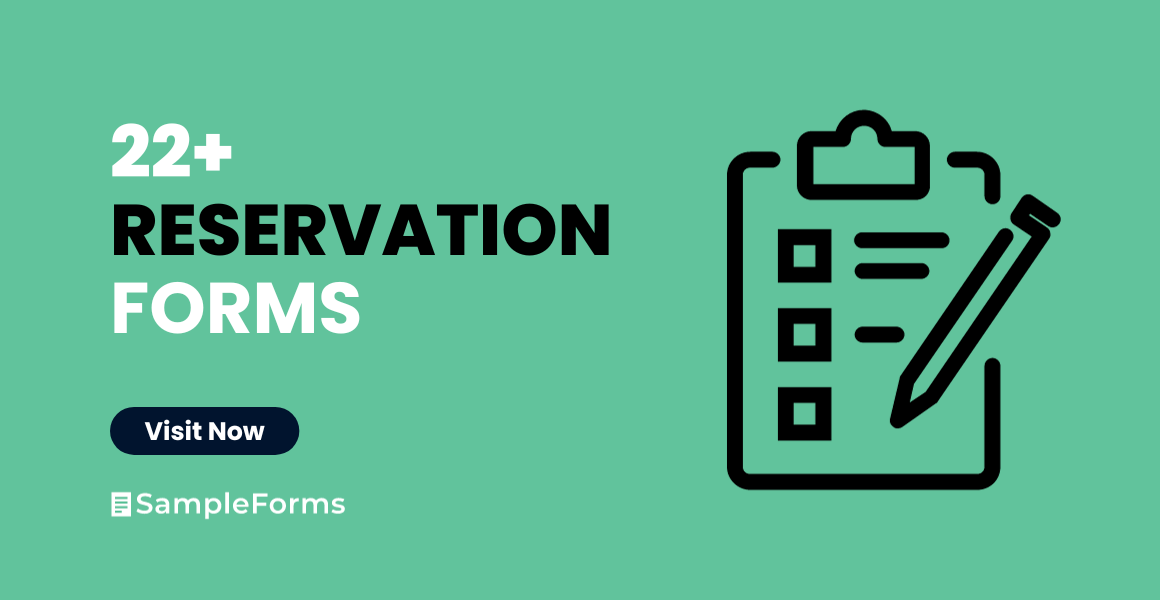 Reservation forms enable individuals or organizations to book for an event, hotels, and traveling. They also help to book train tickets easily using railway booking forms. One can utilize reservation slip to book a vehicle, food services or tour services smoothly. One can use them to book any service online as well like railway reservation forms online. One can search Google using railway reservation forms download, hotel reservation form or hotel reservation form sample and find more information.
Banquet Reservation Form
This banquet reservation form presents the name, email id, address, contact information, date of the banquet, type of event, the number of guests, time of arrival, food service time, menu details and total value. It also presents additional items like bar set-up fee, projector, cake server, champagne, etc.
Blank Reservation Form
This blank reservation form presents plan date of arrival, camping details, the number of persons, campsite details, deposit fee, stall rental fee, campsite reservation, trailer length and total cost. It also mentions the name, address of the members, contact information, and email id.
Sample Catering Reservation Form
This catering reservation form presents contact information, event information details like event name, date, type of event, the number of guests. It also mentions meeting room package details which include food package, menu selection, and beverage. It provides set up and equipment requirement details like seating style, etc.
Event Reservation Form
This event reservation form presents organization name, contact info including email id, phone number, and event contact number. It also mentions the title of contact, description of the event, target audience, facility requested, event timings as well as facility services, food services, tech services, etc.
Sample Facility Reservation Form
This facility reservation form presents event name, date and time of the event, a number of attendees, type of hall required for the event, hosting organization name, contact name, contact number, food service details as well as additional equipment details like a projector, television, etc.
Group Reservation Form
This group reservation form presents trip date, arrival time, number of buses, group name, address including city, state, zip, contact name, phone number, email id, the number of adults and children, lunch time and additional options like pony rides, etc. It provides zoo rules and regulations for visitors as well.
Hotel Reservation Form
This hotel reservation form presents the name, address, contact information, accommodation information, payment conditions, credit card information, bank account information and total amount payable. It also mentions booking information, payment conditions, as well as cancellation details like percentage of the amount, charges based on the timing of cancellation.
Library Reservation Form
This library reservation form presents library name, membership details, contact name, address, city, state and zip, contact information, email id, the number of youth participants, the number of adults and hands-on program details including date and time. It requests the completed form to be emailed or faxed.
Name Reservation Form
This name reservation form presents the name of the entity to be reserved, type of the entity, name, address and contact information of the applicant as well as the client. It also obtains the signature of the applicant. It provides detailed instructions about entity reservation including fee and payment details.
Property Reservation Form
This property reservation form presents details of property like property address, tenancy term, rent amount, conditions. It also presents applicant details like contact name and address, employment details, identification evidence details and details of guarantor including guarantor's evidence of identification.
Party Reservation Form
This party reservation form presents reservation date, reservation time, the number of guests, name reservation held under, type of facility required, credit card information like type of card, card number, cardholder name, billing address, contact information, the name of the bank issuing card.
Restaurant Reservation Form
This restaurant reservation form presents name, phone number, company name, restaurant, preferably reservation time, party size, credit card information like credit card type, number, expiry date, card holder's signature, and date. It requests the member to fill and send the form by fax or email.
Room Reservation Form
This room reservation form presents contact information details like organization name, contact person, address, contact number, email id. It also presents event information details like event date, event time, room requested, the number of attendees, number of tables and chairs required, reservation timings, the title of the event and description of the event.
Vehicle Reservation Form
This vehicle reservation form presents vehicle needed, date and time of requirement and return, destination, the purpose of the trip, a list of persons traveling in the vehicle, contact information and approval signature. It mentions various instructions including details about cancellation charges.
Vacation Reservation Form
This vacation reservation form provides member's details like members name, membership number, contact information, address. It also presents reservation request details like accommodation required, the number of adults, children, check-in and check-out timings. It mentions the terms and conditions and obtains member's signature.
Venue Reservation Form
This venue reservation form presents application details like the name of the applicant, student number, rooms for reservation, contact number, the number of participants, period, activity name, and obtains students details as well. It also mentions equipment details and guidelines on reservations.
Sample Reservation Agreement Form
This reservation agreement form presents journey name, date, alternate dates, person's name, address including city, state, country, zip, email id and contact number. It presents deposit amount details and special requests. It mentions detailed terms and conditions including cancellations, refunds, and waiver.
Reservation Confirmation Form
This reservation confirmation form presents tour name, tour date, hotel name to pickup, hotel name to drop off, a list of traveler's names, nationality, sex, weight, date of birth, passport details and contact information. It mentions responsibilities, reservation and cancellation policies as well.
Sample Reservation Deposit Form
This reservation deposit form presents property address, move-in date, reservation deposit amount, monthly rent value, lease term and applicant name. It obtains applicant signature and date. It mentions details about lease rules and utilization of deposit in case of damages or non-payment of rent amount.
Reservation Letter Sample
This letter of cancellation of reservation presents the name of the company, reservation number, applicant details like a surname, given name, address, phone number, fax number and obtains a signature as well as the date. It requests to remove the reservation made by the applicant.
Sample Hotel Reservation Form
Standard Reservation Form
How to Utilize Reservation Forms Effectively?
Reservation forms are extensively used either to book tickets, rooms, services, tour programs and much more. They provide a simple mechanism to ensure to perform any activity smoothly. Some of the important details that are required on these reservation forms which make them more effective are like mentioning complete details that are relevant to the business. They should also mention rules and regulations with regards to bookings as well as cancellations. They should include details about charges for additional services, equipment or extended hours of stay. They should mention details about deposit amount details and the rules pertaining to return the deposit in case of cancellation.
What are the Benefits of Reservation Forms?
Some of the benefits of reservation forms are
They help in blocking or confirming rooms, services easily and ensure to execute the event successfully
They provide complete details and avoid ambiguity about services that are offered to the customers
They enable to make reservations for a favorite venue well ahead and avoid disappoint of non-availability
They are simple and easy-to-use forms and ensure good services
They enable individuals to enjoy their vacation by booking a vehicle to travel, restaurants to stay and guide services to visit places
They also enable tourism industry and traveling business grows by providing best services
Reservation forms are widely used by both companies and individuals to book the hotel rooms, restaurant services and much more easily and quickly. They are quite valuable and dependable documents to complete the process of reservation in a quick manner.