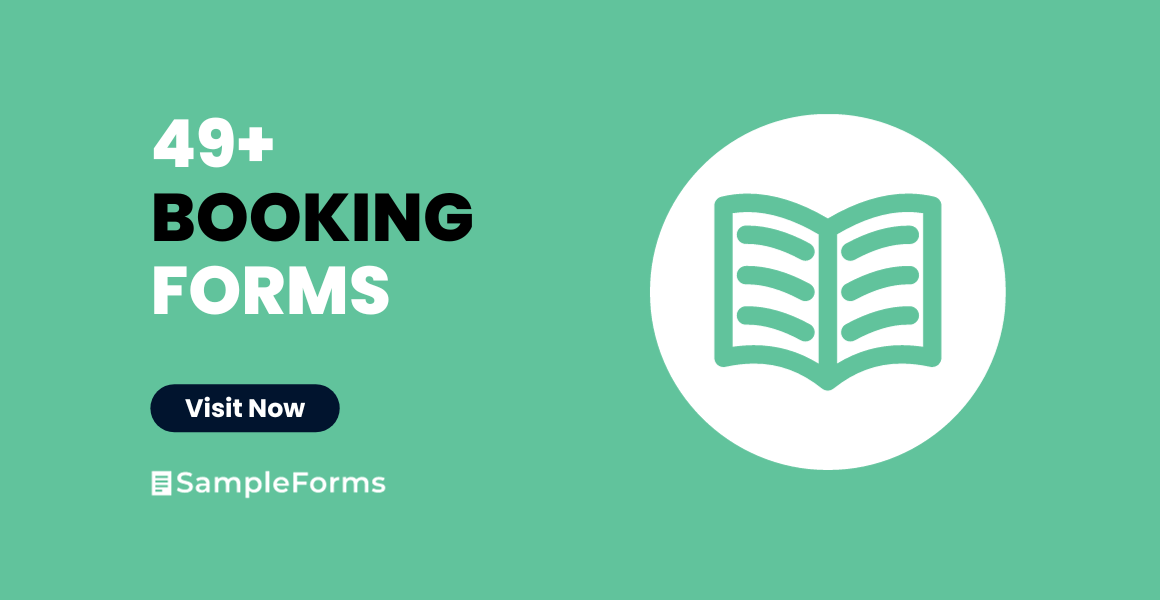 Have you watched a travel vlog before wherein your sense of wanderlust got triggered? You eventually imagine how it would feel like to be in the shoes of the vlogger who probably experienced swimming in a white sand beach, dining in a restaurant with a romantic view, or relaxing inside a lavish hotel. When you receive that go signal to travel, preparations come first, particularly with an itinerary. Where you will stay temporarily is another concern. However, there could be no assurance that the hotel or flight you plan on getting is available for you yet. Before heading straight towards your trip, you reserve a spot first with travel booking forms.
FREE 49+ Booking Forms in PDF | Ms Word | Excel
What Is a Booking Form?
Why do people from airlines or hotels ask whether you booked or not when approached? That is because booking is the process of reserving particular services and accommodations. For example, a travel agent would know if things are already prepared for your trip after a booking confirmation. Therefore, any document used to process or verify one's booking request gets labeled as a booking form. Without that document, there would be no assurance that the service you require becomes prepped for you.
Avoid thinking that you only book for travel-related functions because booking applies to a variety of applications too. You can book for parties, restaurants, photographers, tickets, and many more. Moreover, booking is synonymous with a reservation so other services and goods which you can reserve can make use of booking sheets. That way, you send an official statement that particular services are reserved for yours truly.
What Are the Benefits of Using Booking Forms?
To book for products and services using a booking document may as well be your ticket to experience special advantages. Other people who refused in reserving with these forms might end up in disappointment upon realizing that some spots they need are already taken. For a better understanding, you check out the benefits of booking forms:
"I Am a Priority!"
People often feel better in realizing that they are prioritized rather than being regarded as another option, and not just in relationships. In lining up to dine in your favorite restaurant, for example, it always feels good to avoid that line because of processing a restaurant reservation already. That similar priority applies to booking forms too. Once a hotel room got booked for your arrival, then no one else can use that at such time.
Conflict Resolution
It is common for various businesses to encounter conflicts on who gets to receive accommodation or service. Thankfully, a booking sheet helps promote a resolve rather than make conflicts. An example is when two people arrive at an inn at the same time while there is only one available room left. One has made a reservation while the other did not. Instead of fighting to decide who shall stay, the best decision is to give it for the one who did reserve with a booking form ahead.
It Is All in the Details
Booking documents contain important information and are detailed to boot. Thus, such documents become useful for reference when some factors need confirmation. While others appoint through a call, it is more appropriate to write things down, like the booking form, for documentation purposes. What got heard from a call might become forgotten, unlike official documents that have the details prepared for reference anytime.
Fillable or Printable: Your Choice
Something to appreciate about booking sheets is how other versions exist. Aside from the usual hard copies known as printable forms, people can register online with fillable forms as well. Even while at home, a person can book quickly. Utilizing other versions of what the forms are compatible with will bring you more advantages in the first place.
Are Travel Bookings Still Relevant during the COVID-19 Pandemic?
With the coronavirus affecting the world in early 2020, staying at home under quarantine becomes recommended. Thus, travel agencies and related businesses get affected by this pandemic. So, will it still be a good move to consider travel bookings at such a time? Planning for future travels under quarantine is not that bad. Indeed, going out with the virus is never recommended. However, planning for the future is quite beneficial when you think about the savings for the book-now-travel-later process. As reported on CNN, travel bookings can get cheaper similar to how it was back in 2001. Expect the prices to increase when the pandemic ends and operations go back as they were for sure. At least planning for travel is one thing you can do while under quarantine rather than having nothing to do or nothing to look forward to.
What Are Examples of Booking Forms and Their Functions?
While booking in its definition is understandable already, it is time to get introduced with popular examples of booking documents along with their functions. Otherwise, you might think that one form alone applies to all booking functions. Keep in mind that the forms vary according to their application, which explains why different functions exist as well. The following are common examples of booking forms:
Hotel Booking
Travel enthusiasts surely cannot forget to book a hotel since rooms are needed to store their bags and, most importantly, to sleep well. A hotel booking form will save you from sleeping uncomfortably in the waiting area of an airport, and avoid circumstances like not having a room from fully booked hotels during the holidays. In this sheet, it is essential to specify the date and time until the schedule you require this will be automatically for you.
Event Booking
The event booking form is your go-to document when you need rooms and related services for your next party reservation, meeting, and other events. An example is a birthday party wherein you need not appoint different people for catering service, room, entertainment, and the like. Hence, an event booking service can cover all of those since other people make all-in-one appointments to the event for your convenience.
Ticket Booking
Another common example is while booking for plane tickets to ensure you process a ticket order correctly. The ticket booking sheet helps you reserve a seat to ensure your arrival gets expected from a particular flight departure instead of missing flights. Besides planes, ordering concert tickets will make this form relevant too. There may be limited seats left in an upcoming concert, and failure to book early means you might miss those spots soon.
Photography Booking
More about events, some examples need to be photographed; thus, remembered. Pictures bring memories like when you need to see how an event looked like once again. At a wedding, there is even a photographer hired to ensure that enough photos will get covered the whole time. Photography booking forms come to play on that note to specify when the photographer is needed and other considerations.
How to Craft a Travel Booking Form
Indulging in the travel industry is advantageous because a lot of people do travel, and the earnings are no laughing matter either. According to Statista, the travel industry is a $661.6 billion global revenue in 2018 alone. Findings also stated that it might reach up to $801.7 billion for the next five years. Part of the documents that paint the whole picture for travel businesses is the travel booking sheet. It should become created effectively, and these are the steps to make it happen:
Step 1. Pick and Design a Template
You need not experience a lot of hassle when you have a template to use as your guideline for making the travel booking form. From our selection of booking forms, you choose the relevant example for travel until you can modify the template. By modifying, that means you change the format and provide enhancements to make it more original and improved. With easy to customize templates, rest assured your preferences will follow eventually.
Step 2. Ask for the Client's Details
When clients plan to book, their personal information will be required. The full name, contact numbers, and other things required from clients should remain present to book them officially. Be sure that the relevant information gets acquired because there is no need to ask every personal detail about them. Focus on the factors that only identify clients to reserve for their travel.
Step 3. Give Room for Travel Information
The body of the form contains all the information related to travel. This part is where the booking schedule, billing details, addresses, room choices, and the like will become tackled. Providing some choices when customers fill out the form is beneficial, so they never have to guess what must become inputted in the sheet. Making the details more specific turns required, too, so it slowly completes the overall plan.
Step 4. Make the Form Accessible for More People
Instead of making it tiring for some clients to visit a certain place just to get a printed form and write down their details, you can offer fillable forms online. You can make the forms accessible to a website until people can simply download and send their travel booking forms online only. With this idea, having only limited people to cater is out of your worries already. Giving other booking alternatives is a great step to ensure others can book too.
Step 5. Provide Simple Instructions
You might wonder why some people give out wrong information or fail to give the relevant details on the sheet. Helping clients with clear and brief instructions shall make a difference for sure. At least anyone expected to fill in the blanks of the form would follow every instruction given only. That will lessen the possible mistakes that might get encountered in the long run. Furthermore, it stays essential to conduct evaluations of the form you created, too, because maybe the wrongdoings come from your fault.
FAQs
After watching many travel vlogs, dreaming of traveling should not remain a dream for too long. You may have your experience by starting to process travel booking forms. At least your itinerary can get followed smoothly after reserving the hotel, food, flight, and other accommodation requests that got approved. It is always better to have assurance anyway that something is specifically for you before other people can steal it, and that is how powerful booking forms can be.