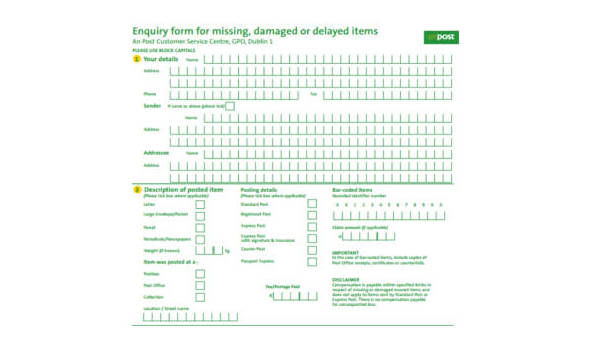 Order Forms are kind of supplementary documents, somewhat a backup, used by entrepreneurs to ensure transactions are well-organized. Verbal agreements will suffice, but it still feels different when there is some sort of licit contract or papers both parties keep, just in case something goes awry. It is not to keep the mistakes at bay – I mean, they are inevitable – but at least keep the mistakes at a minimum. If you need one, we do have the forms available here on this website. You can browse through for more information about Order Forms and all other forms that you think you might need in the future.
Money Order Deposit Form
Money Change Order Form
Money Order Refund Form
Money Order Enquiry Form
Money Order Application Form
Purchase orders are actually documents sent from a buyer to a seller requesting for an order. The kind of item, the quantity, and the price both parties have agreed upon. The clearer the required information is, the smoother the transaction will be. When a supplier receives a purchase order, a legally binding agreement is formed between the two people. Moreover, the buyer should always explicitly state their requests to the supplier so there is no confusion when the purchase order is received. Purchase Order Forms are needed, as any other document, assuming a miscommunication comes up.
This website, on the other hand, will give you an idea what a Purchase Order Form looks like. You might want to check out other forms as well on this website. We have a vast library, and this website will never run out of forms to design; and the best part is, these forms will cost you nothing, so you have nothing to worry about if you are on a tight budget.
Money Order Claim Form
Money Order Customer Request Form
Money Order Research Request Form
Blank Money Order Form
General Money Order Form
Somewhat related to Purchase Order Forms, Sales Order Forms are legal agreements that confirm a sale. A sales order is generated when a purchaser needs to contact a seller for a product. This can be in the form of a purchase order, which is, essentially, an advice of desire to purchase sent by the buyer to the seller. It can also be launched by any form of communication: a fax, a letter, or a phone call perhaps from the buyer. If a purchase order is not utilized, the seller jots down the buyer information, like name, address, product desired, quantity, and the mode of payment.
If Sales Order Forms are running low at the establishment you frequent, fret not. Here on this website, running out of these forms will be the last thing you will ever experience, and all these forms are just right at your fingertips. We keep a mammoth library of forms, so go ahead and download or study them. Who knows? You might really need them one day.
Oh, and they are free of charge, so there is nothing to worry about should you be on a tight budget.