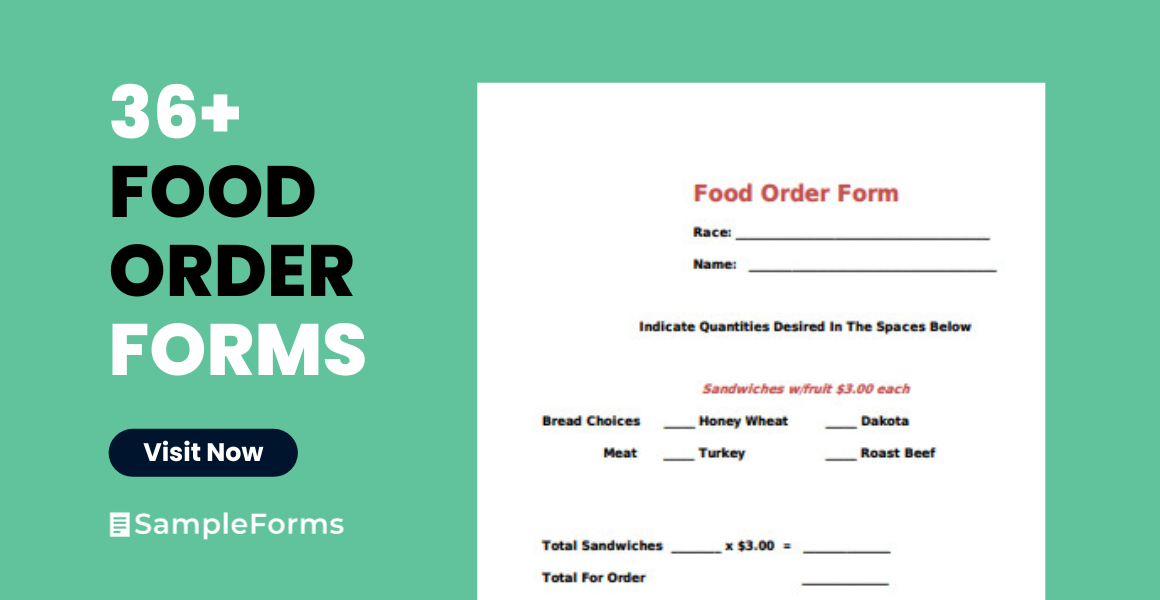 Food is obviously a basic need, but its demand may get very high that receiving such goods quickly is what customers want. Ordering meals and waiting for delivery will be made possible with the help of order forms. Different types of food can be purchased and clear details must be present so the right option will get prepared and delivered in the long run.
FREE 36+ Sample Food Order Forms in PDF | MS Word
1. Food Requirement Order Form
2. Event Food Order Form
3. Advance Food Order Form
4. Wheel of Food Order Form
5. Festive Food Order Form
6. Patient Food Order Form
7. Diet Food Order Form
8. Catering Food Order Form
9. Food Replacement Order Form
10. Party Food Order Form
11. Patient Free Food Order Form
12. Food Deal Order Form
13. Summer Camp Food Order Form
14. Sample Food Order Form
15. Food Concession Order Form
16. School Food Order Form
17. Patient Monthly Food Order Form
18. Simple Food Order Form
19. Weekly Food Order Form
20. Luxury Food Order Form
21. Free Food Order Form
22. League Food Order Form
23. Kitchens Food Order Request Form
24. Food Supply Order Form
25. Christmas Pre Food Order Form
26. Sample Party Food Order Form
27. Food Fundraising Order Form
28. Food Materials Order Form
29. Sample Advance Food Order Form
30. School Group Food Order Form
31. Food Services Work Order Form
32. Food Services Order Form
33. Fun Fair Food Order Form
34. Annual Dinner Food Order Form
35. Basic Food Order Form
36. Field Day Food Order Form
37. Frozen Food Order Form
What Is a Food Order Form?
Food order forms contain information on what customers like to buy from the restaurant menu and other food stores. Thus, sellers will start preparing every meal according to the customer's wishes or preferences. Once this official document gets sent to sellers, then the confirmation will initiate the transaction. There is clarity involved when purchasing with a form. Not having an official basis will make it challenging to confirm orders, especially if particular details get forgotten. With complete and accurate information stated, a higher chance of successful transactions will follow.
Food purchase orders are known to have the customer's details, order preferences, and delivery information. Businesses need to continue serving with the right products for customers anyway, and they hardly go wrong by implementing plans to ensure correct orders. Thus, the form is one way of assuring that correctness. Managing the documents is essential because money and products get dealt with there. Losing the goods and experiencing cash losses for failing to manage these documents will cost a big part in businesses only.
What Are the Essential Benefits to Witness from Using Food Order Forms?
There are great things to expect in involving food order sheets to businesses since those were not to make operations a lot harder than usual. Recognizing every advantage is a great idea to consider to have better knowledge regarding its standard functions. It will not be worth it to continue using something without knowing its significance anyway since working with a purpose is a must. The benefits expected here are the following:
Improved Accuracy, Lesser Errors

Orders deserve high accuracy to avoid upsetting any client. In a dinner order, for example, requires thorough information like if a client wants gluten-free products, vegetarian meals, and other specifications. For someone with diet restrictions, every specification only needs to get mentioned on the document to ensure no error happens on what the customer receives. Not having any method to ensure correctness and accuracy will only bring a burden towards operations, and that should never be the case for food businesses.

Effective Preparation Management

Just like any delivery order, preparations are crucial. What products to cook will quickly be determined among the sheets instead of having businesses in cooking meals without being sure if such products will even get bought afterward. As orders get made early, there will be enough time to prep everything. Time management is one of the vital factors which businesses observe anyway until every order gets delivered on time. Without preparations, the wrong meals could get processed. Continuously failing will affect the business severely, and no one wants to close down early.

Convertible to Online Forms

Order forms can be printable, but it is also allowed in other businesses to send such forms via email. Taking orders online happens to be more convenient because forms get received anytime and anywhere. Moreover, saving the earth gets implemented by no longer requiring paperwork when documents only get managed online. People only need to prepare spreadsheets and related format that no longer needs printing. Merely using the manual way is too old fashioned anyway, so adapting to the digital era is expected.

Easy Monitoring on References

There may be a need to look back on some information from sheets, so monitoring turns relevant. There are different information to find from such sheets anyway so that users may consider it like a receipt, tracking order, and others. No wrong detail must be around on the sheet, or using it for reference will have users to believe in the incorrect info only. Reviews can always prevent any error anyway until mistakes get changed into correct versions. Updating continuously to improve accuracy will be recommended.
The Fall of Maple Food Delivery Business
Maple used to be a famous food delivery company wherein what made it special is how each order a customer makes will include a maple sugar cookie on the delivery. The business was owned by David Chang until there came the point where Maple shut down in New York City. There were only tiny issues involved from the company before where the corresponding cookie got replaced into a brochure instead. Besides the cookie disaster, complaints occurred when prices of their products began to rise. Moreover, tax rates and delivery fees changed as well until the company no longer turned lucrative. It faced a debt reaching $10 million, and 2016-2017 alone already caused low sales. Thus, the outcome eventually made Maple to close.
Anyone from the food business industry should take lessons from Maple's example where significant decisions and management are critical. Concerning food order forms, such documents can help determine what customers want. Continuing the crowd-favorite cookies and finding ways to compete with prices might have made a significant difference, especially after making an excellent assessment or plan for the business. Losing a business is a big waste, primarily when Maple used to be popular in getting quick access for breakfast, lunch, and more. Before opening similar companies, it helps to prepare for long term goals to avoid falling short during startup.
What Can You Find in Most Food Order Forms?
Knowing what a food order form consists of will make it easier to create one. Remember that the sheet is not merely a basic order sheet because it has to state the food details. There are many specifications among meals than just everyday items for deliveries because such meals may get spoiled or arrive in poor condition if not managed properly. The common factors among these forms are the following:
How to Create the Best Food Order Forms
A food order form needs no hassle in creating after getting introduced with free templates and editable format. Making adjustments is all required for the details, so the document serves its purpose. Another essential factor to consider is by picking the best products out of the menu orders. In a catering order, for example, there can be various choices to select from that others may like a lot, but limited money could be around. Being a wise decision-maker for this situation is the best tip. Here are the steps in making food order sheets:
Step 1. Think Ahead on What to Offer
There can be a lot of available foods that a restaurant can serve. These establishments better finalize their offers so clients have ideas on whatever is available from the menu. Think of offering what the public demands as it will be pointless to order something the customer dislikes since even if that is affordable, eating it will not satisfy such a person anyway. For those who are on a diet, then eating the right kind of food will be specified on the form. Others only look for options from the forms right away so those must get mentioned.
Step 2. Review Every Detail
A client might like a buffet order towards the store, but maybe such orders were never mentioned from the sheet. Reviewing will be necessary to check anything wrong. Giving evaluations helps in coming up with smarter decisions to change the incorrect spelling on the words from sheets. The same goes for the errors on the information because no mistake is allowed in these documents. After thorough checkups on every part of the form, it will be easy to identify such errors and fix those after.
Step 3. State the Pricing and Payment Method
In choosing anything to buy, any client will look at the price. Something inexpensive will bring good news for allowing customers to save cash. Other businesses even got promos worth looking forward to, and being updated at those is wise. Therefore, anyone who creates the document must improve on how understandable the pricing info is. Payment methods are another concern to specify because clients might get confused on how to pay. There should be options stated on what the food establishment agrees like pre-order, cash on delivery, and the like.
Step 4. Be Direct to the Point
Prices should not be the only consideration for choosing because maybe there lays a problem with the content of the form itself. In a cake order, maybe the ingredients were never mentioned and it would bring more questions instead. Let individuals know through writing on what to expect from the foods so everybody receives clear knowledge on what to prepare or receive in purchases. Another way to be direct is by trimming down lengthy statements because it turns possible to simplify it and turn more specific. The problem with long and unnecessary sentences on those sheets is there may be lesser space to write already.
Step 5. Consider Spaces for Additional Comments
Food orders may have all the vital details and options of meals to choose from. However, some customers also add something from the order, like some examples that are not given on the sheet. With an extra comment section provided, people can easily state what else they like to add until food preparers can note those comments down to please the clients. In the sheet's format, the spacing and measurements even matter wherein those have to look presentable and professional. Poor decisions on measurements may affect the document's appearance.
Step 6. Keep Updating the Sheet for Possible Changes
Updates are important because maybe there is a certain meal that is no longer available yet a customer can find its name on the menu provided from order forms. Thus, that client will not know ahead about its availability if outdated forms were used. As templates get printed for order, everyone should check for any changes first so the printed forms are finally the updated versions. Reviews like a food evaluation can help with inspecting anything that is still available or not. Others like trying out something new from meals, which is worth the experience too, but results may either be good or bad. Take note of which ones are great in case the client wants to order again.
Any person ordering food or any product should think of essential things. One is to be sure of what to purchase, and that accurate details are present on order forms. The process of preparing meals can even take long, and clients have to remain patient when ordering too. By sending the document early, your worries for a late delivery will lessen.