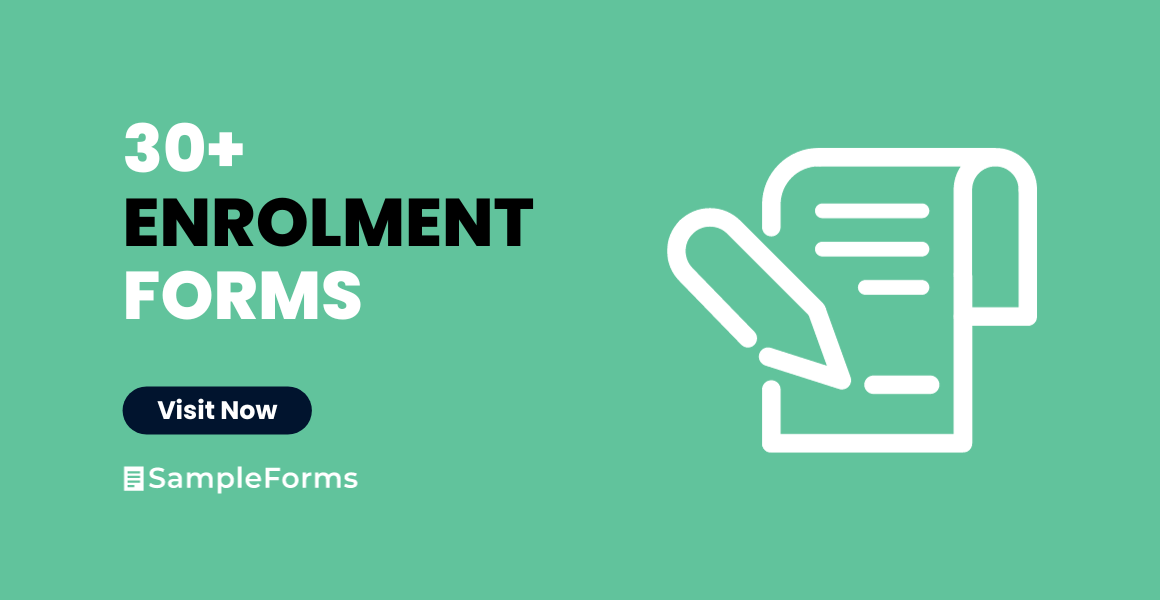 Everyone starts from the bottom of the pyramid that taking senior level positions cannot be done without mastering the bottommost level first. There is also a beginning to the application experienced upon joining programs, enrolling for schools, and the like. To officially start applying for programs and services, enrollment forms need to be filled out. This initial step of enrolling marks as the basis that a person can start taking services of where he or she applied after receiving confirmation.
FREE 30+ Enrolment Forms in PDF | MS Word
1. Student Enrolment Form
2. Enrolment Form Sample
3. Health Card Employee Enrolment Form
4. Enrolment Form Sample
5. Cadet Enrolment Form
6. Enrolment Form in PDF
Simple Enrolment Form
8. Student Enrollment Form in PDF
9. Enrollment Form Sample
10. Aadhaar Enrollment Update Form
11. Enrollment Form for NSS Volunteers
12. Basic Enrollment Form Template
13. Enrollment Form Format
14. Bank Verification Number Enrollment Form
15. Common Enrollment Form
16. Formal Enrollment Form
17. Enrolment Application Form
18. Direct Debit Enrolment Form
19. Mutual Fund Enrolment Form
20. Hospital Cash Enrolment Form
21. International Students Application for Enrolment Form
22. Blank Enrolment Form
23. Dividend Transfer Plan  Enrolment Form
24. Kid Playgroup Enrolment Form
25. Institute Enrolment Form
26. Enrolment Form in MS Word
27. Student Enrolment Form Template
28. Form for Enrolment
29. Enrolment Agreement Form
30. Enrolment Form in MS Word
31. Application and Enrolment Form
What Is an Enrolment Form?
Enrollment forms are the documents used for applying in any program or service of choice. This instrument will ask for details about the applicant's information. Just like in enrolling for schools, applicants get expected to write their names, contact information, and more background because identifying enrollees is essential before receiving approval in entering. All info stated in these forms needs to get reviewed carefully too because inevitable mistakes involved may lead to rejection right away. Inputting accurate details is the key, like when one wishes to enroll for a university, child care, and more.
The forms are not only limited to enrolling in a school because enrollment can also work for medical services, training, and more. However, the document should specify that part because sending an insurance enrollment form to a college will be irrelevant. Everything will be evident in signing up for enrollment after checking the policies, instructions, and agreements added on the sheet. Those additional details will avoid issues like in ensuring protection for the applicant's data and that nothing illegal will get done to the info. As long as the form gets used for the right reasons, it will be useful.
What Are the Benefits of Enrolment Forms?
Writing on enrollment forms need not take long because there are labels and questions asked, so enrollees easily identify what to jot down. Another striking fact to know about the sheets used is how beneficial those are. Many businesses depend on forms for various reasons anyway, and it helps to uncover what made those advantageous in the first place. Identifying each can help in familiarizing what to make use of these applications. The advantages involved are the following:
Easy Identification for Enrollees

A quick process in identifying enrollees happen because all essential personal information about every applicant will get mentioned. Nobody allows strangers to come on campus at schools anyway, and knowing the background based on the enrollment form can at least help in researching if the person has a good history or not. It becomes expected for individuals with excellent background info to have higher chances of getting accepted than those with harmful factors. If there are many enrollees involved, then it is still easy to identify each as names can get arranged alphabetically.

Convertible to Spreadsheets

Enrolling online is possible through spreadsheets and similar formats instead of only sticking to conventional paper formats. The great thing in converting to online versions is how it is unnecessary to print papers already. Thus, this practice leads to saving the Earth for lessening paper use. Using the online document, it will still be printable and editable, but it saves more time to send through emails than in written documents. Providing versions for both online and conventional forms will be even better to accommodate more enrollees.

Terms and Conditions Apply

It is usual for any new applicant to have questions on how to complete the form. The solution is to provide instructions or terms until enrollees get guided on how the process goes. The great news about terms or conditions to add is lessening questions. What is allowed or prohibited in taking the form will be mentioned appropriately to prevent further confusion. In job applications, clear rules get tackled so that no further questions would follow accordingly. Applicants stop enrolling if they disagree with specific conditions.
Documentation and Reference Purposes

It turns beneficial to prepare these enrollment sheets for the sake of documentation. Someone might ask for proof about how an enrollee processed and completed the form, so the proof is to showcase the document. On another note, these sheets turn significant for references as well. Upon taking interviews, an interviewer can use the enrollment sheet as a reference in trying to confirm some background details. An applicant gets deemed questionable if his or her answers do not reflect on the form.
Medicare Enrollment Scams: Stay Alert
It often worries people about how their welfare turns out like after how many years from now. Questions like who will take care of me and how will I be benefited possibly come into mind. The great idea is to apply for health insurance programs like Medicare to have backup plans in receiving medical care or any related coverage. However, there are common scams out there too, particularly in enrolling for Medicare with the wrong people and incorrect processes. Scams for Medicare enrollment increased as more imposters or criminals improved their wicked ways. Being prepared is good, but many people would apply for insurance too, and staying careful is necessary to get the benefits and not get scammed.
Medicare enrollees better stay alert for possible scams, especially when somebody pretends to get affiliated with the insurance company. These scammers may offer healthcare services and products, but at the same time, they slowly gather the personal details of such applicants until they can hack into opening accounts and stealing money in the end. To avoid similar scenarios, every enrollee should do research ahead about the correct ways of applying. Most importantly, one cannot trust anybody right away, especially when they require too much information. Whoever uses data from the enrollment sheet illegally must be reported to authorities soon.
What Are the Common Parts in Enrolment Forms?
Merely sending the enrollment form and waiting for confirmation will not be the only concern. People should also determine the different parts usually seen among these documents. There can be different expectations anyway, but what matters most is the common factors will be around to regard the record as complete. Enrollment forms that lack the essential details only seem pointless because some questions would not get answered if only limited info were around. Some of the notable parts in these documents are:
Personal Information

In knowing a person, asking about the name, address, contact, and related background get requested. That can be the same things asked from enrollment sheets too. It gets difficult to identify who's who without clarifying the personal info because those will enable the process of differentiating one enrollee to another. Some people may have similar names, but after putting more details like the birth date, sex, or birthplace, the ones with the same names can still get differentiated.

Tables and Lines

In looking at the sheet, everything is not mainly about letters. There are certain lines or tables to notice as well, and those factors help categorize the whole form. The tables even guide applicants at where to put down certain information as there are labels to add on columns. The blanks provided will be where applicants can write whatever gets asked until all parts are complete. Another reason for adding these examples is to give a better presentation on the sheets. How the form looks is necessary to observe, so the output at least screams professionalism with style.

Instructions

Filling out forms can be as easy as taking any common application, but maybe there will be some parts that get confusing. For example, there could be boxes or circles provided for recognizing someone's status as single, married, separated, or widowed. A person may get confused on whether to shade the space provided or to put a checkmark on it. For other parts that require specific instructions, less confusion will take place after providing clear and valid terms for applicants to understand.
How to Create an Enrolment Form
Spare the excitement of finally enrolling in that dream school or program one always wanted for a while because perfecting the form itself is the crucial goal to improve first. A poorly made school registration, for example, will not be taken seriously by some people as it lacks professionalism. Higher standards would even get observed towards business registrations. Making enrollment sheets that pass professional standards will be the goal to keep to acquire respect. Being labeled with poor writing and format will be discouraging anyway, so here are the steps worth implementing to manage an acceptable document.
Step 1. Find the Right Template
Many templates can be used for enrollments as those may refer to tuition, insurance, business, or any example. There will be different formats to try from among every template, too, so it helps in spending time to explore each. In studying each, it will be easy to identify which is convenient to use and other examples worth avoiding for not giving a hassle-free experience. The key is to compare the pros and cons of options to make a smarter decision by reaching the most beneficial one so far.
Step 2. Set the Format
Another big deal to set up among the chosen template is the format. Indeed, customization is allowed, but it is much better to have uniform formatting for all forms because having one enrollment sheet that differs from another only look like they do not belong in the same company or group. Be keen on measurements too because the font size for some labels possibly look uncoordinated. The spacing among information there requires formatting, also as it appears more uniform to have justified alignment on documents than to leave some inconsistent spacing.
Step 3. Maintain a User-Friendly Form
It is only right to bring convenience in filling out details from the sheet. For example, a school application form needs not to have a complex arrangement where personal information will get scattered in different parts or that applicants will have to adjust from the small fonts that can hardly get read. Nobody wants to turn off enrollees with complicated processes for only finishing the form anyway, so these enrollees will still get interested in joining. There are many examples of templates with simple patterns, nevertheless, and those are worth prioritizing.
Step 4. Review if All Required Details to Ask Are Complete
Maybe everything is easy, but the incomplete data requirement could be the problem. Many things get asked among enrollments besides names, birthdates, and the like. Forgetting some of the crucial details will only lead to making another form to have other information to record. Getting the basic yet complete requirements among enrollees is essential, or no one may use that form again for future references. After noticing what is lacking, then editing the sheet must happen until it slowly leads to perfection.
Step 5. Simplify if Necessary
Applications and enrollments need not be in long forms all the time because this is still the start of entering a particular institution or group. Indeed, a lot can get said for introducing enrollees, but those can get saved for later, like in interviewing the applicants and giving additional documents after getting the approval. These are not license agreement long forms where highly detailed information must get tackled. Check all details, word after word, in case it can be simplified for a briefer and more logical result. It saves space to avoid lengthy and unnecessary information.
Step 6. Observe a Professional Design
Designs may not be regarded as a big deal for some people because what matters is to have a complete form. However, poorly designed examples can affect a business's reputation too. In hearing about the word design, most individuals often go for being creative as much as possible, but that should not be the case. A minimal yet professional design is the standard among enrollment forms and similar documents. Professionalism observes a formal impression anyway so that the whole sheet will be taken seriously instead of just any simple text.
As the enrollment form is the beginning part of officially joining a particular program, it inevitably brings a significant impact on the overall process. The thing is failing to provide correct details, and getting rejected will already stop the process. To make a great impression ever since the beginning must be the focus until one shall expect to continue with the program. Faulty enrollment documents only end up bringing issues afterward, so those have to get corrected to avoid waiting for the worst circumstances. Correcting avoids the need to worry anyway as one shall turn confident of the approval.