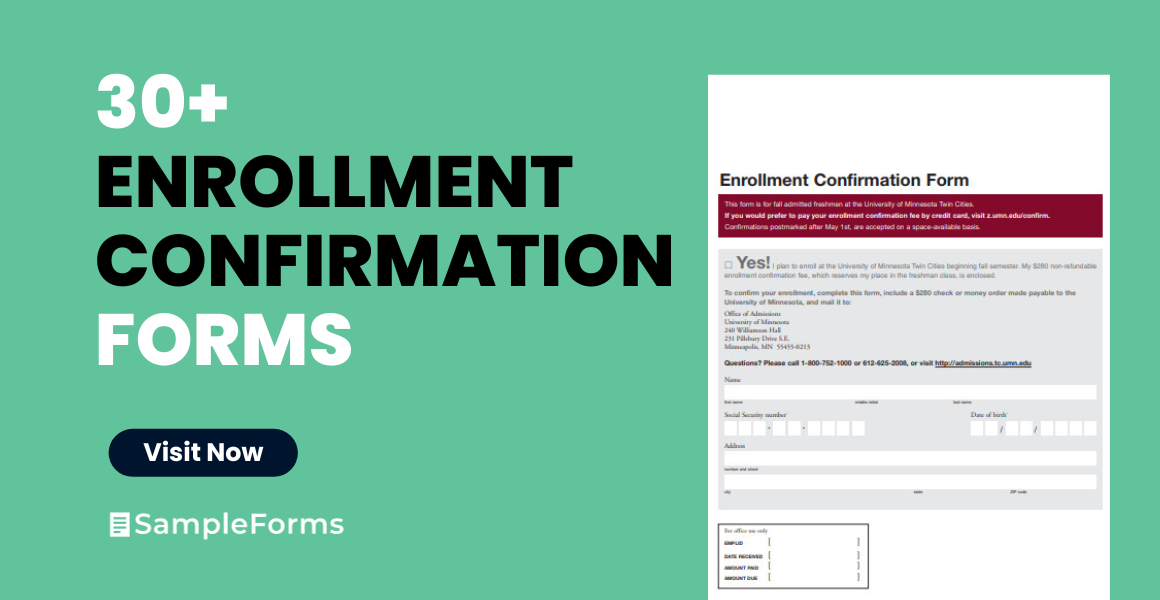 Embark on a journey through the essentials of an Enrollment Confirmation Form, a crucial document that solidifies a participant's place in an educational or organizational setting. This guide will illuminate its meaning, explore various types, showcase examples, and provide a comprehensive how-to on creation. Plus, we'll arm you with practical tips to craft a printable form that's both informative and user-friendly, ensuring a seamless enrollment process for all involved.
What is an Enrollment Confirmation Form ? – Definition
An Enrollment Confirmation Form is a document used to verify and acknowledge an individual's commitment to join an educational institution, program, or activity. It serves as a formal acceptance of an offered place or position, confirming the individual's intent to enroll and often includes details such as personal information, program specifics, and any necessary steps or conditions that must be fulfilled to finalize the enrollment process.
What is the Meaning of an Enrollment Confirmation Form?
An Enrollment Confirmation Form signifies a mutual agreement between a participant and an institution, affirming the participant's decision to accept a place in a program or course. It's a formal acknowledgment that reserves the individual's spot and often triggers the next steps in the preparation for their start, such as scheduling, payment, and the provision of additional required information forms or documentation.
What is the Best Sample Enrollment Confirmation Form?
FREE 30+ Enrollment Confirmation Forms
How do I complete the Enrollment Confirmation Forms accurately?
To complete Enrollment Confirmation Forms accurately, follow these steps:
Read Instructions Carefully:

Start by thoroughly reading any instructions provided with the form to understand what information is required.

Gather Required Documents:

Collect all necessary documents such as identification, previous educational records, and any other requested information.

Fill in Personal Details:

Enter your full name, date of birth, contact information, and any other personal details exactly as they appear on your official documents.

Review Program Specifics:

Ensure you understand the details of the program you are enrolling in, including start dates and course requirements.

Check for Accuracy:

Double-check all entries for accuracy, particularly numbers and email addresses.

Complete Financial Information:

If required, fill in financial information or payment details carefully, including any scholarship or financial aid information.

Sign and Date:

Provide your signature and date the form to validate it. If you're under the legal age, a parent or guardian may need to sign as well.

Ask for Help if Needed:

If you're unsure about any section, don't hesitate to contact the institution for clarification.

Review the Entire Form:

Once you've filled out the form, review it in its entirety to ensure all information is complete and accurate.

Submit as Directed:

Follow the submission instructions precisely, whether it's via an online portal, email, or physical mail.
By taking these careful steps, you can ensure that your Enrollment Confirmation Forms are completed accurately and are a true reflection of your intent to enroll. You also browse our enrollment verification forms.
What personal information is required on the Enrollment Confirmation Forms?