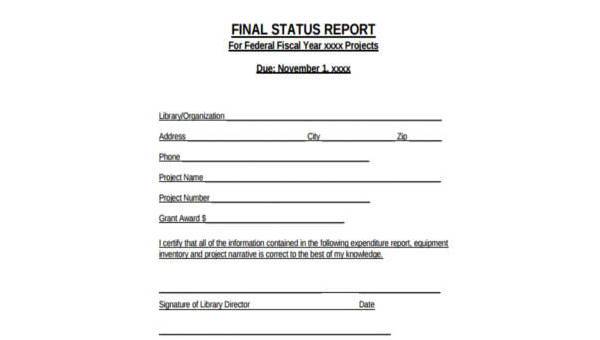 No matter who you are, you need to check on certain things every now and then. You need to check if something's working or not, you need to check if this person is okay or not, you need to check if something's wrong or not. Basically you're checking the status of these people, places, or things. Checking on these things is really important; you'll want to make sure that everything is going well, otherwise it could lead to total chaos or it could lead to many different types of consequences.
That's why a lot of companies do status reports to make sure everything is in working order. And that's why there are forms such as Employee Status Report Forms that can help them do just that.
Employer Status Report Form
Project Status Report Form
Enrollment Status Report Form
Status Report Form in PDF
Work Status Report Form
The Different Types of Status Report Forms
There are various types of these kind of forms that help out people or company owners in making certain that the status of certain people, places, or things are in top condition and that there are no problems whatsoever. Here are some examples of these types of forms:
Student Status Report Forms are the kind of forms that are used by schools in ensuring the status of specific students. These help them know if this student is enrolled in the school or if they're under probation for doing something against school policy or any other reason that could affect their status.
Project Status Report Forms are used by either employees or students when they need to make sure that they keep track of the current progress of any project that they're working on.
Employee Status Report Forms are forms used by companies in making sure that they understand the status of a specific employee. Could this employee be under suspension? Is he on leave? These forms help figure all that out.
Final Status Report Form
Status Report Form Example
Team Member Status Report Form
Health Status Report Form
Project Status Report Form in Word Format
The Importance of Having Status Report Forms
These are especially important to company owners as these help them out in figuring any problems that the company may have. Let's say that a company owner sees that the company isn't earning as much revenue as they were expected to, so he checks the Business Status Report Forms and tries to see the different issues as to why he isn't earning as much.
These really help out companies in figuring out their problems and helping them decide the necessary actions they should take to fix them. Status reports should always be taken seriously and these help make sure that everything should be running in perfect order, otherwise this means that certain things need to be changed or improved.