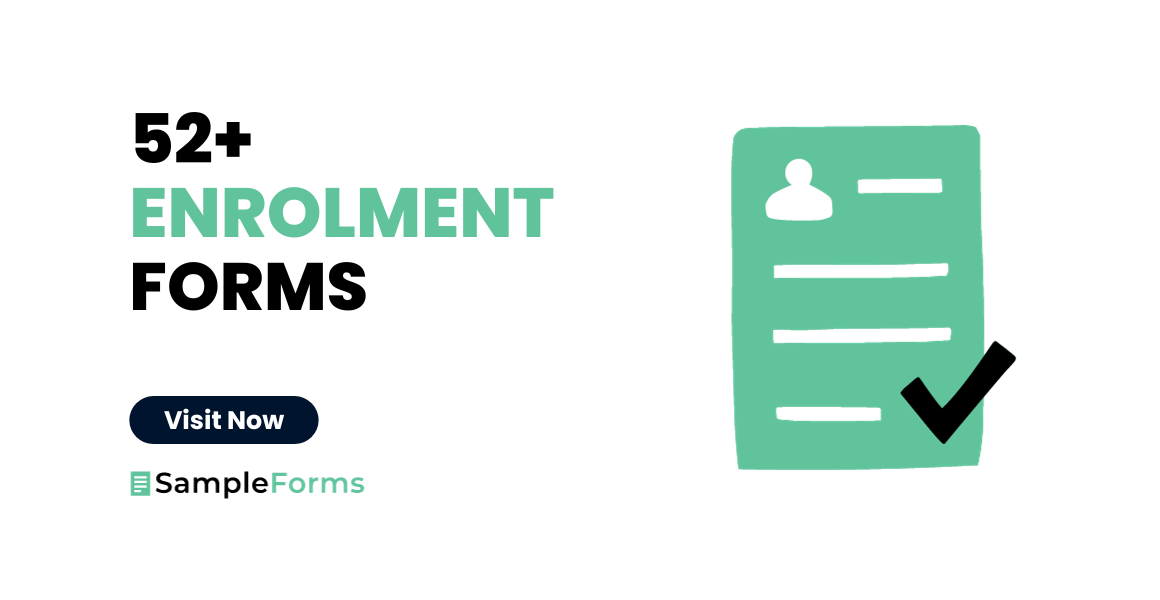 Enrollment is the act of signing-up or joining a program an institution offers. They can either be educational programs offered by schools or welfare programs offered to the public by the government. Perhaps, an essential program launched by the government was ObamaCare, which aims to provide affordable health coverage to ordinary Americans. President Obama signed the Affordable Care Act in 2010, and from that point onward, it gained a total of 20 million enrollees by 2019, and we can expect an increase in the following year.
What are Enrollment Forms?
Enrollment forms are used for a variety of programs offered by a variety of institutions. These institutions could either be schools, colleges, universities, academies, or other organizations that provide skills training or continuing education. And, they can also be applied to welfare programs such as healthcare and social security, as well. These forms function as registration forms and application forms at the same time. Also, these are requirements that you need to submit before someone who wishes to join a program offered by an institution can be admitted.
Importance of Enrollment Forms
Programs serve as a guide for people who want to succeed methodically, one step at a time. Programs are used in almost every institution that our society is founded on. And, they also serve as a guide that we follow to fulfill specific roles that we play in society. These are education, government, and social programs. And to enroll in these programs, one must complete the enrollment process first.
The enrollment process is long and tedious, wherein the people who wish to enroll in a program are screened and evaluated. This is so that only the most qualified and dedicated individuals gain entry and take part in its activities. For an enrollment process to begin, the interested must first sign-up or register themselves using a document that is the enrollment form.
Enrollment forms are documents that are used by people who want to enroll in a specific program offered by particular institutions. These forms are one of the essential materials that institutions use to record the number of people currently enrolled in programs that they offer. It can also help them categorize enrollees to their designated programs that these people joined in, as well. And, you can also see these forms in the census and demographic data gathering.
Social Welfare, The Backbone of Democracy
"of the people, by the people, for the people," Social welfare is perhaps the most important duty and obligation that governments must abide by as a prerequisite for a truly democratic society. Since it's popularity, democratic governments always see to it that the basic needs of their constituents are met and provided with maximum efficiency and without delay. The history of social welfare started when Queen Elizabeth proclaimed a set of laws aiming to alleviate the discomforts and suffering the English experienced from severe economic depression, with massive scale unemployment and widespread famine, in 1601. The bill was called the English Poor Laws, which was perhaps the first tax-funded social welfare program for the poor.
Another essential event whose effects influenced the further evolution of social welfare into modern times was the Great Depression in the 1930s. The hardships brought by the economic catastrophe led the government to adopt programs designed to help those who are affected. First of those programs was the Social Security Act, which aims to establish"a national system of old-age insurance for retired workers, benefits for victims of industrial accidents, unemployment insurance, aid for dependent mothers and children, the blind and the physically handicapped." Enacted in 1935, the Social Security Act established the first Social Security System in the country and, perhaps, the early social welfare programs to screen enrollees for their eligibility and qualification.
Perhaps the most important and crucial of all social welfare programs in history is related to healthcare and medical aid. Medicaid is a government healthcare insurance program established in 1965, aiming to provide health and medical assistance to low-income families. The program started with 4 million enrollees in 1966, which later totaled 74.8 million in 2018.
FREE 52+ Enrolment Forms in PDF | MS Word | Excel
Enrollment forms come in different forms according to the program offered by a specific institution. They can either be for educational and learning programs, social welfare programs by the government, or for programs offered by private organizations. Listed in this article are a variety of enrollment forms and templates for a variety of programs, wich you can readily use and download for free.
1. Enrolment Update Form
2. Aadhaar Enrolment Form
3. Mediclaim  Enrolment Form
4. Public Enrolment Form
5. Link Enrolment Form
6. Common Enrolment Form
7. Enrolment Authorization Form
8. Debit Enrolment Form
9. Enrolment Application Form
10. Personal Enrolment Form
11. Data Entry Enrolment Form
12. Patient Enrolment Form
13. Enrolment Details Form
14. Student Enrolment Form
15. Program Enrolment Form
16. Prescription Enrolment Form
17. Enrolment Form Sample
18. Employee Enrolment Form
19. Enrolment Development Form
20. Enrolment Agreement Form
21. Enrolment Verification Form
22. Fund Transfer Enrolment Form
23. Insurance Enrolment Form
24. Enrolment Service Form
25. Initial Enrolment Form
26. General Enrolment Form
27. Enrolment Membership Form
28. Enrolment Information Form
29. Bank Enrolment Form
30. Graduate Enrolment Form
31. Enrolment Provider Form
32. Enrolment Plan Form
33. Company Enrolment Form
34. Basic Enrolment Form
35. Enrolment Status Form
36. Simple Enrolment Form
37. Camp Enrolment Form
38. School Enrolment Form
39. School Enrolment Certification Form
40. Child Enrolment Form
41. Training Enrolment Form
42. Open Enrolment Application Form
43. Family Enrolment Form
44. Provider Enrolment Form
45. Member Enrolment Form
46. Group Enrolment Form
47. Life Enrolment Form
48. Participant Enrolment Form
49. Enrolment Notification Form
50. Concurrent Enrolment Form
51. Class Enrolment Form
52. Official Enrolment Form
53. Basic Enrolment Form
How to Fill-Out an Enrollment Form
Enrollment forms allows people to gain entry to a specific program offered by a particular educational institution. They're employed by schools, colleges, universities, and other venues of learning. They're also used by organizations and groups that offer skills training like seminars and workshops, as well. Enrollment forms function like registration forms and application forms at the same time. And, if you found an enrollment form for a specific program that you wish to join, here are the steps on how to fill them out.
Step 1. Choose and Pick a Specific Enrollment Form
Before you can fill out an enrollment form for a program that you wish to join, the first thing that you should do is to choose and pick the specific enrollment form for your purpose. To be able to do that, select the particular enrollment form from a variety of samples listed in this article. Then, after you found the enrollment form that you wanted, click the download button beside the sample and proceed with filling it out.
Step 2. Fill out the Enrollment Form
Next, After selecting and downloading the specific enrollment form for the program that you wish to join, proceed with filling out the form itself. To begin, start by filling the section that asks for personal information. This is the first section that you'll encounter. You'll find this on the upper part of the enrollment form. Then, proceed with filling out the rest of the sections with the information that it asks for. After you're done with filling out the form, proceed with printing it.
Step 3. Print the Enrollment Form
Then, proceed with printing the enrollment form after you've filled in with the information that it asks for. To print your enrollment form, simply print it using your home printer or have it printed in an internet cafe near your area. After printing the form, affix your signature on the signature block found on the bottom of the enrollment form itself.
Step 4. Review the Form
After printing the enrollment form, the next thing you should do is to review the enrollment form for any errors or sections that you forgot to fill out. If, in any case, that errors are spotted or find any section unfilled, you can remedy the situation with the use of a correction ink and pen. Then, after doing this step, proceed with the final stage of the process.
Step 5. Submit the Enrollment Form
After completing the previous steps of the process, the last and final step is to submit the enrollment form to the organization that it came from. Aside from that, make sure that you'll send the enrollment form before the date of expiration arrives. After doing this step, the next thing you need to do is to prepare the additional requirements necessary for the program that you'll be joining.
Terminologies
Program – A set of activities or measures for a specific long-term goal and objective.
Enrollment – Is the act of enrolling and joining a specific program.
Institution – An organization formed for a religious, academic, and social purpose.
Admission – Is the activity of admitting or accepting someone in a program or institution.
Registrar – An office or official responsible for the safekeeping of school, college, or university records.
FAQs
1. Who employs enrollment forms?
Enrollment forms are used by a variety of educational institutions, government agencies, and some private businesses, as well. They are used for a variety of programs such as educational programs, social welfare programs, and learning programs. Enrollment forms are usually required to be filled out first to be able to enroll in a specific program.
2. Is an enrollment form similar to a registration form?
Yes, they do. Enrollment forms are also used as a registration form since institutions employ these for records keeping purposes. And, these forms also indicate that the person registered in the program is qualified to participate in its activities. Ans aside from that, Enrollment forms also allows institutions to create identification or membership documents after a person is registered in their program.
3. Does an enrollment form function similar to an application form?
Yes, enrollment forms do work precisely like application forms, in most cases. Programs such as workshops, seminars, and welfare programs often treat enrollment form as the same. So institutions that do so often require enrollment forms to be submitted first before an applicant becomes accepted into the program and avail for the perks and privileges that it offers.