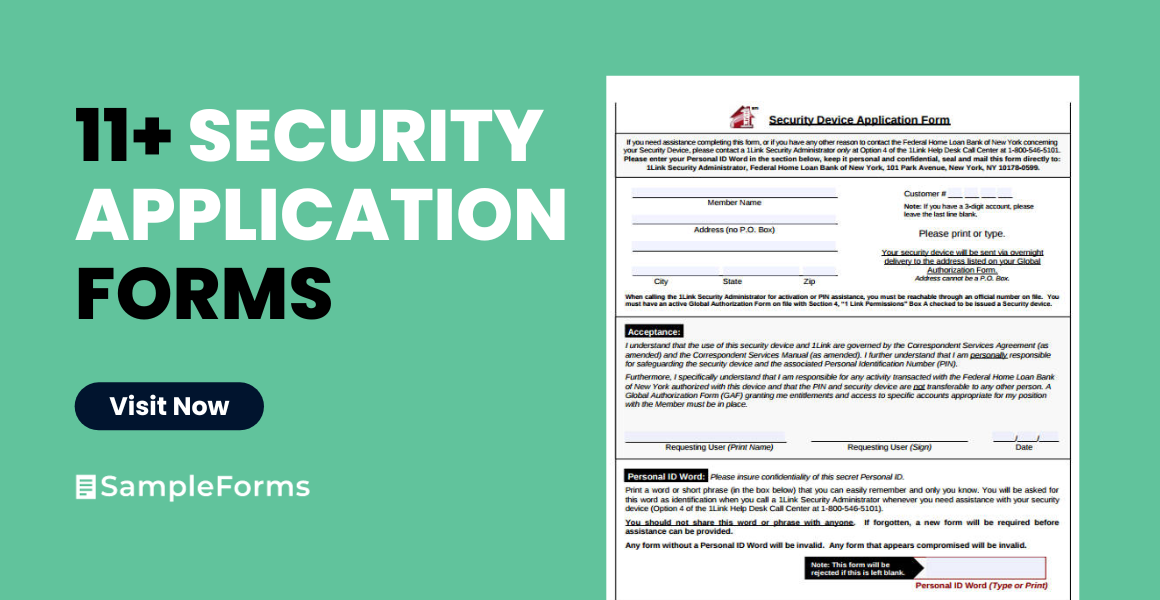 Application Forms help organizations in assessing an applicant's ability and characteristics which may qualify for granting a membership in a club, credit or a loan, or even a job position in a company. Interviewers use the forms as their reference in knowing what to ask the applicant based on his experiences and attainments.
An individual must state his personal information on the form, with his educational background, work experience, and a list of references, either trade references for credit applications or character references for job application forms. Applying for a passport, visa, and a license also requires an application form, which is a Security Application Form.
Social Security Application
Employee Statement and Security Guard Application
Security License Application
Application for Recruitment of Security Guard
 Application for Post of Security Officer
Application for New Food Security Card
What is a Security Application Form?
A Security Application Form is a general term for documents which are used for applying to an industry or organization that involves security. This includes License Application Forms, Passport Application Forms, and even Security Officer Job Application Forms. All of these documents will require the applicant to present valid national identification cards as proof that they are stating factual identities on the form. To apply as a security officer, one must be fit enough to meet the duties and responsibilities of the job.
When to Use a Security Application Form?
When using security devices. There is an organization who developed a security device that protects the user from being a victim of internet fraud. This is a tool for e-banking and transacting anything online. The Security Device Application Form requires the user to create a PIN and a Personal ID Word.
When acquiring a security pass. A security pass is commonly used in airports where personnel will have to present an approved Security Pass Application Form to the authorized officers of the airline company. This form indicates the specific area where a person is allowed and where he is restricted to enter.
When aiming to have a license. Before an individual can apply for a job as a security personnel, he needs to have a license as a security guard to have a Certificate of Training which is one of the requirements for the job.
Security Permit Application
Security Identification Card Application
Application for Airport Security Pass
Employment Application Form
Security Device Application
Security Application Form in Doc
Why Use a Security Application Form?
Listed below are the reasons why you and companies use a security application form:
To acquire information of an applicant.
To test the ability of the applicant in following guidelines and instructions.
To assess an applicant's appropriateness with the job.
Quick Tips for Filling Out a Security Application Form
Be sure to write neatly. Spaces and placeholders are your guides for your answers, so estimate how you could incorporate a word in a clean manner.
Indicate "N/A". This is an abbreviation for "Not Applicable". It is a requirement for an applicant to answer everything on the form, however, if you have no possible answers for a specific question, simply write "N/A" as your answer.
Be truthful with your answers. Companies verify, validate and recheck your credentials before they accept your application. So, to be sure that you will not face any further problems, state the appropriate and honest answers to every question.
Social Security Application Forms is another form which is under the security form category. This document focuses on applying for social security finances and beneficiaries. When approved, an individual will have financing insurance in his chosen plan.