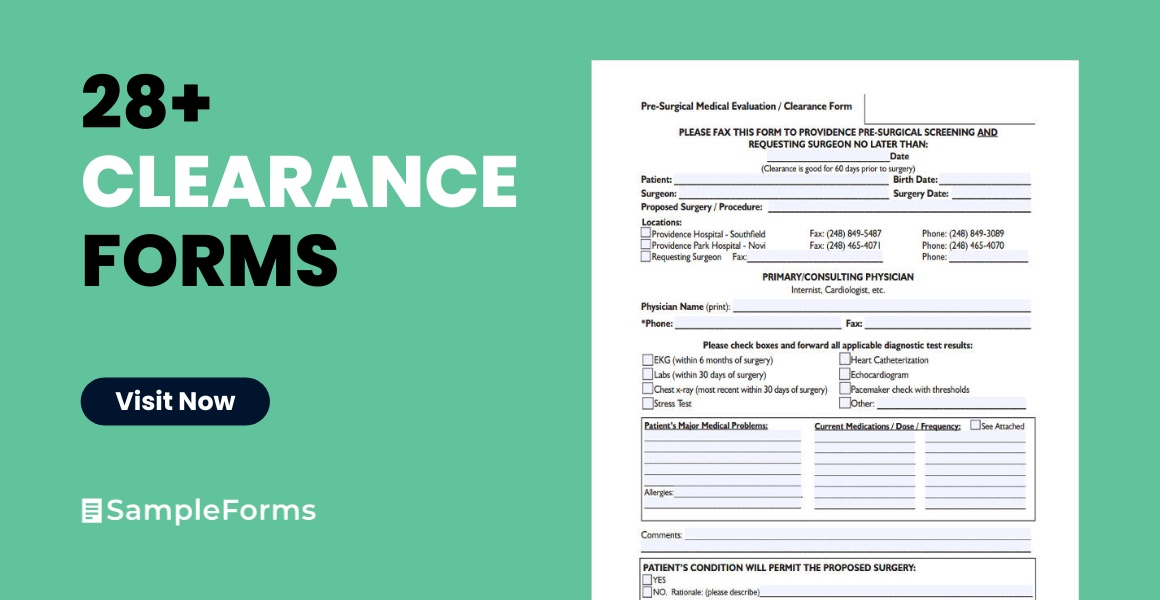 Clearance forms serve as a statement or a certification that the applicant has a clear record within his or her years of existence and was able to comply all the necessary requirements given. These forms can also be used as a ticket on the applicant's way out or moving to the next level.
Clearance form is used in almost all the organization, such as companies, universities, hospitals, etc. Going further this article, you will be to know the importance and the usage of different kinds of clearance forms, such as tax clearance certificate/form, NBI or security clearance forms, student and employee clearance forms, etc.
Medical Clearance Form Samples
Medical Clearance Request
Physician Medical Clearance
Surgical Medical
School Clearance Form Samples
High School Athletic Participation Clearance
Teacher Education Clearance
What is a Tax Clearance Form?
A tax clearance form is a statement or a certificate which states that a company does not have any tax due. This clearance could be issued for all or the specified taxes of the business. The application for tax clearance for companies is completed by the provision of the following information:
the applicant details ( name, postal address, authorized officer & address, T.I.N number, the registered office, contact person's name, number, and email)
the details of funds to be transferred (amount and currency, the location, bank name, branch and account number)
the sources of funds and the total amount
the details of the taxes paid (tax type, amount and receipt number)
the tax agent details (name and address)
the consent or declaration that all information written are true (affixed date and signature)
How to Fill Out Security Clearance Form
A security clearance is an eligibility for access to classified information and is only granted to the people whom authority personnel security background investigation has been performed or completed for. But when the person does not need any more access of the classified information, it will be terminated.
The information written on the security clearance form are required for the provision of security assessment. The following are the basic information that are necessary in filling up the security clearance form:
the applicant's detailed information (including the marital status, relatives' information and places where currently and formerly lived)
the security screenings and the criminal convictions in and outside the country (criminal records if there are any)
the education and employment information (last school and year attended, company name, address, contact, employment details, etc)
the places where applicant has traveled
the certification or declaration that all information written are true (affixed date and signature)
Further on this article, clearance forms that are commonly used in our everyday lives will be discussed. These forms are Student Clearance Forms, NBI Clearance Forms, and Employee Clearance Forms.
Barangay Clearance Form
Barangay Business
Security Clearance Forms
Security Clearance Form
Federal Security Clearance Verification
Security Clearance Application
Dental Clearance Form Samples
Medical Clearance for Dental Treatment
Dental Surgery Medical Clearance
Dental Cavity Clearance
Importance of Clearance Form
There are different kinds of clearance forms that are used in our day to day lives. In fact, clearance forms are found in any organization. For schools or universities, the purpose of a student clearance form is to certify that a student has complied with all the necessary requirements in order to move to the next level or higher year.
This is to make sure that there are no more pending payments that are forgotten to be collected and the student is not liable to any breakage, damage or loss of the school facilities, such as form the laboratory or experiment rooms, the library, the cafeteria, and/or other offices in the school.
A clearance form is required to have signatures from the different heads or supervisor of every departments.
This article contains different kinds and examples of clearance form. Feel free to browse, download, print and use these forms for you reference.
Employee Clearance Form Samples
Employee No Due Clearance
Employee Termination
Employee Health
Police Clearance Forms
Police Security
Police Clearance Application
Child Clearance Forms
Child Care Medical
Child Abuse History
Resignation Clearance Form
Employment Clearance
Surgical Clearance Forms
Pre-Surgical
Generic Surgical
What is Employee Clearance Form?
The procedure performed in schools or universities is somehow the same with how clearance forms are used in companies. An employee clearance form is also termed as a separation or exit clearance form. This is completed by an employee who wishes to part ways with the company.
The purpose or importance of this form is to make sure that all properties or equipment used by the employee during his/her employment are returned safely and completely. The employee is required to visit all the departments and have the department heads signed the form.
This clearance form is also used to certify that the employee is not liable to any more damage found in the company. An employee clearance form is specified for the following purpose: resignation, retirement, termination, or transfer to different institution or department.
How to Apply for NBI Clearance Form
Application for NBI clearance can be done online or through lining up to NBI outlets. An NBI (National Bureau Investigation) clearance form should be filled out with proper attention and focus, since a single mistake will not be acceptable.
This clearance form is the first thing that should be secured before anything else like applying for a job. The NBI clearance form is easy to be filled up, all you have to do is to provide your personal information that are exact, accurate and true. For applications for NBI clearance, a valid ID and individual's police clearance should also be presented. This is to certify that the applicant does not have any criminal records.
Medical Clearance Forms are used to certify if the applicant is capable of performing or joining a series of activities that are required for completion. The form is filled up by an authorized physician that performs the tests or evaluation of the applicant's physical fitness. A medical clearance form is one of the requirements that are needed for employment or school activities.
Tax Clearance Form Samples
Property Tax Clearance Request
Tax Clearance Certificate
Travel Clearance Form
Medical Travel
Travel Clearance Application
Work Clearance Form Samples
Back to Work
Clearance Certificate Form Sample
Police Clearance Certificate
Sample Clearance Form
Guidelines for Clearance Forms
Clearance forms are given by the authorized company to the applicants who wishes to be cleared from the organization, whether they are filing a resignation clearance form or something else. These clearance forms are used to protect both parties (the organization and the applicant) from any liabilities.
These are filled out with true and up to date information that are required in the spaces provided. Once filling up is done, these forms are submitted to the management and is subject for an evaluation. The applicants are held until the process is done.
Different kinds of clearance forms were discussed to you above, refer to these in order to gain a deeper understanding on how clearance forms are used, filled up, and applied for.