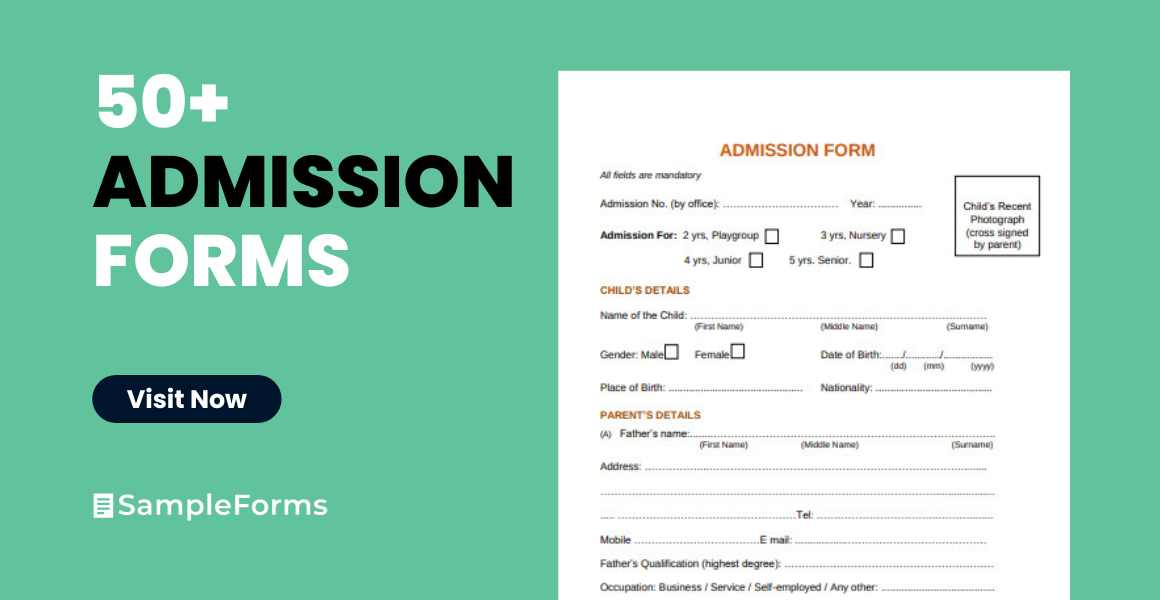 Every establishment needs a formal process of taking in new people in their company. A process that needs proper documentation. Most companies would always come up with ways on how to formally take in someone in their establishment, and that process is what people call admission procedure. Whether for medical or school application forms, an establishment admission process would never go without any admission forms. This document will help companies record and evaluate each applicant's information before accepting them. To make things effective and successful, one must know the document's function and purposes first.
FREE 50+ Admission Forms in PDF | MS Word
Like any other business documents, there are various formats and types of admission forms that one can use. To help you decide on a format, here are some of the sample admission forms you can download and view for reference. These documents are available in all versions of Adobe PDF and MS Word. For instance, our Nursery Form is perfect for nurseries.
1. Admission Application Form
2. Child Admission Form
3. Primary School Admission Form
4. University Admission Form
5. Extension Admission Form
6. Student Coaching Admission Form
7. Academy Admission Form
8. CBSE Admission Form
9. NRI of Admission Form
10. Certificate Course Admission Form
11. Management Skill Admission Form
12. Institutes Admission Form
13. Admission Registration Form In PDF
14. Engineering College Admission Form
15. Board Campus Admission Form
16. P.hd Programme Admission Form
17. Admission Notification Form
18. Excellence Admission Form
19. Distance Education Admission Form
20. Educational Admission Form
21. International Students Admission Form
22. Cultural Admission Form
23. Admission Form for Tuition Sessions
24. Department Admission Form
25. Tourism Admission Form
26. Microelectronics Course Admission Form
27. Professional Studies Admission Form
28. Simple Computer Admission Form
29. General Admission Form
30. Post Graduate Admission Form
31. Law Admission Form
32. Study Centre Admission Form
33. Hostel Admission Form
34. Petroleum Admission Form
35. Technical Admission Form
36. Directorate Application for Admission Form
37. Public School Admission Form
38. Research Institution Admission Form
39. Diploma Admission Form
40. Admission to General Provident Form
41. Doctor Admission Form
42. Teachers Admission Form
43. Standard Admission Form
44. Admission Checklist Form
45. Involuntary Admission Form
46. Performa for Re Admission Form
47. Hotel Administration Admission Form
48. Agriculture Admission Form In Word
49. Training Institution Admission Form
50. Admission of Securities Trading Form
51. Confidential Admission Form
What Is a Admission Form?
An admission form is a crucial document used by institutions to gather essential information from individuals seeking to join their organization, program, or service. It typically includes fields for personal details, educational background, and specific requirements pertinent to the admission process. In educational settings, such as schools and universities, admission forms help administrators evaluate the suitability of applicants for their programs. They serve as a formal record of intent to enroll and are the first step in the enrollment process, ensuring that all necessary information is provided for a smooth and orderly admission procedure.
Why Do You Need An application form?
An application form is vital as it standardizes the collection of necessary information from applicants, ensuring consistency and fairness in the evaluation process. It simplifies comparison and selection by presenting data uniformly, facilitates efficient processing, and serves as a formal record of the applicant's interest and qualifications. Application forms are indispensable tools for organizations to manage and streamline the recruitment or admission procedures effectively. For example, a University Form is essential for higher education institutions to manage student information effectively.
Why Are Admission Forms Important?
Admission forms are like application forms. It is usually used to ask permission to let someone enter an establishment formally. Most of the time, admission forms are referred to as school entrance documents to allow a student to take classes in that particular institution officially. Others may incorporate it with medical papers to admit someone in a hospital or a clinic. Admission forms are so useful in different matters that you would often encounter it in various fields.
Admission forms are crucial in recording people's information, which can be used for security purposes to maintain order and safety. Universities and other educational institutions use these documents to keep student data.
Elements of Admission Forms
Just like registration forms, admission documents should also have their contents accurate. Establishments will need the necessary information about all the people allowed on their premises to identify efficiently. This information should contain the correct details to avoid any misunderstandings and conflicts when the institution needs the document as references. To have the correct results, the institution should create admission forms thoroughly with accurate elements. Here are the frequently seen components of an admission form to keep you guided:
Personal Information – This section is one of the essential details that an admission form should have. The personal information contains the applicant's full name, age, gender, address, and contact information. With these details, the personnel will know which admission data belongs to, and their intentions of being part of the establishment. Reaching and updating these people will also be quicker with the sample personal information form .
Educational Background – If you are doing a school admission form, then you will highly need this form segment. The educational background will allow the institution to determine the student's application efficiently. This section should contain the student's year level, name, and address of the previous school. Most of the time, school admission forms have the student's entrance test results and recommendation letters attached to it for an easy reference for the faculties.
Health Assessment – This element may not be vital for all admission forms—but most medical admission forms will need this segment. The health assessment forms will let the doctors see how their patients are doing. It will be easier to identify and analyze the vitals of the patients with the assessments since it shows their medical history and their current conditions. Make sure to place the right component to end up with the relevant results.
Emergency Contact – Contact information is always essential with forms such as admissions. How much more the emergency contacts. This segment contains the client or patient's emergency contact person like guardians or parents. In tough situations, the institution will use this information to reach out to guardians for further information. Emergency contact forms are the most important part of school admissions with students from daycares or kindergarten. Secure this element in an admission form to be prepared when needed.
Confidentiality Note – This part of the admission form must be at the end of the document. The note will serve as a contract that proves the applicant and the institution's agreement to the confidentiality of the information shared. It should also have a blank space that the applicants can sign, so the agreement is sealed. Another purpose of this section is to verify that the applicants provided true and accurate information. This procedure will protect both parties and take it as a documented reference.
Always remember that the content of the admission forms highly depends on its purpose. Once the admission forms are specified, the content will be easier to outline and make. Some establishments have additional sections for their admission forms that they deemed relevant to their procedures. Sometimes people use different formats of admission forms. The traditional formats include the printable forms that are often found in the establishment's offices. Nowadays, this document is seen online through emails, websites, and applications. With the right elements, the admission forms will work effectively and successfully.
How Essential are Admission Forms in Educational Institutions?
Admission forms are commonly known for educational applications. This document is part of a student's application requirements in applying to universities or colleges. It is one of their gateways to enter their desired universities, along with their application forms and recommendation letters. Admission forms contain the student's personal information and educational background, allowing the institution to examine the student's achievements and capabilities.
Most admission documents are required in any educational institution since all the students will need an identification material that indicates that they are officially admitted to such university. With prestigious schools, universities will highly need a document that records their newly accepted students. In 2017, the number of student applications to universities reached 10.2 million, making it harder for schools to evaluate without any proper document. That is why admission forms are essential in the education industry. With the help of this document, institutions will have an efficient time in going over with all student admissions.
The Relevance of Admission Forms in Safety and Security
Every establishment prioritizes the safety and security of its employees and clients. With admission forms, it will be easier to track and monitor people in an institution. The document contains specific information needed by the establishment to determine which people are part of their departments. Filing admission forms will officially make a person permitted to access and use the facilities the company offers. But admission forms can also be useful for other purposes.
With the admission forms, companies would also have an easier way of choosing who among the applicants are suitable for them. A company must accept an admission request to the most reliable and trusted ones. It helps the establishment avoid any misbehaviors and conflicts among the people on their premises. Recording people's information who belong in your establishment is as important as keeping your valuables safe with you while in public. Keep people in your establishment safe and secured by knowing who belongs in your company and which to grant access.
Admission Forms as Record Keepers
Another way of making a company successful is through marketing. Getting recognized by the market is one of the biggest achievement that a company aim. That is why marketing strategies are always included in a business plan. One way that helps a company known is by making its management well-organized, and that includes making a well-organized admission procedure. An establishment must make its admission processes clear and precise for their market to understand and trust them.
Admission forms are especially vital in educational institutions. They are part of a student's application requirements, often accompanied by college application forms and recommendation letters. These forms help institutions evaluate student applications, a process made more accessible by using education application forms.
As record keepers, admission forms also play a role in marketing. They contain business information that can be used to reach out to current and potential students or clients about new projects and events. This is where undergraduate application forms can be a tool for reaching out to prospective students.
In terms of safety and security, admission forms help track and monitor individuals within an institution. They serve as official records that grant individuals access to facilities. For instance, enquiry forms can be a preliminary step before the formal admission process begins.
How Will You Prepare an Admission Form?
Preparing admission forms may need thorough planning and discussion. This document is as vital as the other business documents in the company. It contains confidential information that an establishment needs to know and identify their personnel and clients well. Some people are afraid of creating business documents since it needs to have accurate details. But it isn't that hard when one makes an admission form. If guided accordingly, you would have no problem in creating a well-written admission document. To help you achieve that, here are a few things you should remember:
Step 1. Identify the Document's Purpose
Remember that admission forms can be used in different occasions. The first thing that an establishment should do is to determine the purpose of the admission form. Is it for school applications? Or do you need it for medical admissions? Though most admission forms are known for educational purposes, there are still more establishments in the industry that find this document useful. Think about where you need it to figure out what content to include. It is easier to outline the content when the admission forms are more specific.
Step 2. Start with Getting to Know the Applicants
Admission forms are documents meant to permit someone to enter an establishment or a form acknowledging someone part of the company's management. It is expected that the document should have a section solely for the applicant's personal information. This part usually includes the applicant's full name, age, gender, address, and contact information. With these details, the establishment's staff will know who the people are allowed on their premises and who are the people under the establishment's care.
Step 3. Get Information About the Intention of Admission
Admission forms should include a particular section that asks about their intention of requesting an admission. For instance, the document is for student admission. This includes personal information, educational background—especially relevant for sample Student Application forms—health assessments for medical admissions, emergency contact information, and a confidentiality note. There are times that students use admission forms to get scholarships. Others use it to enter colleges and other schools formally. Getting to know the applicant's purpose will also apply to other types of admission forms. This section will also depend on the type of admission form used.
Step 4. Add Security Features
Confidential documents like an admission form should include security features such as admission numbers and a verification note. These features will assure both the applicants and the administrators about the confidentiality of the information shared. Admission numbers are like tracking numbers that allow the establishment to trace and record the applicant's admission information efficiently. As for the verification note, it needs to have the applicant's signature to prove that both parties agreed to provide accurate information and keep the document for recording purposes only.
Step 5. Always Post at All Accessible Sites
Makes sure to post the documents on any accessible platforms. With today's technology, it is easier for your audience to access the admission forms through online sites such as social media and official websites. A printable admission form will also be needed on the establishment's office in case there are walk-in clients. Make sure the document is reviewed and revised from all errors to prevent misunderstandings and conflicts.
Admission forms may come as a small part of a company's daily operation, but it plays a big part in making a business' management well-organized. These documents are not only primary record keepers that help out an establishment, but as well as trackers to keep staff updated with the people coming in and out of the company. Make admission forms thoroughly and use them appropriately to have them work effectively.