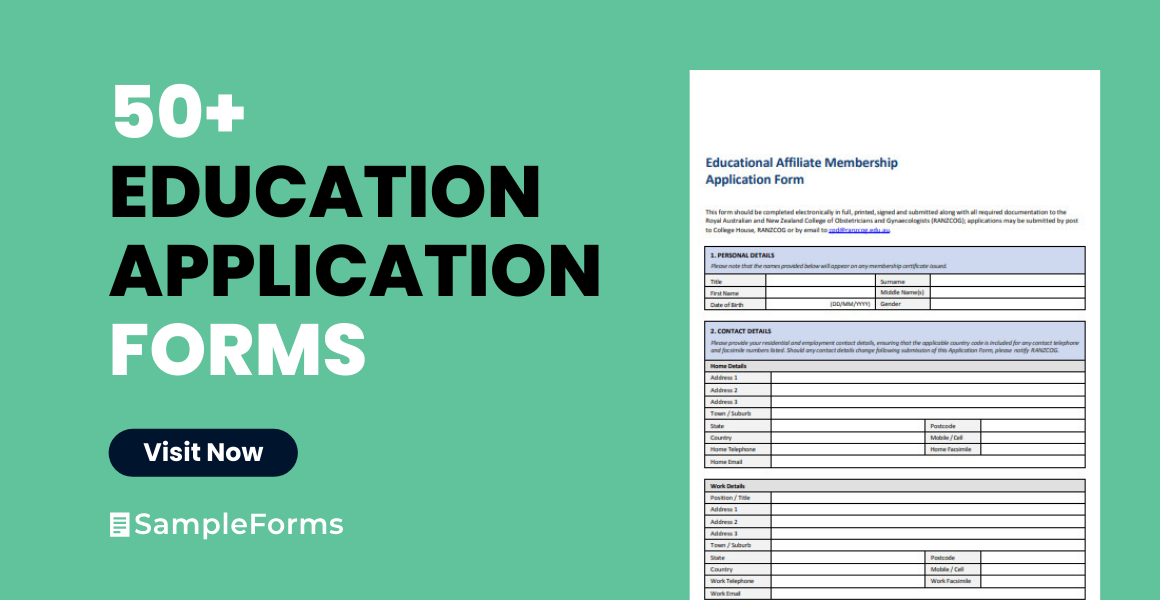 An Education Application Form serves as the gateway for aspirants aiming to advance their academic pursuits. This pivotal document, encompassing a myriad of types, is tailored to various educational endeavors, from primary schools to advanced research programs. Acting as a reflection of a candidate's academic history and aspirations, the form bridges the gap between students and educational institutions. This guide delves into the essence, variants, illustrative examples, creation techniques, and best practices for crafting a comprehensive Education Application Form.
What is an Education Application Form ? – Definition
An Education Application Form is a standardized document used by educational institutions to gather relevant information from individuals seeking admission or enrollment. It allows institutions to assess the qualifications, interests, and suitability of prospective students for a specific academic program or course. This form typically includes sections on personal details, academic history, extracurricular activities, letters of recommendation, and sometimes, a personal essay. It serves as a primary tool for the admissions process, helping institutions make informed decisions on candidates' eligibility and fit.
What is the Meaning of an Education Application Form?
The meaning of an Education Application Form goes beyond just a tool for gathering information. It represents a student's formal expression of interest in pursuing academic opportunities at a specific institution. The form provides a structured way for candidates to showcase their qualifications, achievements, aspirations, and readiness for the chosen academic path. For educational institutions, it offers a consolidated view of the applicant's academic journey, potential, and alignment with the institution's values and goals. Essentially, it sets the foundation for the admissions decision-making process, aiding institutions in selecting candidates who best fit their criteria.
What is the Best Sample Education Application Form?
The best sample Education Application Form can vary based on the level of education (e.g., primary, secondary, undergraduate, postgraduate) and the specific requirements of the educational institution. However, I can provide a generic template that covers most of the essential elements:
Personal Details:
Full Name:
Date of Birth:
Gender:
Nationality:
Contact Address:
Phone Number:
Email Address:
Passport-sized photo (if required)
Course/Program Applied For:
Name of Course/Program:
Preferred Start Date:
Academic History:
School/Institution Name:
Address:
Duration (From – To):
Certificate/Degree Obtained:
Grade/Percentage:
[Note: Applicants can add multiple entries if they've attended more than one institution.]
Extracurricular Activities & Achievements (Optional):
Activity/Achievement:
Duration:
Position/Role (if any):
Letters of Recommendation:
Name of Recommender:
Relationship to Applicant:
Contact Details:
[Note: The actual letters might be required to be attached or submitted separately.]
Personal Essay/Statement of Purpose:
[Provide guidelines on the theme or questions the essay should address, word limit, etc.]
Work Experience (if applicable for postgraduate or specialized courses):
Organization Name:
Position Held:
Duration:
Responsibilities:
Application Fee Details:
Declaration: I hereby declare that all the information provided is true to the best of my knowledge. I understand that any falsification may lead to disqualification of my application.
Signature: _________ Date: _________
This is a basic template, and it might need customization based on specific requirements. Some institutions may also include sections for skills, languages known, references, or other specific details. Furthermore, digital application forms might have features like dropdown menus, date pickers, file upload options, and more.
FREE 50+ Education Application Forms in PDF | MS Word | MS Excel
How to fill out an Education Application Form correctly?
Filling out an Education Application Form correctly is crucial as it represents your first impression to an educational institution. Here's a step-by-step guide to ensure you provide accurate and complete information:
Read Instructions Carefully:

Begin by thoroughly reading any instructions or guidelines associated with the form. Some forms may have specific formatting or content requirements.

Gather Necessary Documents:

Before you start, gather all relevant documents like previous educational certificates, identification documents, recommendation letters, etc. This helps in ensuring the information you provide is accurate.

Use Clear, Legible Writing (for paper forms):

If you're filling out a paper form, use black or blue ink and write legibly. Avoid erasures; if you make a mistake, use correction fluid or start on a new form, if necessary.

Personal Details:

Fill in your full name, date of birth, and other personal details as they appear on official documents. Avoid nicknames or abbreviations.

Academic Details:

List your educational qualifications in the order specified, usually starting from the most recent. Ensure you mention the institution's name, the duration of the study, and any grades or scores received.

Course/Program Information:

Clearly specify the course or program you're applying for. If there are multiple specializations or streams, indicate your preference if asked.

Extracurricular Activities:

List any extracurricular activities, achievements, or leadership roles. Be concise and prioritize activities that are most relevant or recent.

Personal Statement/Essay:

If the form requires an essay or personal statement, ensure it's well-structured and free of grammatical errors. Address any specific questions or themes mentioned in the instructions. Keep it genuine and personal.

Recommendation Letters:

If required, attach recommendation letters or provide details of the recommenders. Ensure the letters are from relevant individuals, like teachers, supervisors, or mentors.

Document Uploads (for online forms):
If you're filling out an online form, you might need to upload scanned copies of documents. Ensure they are clear, legible, and in the specified format and file size.
Review Before Submitting:
Thoroughly review all entries for accuracy and completeness. For online forms, save drafts and review before hitting the final submit button.
Pay Any Associated Fees:
Some institutions may require an application fee. Ensure you pay it through the mentioned method and keep a receipt or confirmation.
Note Down Submission Details:
Once submitted, note down any reference or application numbers. For paper forms, consider taking photocopies before mailing.
Follow Up:
Mark any important dates, like interviews or entrance tests, on your calendar. If the institution provides a way to track the status of your application, check it periodically.
Seek Help if Unsure:
If you're unclear about any part of the form, don't hesitate to contact the institution's admissions office for clarification.
Remember, honesty is key. It's important to provide accurate information and not exaggerate or provide misleading details.
Where can I find samples of an Education Application Form for college admissions?
If you're looking for samples of an Education Application Form for college admissions, there are several avenues you can explore:
Official College/University Websites:

Most colleges and universities provide application forms or portals on their official websites, especially if they accept online applications. Exploring the admissions section of their website is usually the best starting point.

Common Application Platforms:

Some countries or regions have centralized application platforms where students can apply to multiple colleges using a single form. Examples include the "Common Application" in the U.S. or "UCAS" in the UK.

Online Educational Forums and Websites:

Websites like College Confidential, The Student Room, or Edulix often have threads where applicants discuss the application process and sometimes share samples or templates.

Guidance Counselor Resources:

If you're currently in school, your guidance counselor or career counseling department might have sample application forms or resources to help with the application process.

Educational Consultancies:

Many educational consultancies that assist students with the admissions process will have sample forms or templates. However, they might offer these as part of their paid services.

Online Document Libraries:

Websites like Scribd, SlideShare, or DocDroid sometimes have uploaded samples of college application forms, although the authenticity and currency of these forms might vary.

Library Resources:

Some libraries, especially those in educational institutions, might have reference books or guides on college admissions that include sample application forms.

Workshops and Seminars:

Attend college admissions workshops or seminars. These events sometimes provide participants with application materials, including sample forms.

Directly Contacting Institutions:

If you're specifically interested in a particular college, you can directly contact their admissions office and request a sample form or information package.

Google Search:
A simple Google search using the keywords "sample college application form" followed by the name of the college or country can yield relevant results.
While samples can be beneficial for understanding the format and kind of information required, always make sure you're using the official and most up-to-date basic application form when actually applying. Different colleges—even within the same country—might have different requirements, so it's crucial to tailor each application accordingly.
What is the difference between a Common Application and a specific college's Education Application Form?
The difference between the Common Application (often referred to as the "Common App") and a specific college's Education Application Form boils down to scope, standardization, and flexibility. Here are the primary distinctions:
Scope and Purpose:

Common Application: The Common App is a standardized undergraduate college application form that is accepted by more than 900 colleges and universities, primarily in the U.S. Its primary advantage is that students can apply to multiple institutions using this single application, simplifying the process and reducing repetitive work.
Specific College's Application: This is a unique application form created by and tailored for a specific college or university. The questions, requirements, and format are determined by that institution.

Standardization vs. Customization:

Common Application: It's designed to encompass a broad range of questions and prompts that cater to a wide variety of colleges. There's a standard set of questions all applicants answer, plus an essay.
Specific College's Application: It might have questions tailored to its programs, culture, or values. For instance, an art school might ask for a portfolio, or a tech-focused university might request details of relevant projects.

Supplemental Information:

Common Application: While the main portion of the Common App is standardized, many colleges require additional "supplements." These can be extra essays, short answer questions, or other materials specific to that institution.
Specific College's Application: Since it's already tailored to the institution, everything required is typically included within the form itself. However, there might still be additional requirements like interviews or tests.

Flexibility and Specificity:

Common Application: It offers a one-size-fits-all approach, which, while convenient, may not allow students to showcase unique aspects relevant only to specific colleges.
Specific College's Application: Being institution-specific, it can delve deeper into aspects the college values or considers critical, allowing applicants to align their responses more closely with the institution's ethos.

Access and Platform:

Common Application: It's primarily an online platform, where students create an account, fill in their details, choose colleges to apply to, and submit their applications.
Specific College's Application: It can be online or paper-based, depending on the institution. Some colleges have their own online portals, while others might still accept mailed applications.

Fees:

Common Application: While there's no fee to use the Common App platform itself, individual colleges might have application fees. Students can apply for fee waivers if they meet certain criteria.
Specific College's Application: The fee structure will vary. Some might offer free applications, while others charge. Fee waivers might also be available.
In summary, while the Common Application streamlines the application process for multiple colleges, specific college forms offer a more tailored application experience. Students often use a mix of both, especially if they're applying to a combination of Common App member institutions and non-member institutions. You may also be interested in our Training Application Forms.
How do I submit the Education Application Form online for university enrollment?
Submitting an Education Application Form online for university enrollment is a systematic process, and while the specific steps can vary based on the university's application platform, here is a generalized step-by-step guide:
Research and Choose the Right University:

Before even beginning the application process, thoroughly research universities you're interested in. Look at courses offered, faculty, campus facilities, student reviews, and other relevant factors.

Visit the University's Official Website:

Navigate to the Admissions or Apply section.

Create an Account:

Most universities will require you to create an account on their application portal. This typically involves providing an email address, setting a password, and possibly verifying the email.

Start the Application:

Once logged in, you can usually start a new application. Some platforms allow you to save and return to the application as needed.

Fill in Personal Details:

This will include basic information such as name, date of birth, contact details, and possibly citizenship or residency details.

Academic History:

Detail your previous educational qualifications, including names of institutions, grades obtained, and the duration of study. You might need to upload scanned copies of relevant certificates or transcripts.

Course Selection:

Specify the course or program you're applying for. Some universities allow you to choose multiple courses or prioritize them.

Upload Supporting Documents:

This could include:

Personal statement or essays
Letters of recommendation
CV or resume
Portfolio (for certain courses like art or design)
Standardized test scores (like SAT, ACT, GRE, or TOEFL scores)
Any other specific documents requested by the university

Answer Specific Questions:

Some universities have additional questions or short essays about your interests, experiences, or why you're a good fit for the program.

Pay the Application Fee:
Most universities charge a fee for processing the application. The fee can usually be paid via credit/debit card, bank transfer, or other online payment methods. Ensure you receive and save a receipt or confirmation of the payment.
Review and Submit:
Before hitting the submit button, carefully review all sections of your application to ensure accuracy and completeness. Check for any spelling or grammatical errors.
Confirmation:
After submission, you should receive a confirmation email or notification that the university has received your application. This might include a unique application or reference number.
Monitor Your Application:
Use the university portal to check the status of your application, view any updates, or respond to additional requests from the admissions team.
Follow Up:
Depending on the university, there might be subsequent steps such as interviews, additional tests, or other requirements. Stay alert to emails or notifications.
Remember, it's always a good idea to start the application process well ahead of the deadline to account for any unforeseen issues, and always keep copies or screenshots of important submissions and confirmations. If in doubt, or if you encounter any problems, reach out to the university's admissions office for guidance. You may also be interested to browse through our other Sponsorship Application Forms.
Are there fees associated with submitting an Education Application Form?