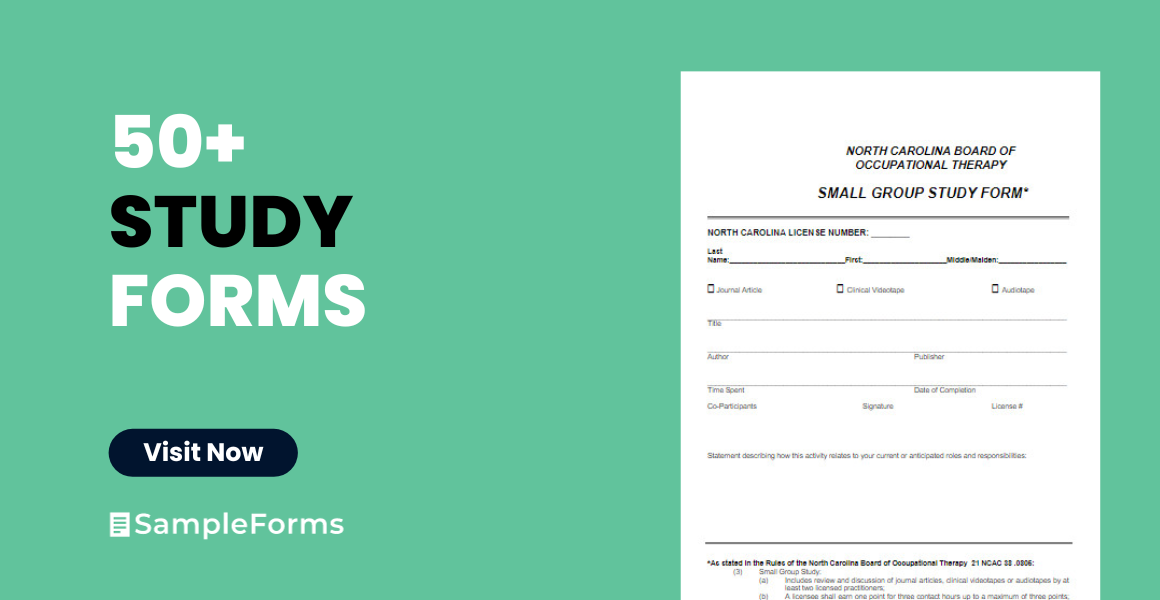 A Study Form is an essential tool in the educational landscape, streamlining the acquisition and documentation of knowledge. It encapsulates various purposes, from research data collection to student assessment form. With its roots deep in educational processes, understanding its meaning, types, and creation process is pivotal. Through this exploration, we'll delve into the nuances of Study Forms, providing examples and offering insights to harness their full potential effectively.
What is a Study Form ? – Definition
A Study Form is a structured document or tool used in academic and research settings to gather, organize, and evaluate information related to a particular area of study. It serves as a framework for collecting standardized data, ensuring consistency and accuracy in research, assessments, or any educational endeavor. These printable forms can be tailored for various purposes, such as surveys, quizzes, data collection for experiments, or student feedback, ensuring a systematic approach to acquiring knowledge.
What is the Meaning of a Study Form?
The meaning of a Study Form lies in its function as a methodical tool to accumulate specific information in an academic or research context. It signifies a systematic and structured way of collecting data, soliciting feedback form, or assessing knowledge or performance. Whether it's used for gathering research data, testing student understanding, or obtaining feedback on a course, a Study Form ensures that the same set of questions or prompts is presented in a consistent manner, facilitating uniformity in responses and simplifying the process of analysis. Essentially, it embodies a standardized approach to learning and assessment.
What is the Best Sample Study Form?
FREE 50+ Study Forms
51. Directed Study Approval Form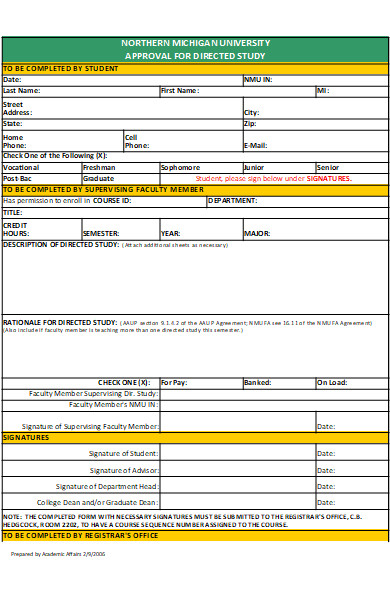 What is a Study Form and how is it used in research?
A Study Form, often referred to as a research form or study protocol form, is a structured document used by researchers to outline the specifics of a proposed research project. This form serves multiple purposes:
Detailed Blueprint: It provides a comprehensive overview of the study, including objectives, methodology, data collection techniques, and analysis methods.
Consistency: The form ensures that the study follows a predetermined path, maintaining consistency and avoiding deviations that could compromise the study's validity.
Review and Approval: Before commencing, most research projects, especially those involving human subjects, need approval from an Institutional Review Board (IRB) or an ethics committee. The Study Form provides the necessary details for this review.
Guidance for Researchers: For team-based projects, the form serves as a guide ensuring all members understand their roles, the research's objectives, and the methodologies involved.
Documentation: It provides a record of the initial research plan, useful for future references, reproductions of the study, or for audits to ensure ethical compliance.
In essence, the Study Form is a foundational tool in research, ensuring the project is well-planned, ethical, and methodologically sound. Our Admission Forms is also worth a look at
Where can I download a standard Study Form template?
Downloading a standard Study Form template will largely depend on the nature and focus of your research. However, here are several avenues you can explore:
University Websites: Many universities provide templates for research projects, especially for their students and faculty. Check the research or academic resources section of university websites.
Institutional Review Board (IRB) Websites: If you're conducting a study that requires ethical approval, the IRB or ethics committee of many institutions provides standard templates to streamline the review process.
Research Societies and Organizations: Professional organizations related to research often provide resources, including templates, to support researchers in their respective fields.
Online Template Libraries: Websites like Template.net, JotForm, and Formstack often have a variety of research and academic-related templates available for download.
Dedicated Research Platforms: Platforms like ResearchGate or Academia.edu sometimes host shared resources, including templates, though you might need to be a member to access some of them.
Government Research Agencies: Agencies like the National Institutes of Health (NIH) or the National Science Foundation (NSF) often provide templates and forms for researchers applying for grants or conducting specific types of research.
Once you've found a template, it's crucial to adapt it to your specific study's needs. Remember that a Study Form should be comprehensive and tailored to your research objectives and methods. In addition, you should review our sample Training Application Form.
How to fill out a Study Form for academic research?
Filling out a Study Form for academic research requires a meticulous approach. Here's a step-by-step guide:
Understand the Purpose: Before starting, ensure you understand the purpose of the Study Form. Is it for ethics approval, data collection, or another research-related purpose?
Personal and Study Information:

Fill in your personal details: name, contact information, affiliation (university/college/institution), and role (e.g., principal investigator, student).
Provide study title, study ID (if applicable), and the expected duration of the research.

Research Objectives: Clearly state the aims and objectives of your research. What do you hope to find or prove?
Research Methodology:

Describe the study design (e.g., qualitative, quantitative, mixed-methods).
Detail the sampling method and target population.
Specify the data collection tools (e.g., surveys, interviews, observations) and provide any relevant instruments (like questionnaire samples).

Participants Details:

Describe participant demographics: age, gender, nationality, etc.
State inclusion and exclusion criteria.

Consent: If the form includes a section on informed consent:

Ensure the consent form is comprehensible, detailing the study's purpose, procedures, potential risks, benefits, and confidentiality measures.
Explain participants' rights, including the right to withdraw.

Data Handling and Confidentiality: Describe how you will handle, store, and eventually dispose of the data. Ensure measures to protect participants' anonymity and data confidentiality.
Potential Risks and Benefits: Discuss any potential risks to participants and how you plan to mitigate them. Also, outline the expected benefits of the research.
Resources and Funding: If required, detail any funding sources, grants, and resources you're using for the research.
Timeline: Provide a tentative timeline for significant milestones, like data collection, analysis, and completion.
References: Some forms may require you to cite relevant literature that supports your research methodology or addresses potential ethical concerns.
Attachments: Attach any additional required documents, such as survey instruments, interview questions, or letters of support.
Review and Proofread: Once completed, review the form to ensure all details are accurate. It's beneficial to have a colleague or mentor review it too.
Submission: Submit the form as instructed. This might be electronically, through a dedicated platform, or via email or physical mail.
Lastly, always keep a copy of the completed Study Form and any associated documentation for your records. It's essential for transparency and in case of any future queries. You may also be interested in our Scholarship Application Forms.
How to create a custom Study Form for my research project?
Creating a custom study form for your research project involves several steps, from understanding your research goals to choosing the right tools to design the form. Here's a guide to help you create a custom study form:
Understand Your Research Objectives:

Define the purpose of your research.
Identify the specific data points you need to collect.

Determine the Type of Data:

Quantitative (e.g., age, weight, test scores).
Qualitative (e.g., open-ended responses, opinions).

Decide on the Format of Questions:

Multiple choice
Likert scale (e.g., strongly agree to strongly disagree)
Open-ended
Ranking
Yes/No
Fill in the blanks

Choose the Right Tool:

Google Forms
SurveyMonkey
Qualtrics
Microsoft Forms
REDCap (specifically for research)

Design the Form:

Start with a brief introduction, explaining the purpose of the study and assuring confidentiality.
Group similar questions together.
Use a logical flow, progressing from general questions to more specific ones.
Include skip logic if needed, where the answer to one question determines the next question shown.
Limit open-ended questions to avoid respondent fatigue.
Pilot test the form on a small group to ensure that questions are clear and understandable.

Ensure Data Privacy:

Use encryption for data transmission and storage.
Avoid collecting unnecessary personal information.
Provide a clear privacy statement on the form.
Obtain informed consent if required.

Optimize for Accessibility:

Ensure that the form is accessible on mobile devices.
Use simple language and avoid jargon.
Ensure compatibility with screen readers for participants with visual impairments.

Pilot the Study Form:

Before rolling it out to a large group, test the form with a smaller group. This helps you identify potential problems or confusing questions. Collect feedback and make necessary changes.

Deploy the Form:

Distribute the link to your targeted participants.
Monitor responses and address any issues that arise.

Analyze the Data:
Once you've collected the data, you can export it (most tools offer exporting options) and analyze it using statistical software or tools like Excel.
Ensure to validate and clean the data as necessary before running any analyses.
Iterate:
Based on the responses and feedback, refine your study form for better accuracy and clarity in the future.
Remember, the key to a successful study form is clarity, brevity, and relevance. Ensure your questions are precise and directly related to your research objectives.
What information should be included in a Study Form for ethical approval?