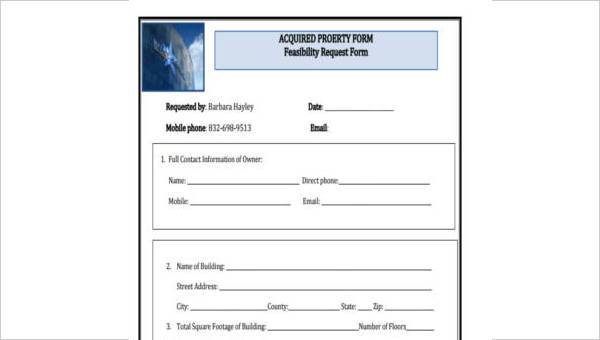 A simple idea in your mind can be revolutionary once it comes to its fruition. With that said, never let a single idea slip into oblivion. Do something once a concept arises and transform it in actuality. If you want to create a project out of your brilliant mind, it's essential that you have Project Request Forms so you can request permission and backing for your study.
In making this project happen, you need to have people around you who are willing to support you not only physically, mentally, and emotionally but also financially. Request Forms are accessible on our website to help you in making your project come alive.
Feasibility Study Request Form
Project Feasibility Initial Request Form
Feasibility Request Form in PDF
Free Feasibility Request Form
What is a Feasibility Study?
A feasibility study is the process of evaluating a proposed idea, plan, or project. It basically examines the practicability of the proposed project to specific details such as the resources, technology, location, time-frame, legality, operations, and finances involved.
Who can Issue a Feasibility Request?
Feasibility study is professionally conducted by a consultant. The consultant will determine the viability of the proposed idea or project. However, a request can also be issued by professors and students in the academe, and businessmen who wish to test out their business proposals.
Components of a Feasibility Request Form
It's good to know beforehand the details you need to be aware of in filling out a request form. Here is the common information needed in a feasibility request form.
Complete Name
Address
Contact Information
Project Title
Project Description
Type of Project
Project Purpose
Project Background
As there may be instances wherein you need to take a break from your feasibility study, Sample Time Off Request Forms are helpful in formally filing a leave. Moreover, if you're running out of supplies and other materials needed in the feasibility study, Sample Supply Request Forms are needed for you to acquire the lacking materials in conducting the study.
Feasibility Survey Request Form
Feasibility Request Form Example
Feasibility Assessment Request Form
Feasibility Request Form in Word Format
How to Determine a Feasible Project
People always have great ideas on their minds, but the biggest problem they encounter is implementing this idea and making it exist. Hiring a consultant is only suitable for big projects that require careful consideration and high financial backing. However, as they say, "big things come from small beginnings." You can do a feasibility study on your proposed idea or project no matter how small and simple it is. To determine if your proposed project is feasible, below are some guidelines to check on.
Finances: You need enough finances to support your project. There are people and organizations that are willing to compensate you if they see that the project is promising. If you are really determined to have this project done, you can save up or acquire the required funding through a bank loan.
Technology: The technology and resources used in the project must be acquirable. You cannot complete your project without the proper technology and materials needed. Alternatives can suffice but make sure these materials are capable of obtaining similar results as the original materials.
Time-Frame: Is the project attainable on the given time? If not, is an extension possible for the completion of the project? Ponder on these questions because time is essential.
More request forms are found on our website. We have different types of request forms such as Travel Request Form Samples which can truly benefit in your feasibility study.