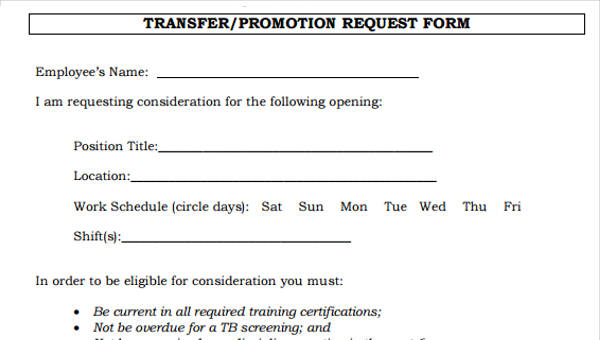 Request forms are useful to state polite requests and demands from a client or from another person. These forms are usually handled by managers of companies. There are two commonly used request forms in the field of business and management; a Customer Request Form for identifying the needs of their clients, and a Promotion Request Form for determining whether an employee deserves a raise or not.
Right before a client and an employee can sign up for their requests, they are required to submit particular pieces of information. And to legalize this process, an information request needs to be presented to the requesting individual.
Internal Promotion Request
Direct Promotion
Promotion Tenure
Classified Transfer
How to Request for a Promotion at a Current Job?
A promotion is a way for companies to acknowledge an employee's hard work, dedication, and potential. So, how do you request for a career raise?
Evaluate yourself. Know your competencies in the offered job vacancy; evaluate whether your skills and abilities matched the qualifications or not.
Make your pitch. Write a promotion letter or choose from our Employee Promotion Forms to indicate your statements of positivism and optimism about the company.
Avoid statements about you being an important person in your work. This will cause your supervisors think that you are irreplaceable in your current field of work, which leaves them wondering why they would replace you.
How to Write a Promotion Request Letter?
Start by writing your name, current job position, and the name of the company.
Then indicate the date in which you will submit the letter.
Next is the employer's name, position, and the company name.
Write the salutation: "Dear Mr…."
Create the body of your promotion request letter.
Thank the management.
Sign the letter with your name below your signature.
One of the reasons in applying for a promotion is to have a higher salary. However, if you are focusing on borrowing a particular amount for emergency uses only, then consider drafting an Employee Advance Request Form instead to specify your needs according to your management.
Employee Promotion Form
Job Promotion
Staff Promotion Request
HR Promotion Request
Competitive Promotion Request Form
15 Quick Tips for Obtaining Your Next Promotion
Everything starts from within, so, this is what you should remember when to obtain a promotion:
Assure that you are showing a high quality work performance.
Keep track of your daily accomplishments.
Make sure that you meet the daily quota and requirements of your work.
Stay positive at work.
Have an initiative in making ways to ease up and designate tasks.
Open up your team spirit by allowing other co-workers to help you.
Evaluate your educational background if it fits the job description of the promotion.
Avoid being part of office rumors, especially those statements which entails negative perceptions to you.
Raise your hand for new and additional tasks as an act of volunteerism.
Ask for advises and suggestions from a mentor.
Research more about new ideas for your job.
Value the art of self-promotions.
Talk to your supervisor about your future plans and current goals in your career.
Apply for the job opportunities within your company.
Suggest a new position to your boss.
Once you decide that you are worth the promotion, our Request Form Samples will help you craft your Promotion Request Form and Letter. And through the course of your employment, might as well use a Leave Request Form to take a break and vacation away from the pressure of piled up workloads.