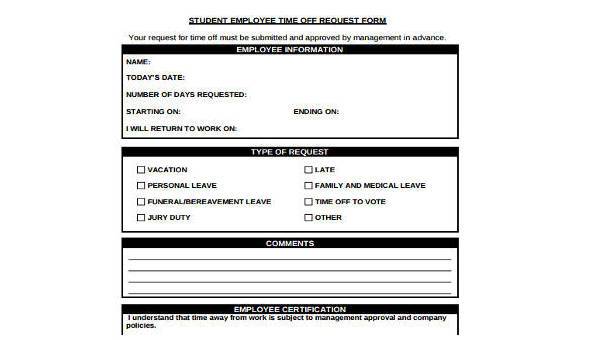 There will come a point wherein an employee will need to have some time off for himself. It could be that the employee needs his much-awaited rest and relaxation after providing years of service to a company.
However, before he can do that, he'll need to make a request from his superiors that he'll take a few days off. One of the things that can help him out in making his request official is the right Time Off Request Forms, which are available here for perusal, download, printing, and even customizing.
Employee Request For Time Off Form
Vacation Request Form
Employee Schedule Request Form
Printable Time-Off Request Form
Free Time-Off Request Form
Types of Time-Off Request Forms
There are lots of these type of forms that just about any person can use whenever they need to make a specific request for when they need that well-deserved break. Here are some examples of these types of forms:
Employee Vacation Request Forms are the kind of forms that are used whenever a certain employee wishes to take a long vacation away from work. If the superiors who take hold of these forms see that the employee has rendered enough time and work to be applicable for a long vacation, then there should be no problem in authorizing it.
Employee Request for Time-Off Forms are specifically used whenever a certain employee from a company wishes for a short time off from any of his or her duties. These forms help in ensuring that the request is considered by the employee's higher-ups before making the decision of whether or not the employee may be granted a time-off.
Day-Off Request Forms are used when a person needs to request for at least one day wherein he or she does not need to render his or her services to the company that he or she is employed with.
Simple Time-Off Request Form
Time Off Request Form
Day Off Request Form
Request For Time Off Form in PDF
Request for Time Off Form Example
Standard Request Off Form
The Importance of These Time-Off Request Forms
Say that you've been working for your company for well over a decade. You've been nothing but loyal and you've always managed to get to work and leave on time. There has to be a point wherein all the work will get to you, so you need to ask your superiors for a short vacation. That's where forms such as Leave Request Forms can come in very handy.
Human's aren't robots. They require time to reset themselves. This is why they request for leaves or vacations so that they may be able to come back to work and perform better than they did.
These forms are just as helpful to the superiors who grant these vacations or break. If they see that the employee has put in all the hours that allow them a vacation, then they may grant it. However, if they see that the employee has had a record of time-offs, even some wherein the employee did not give notice to his or her superiors, then they have every reason to decline the request.
So if you think you deserve a little break from your job, then make sure to use these forms, but only if you think you deserve that much-needed break.