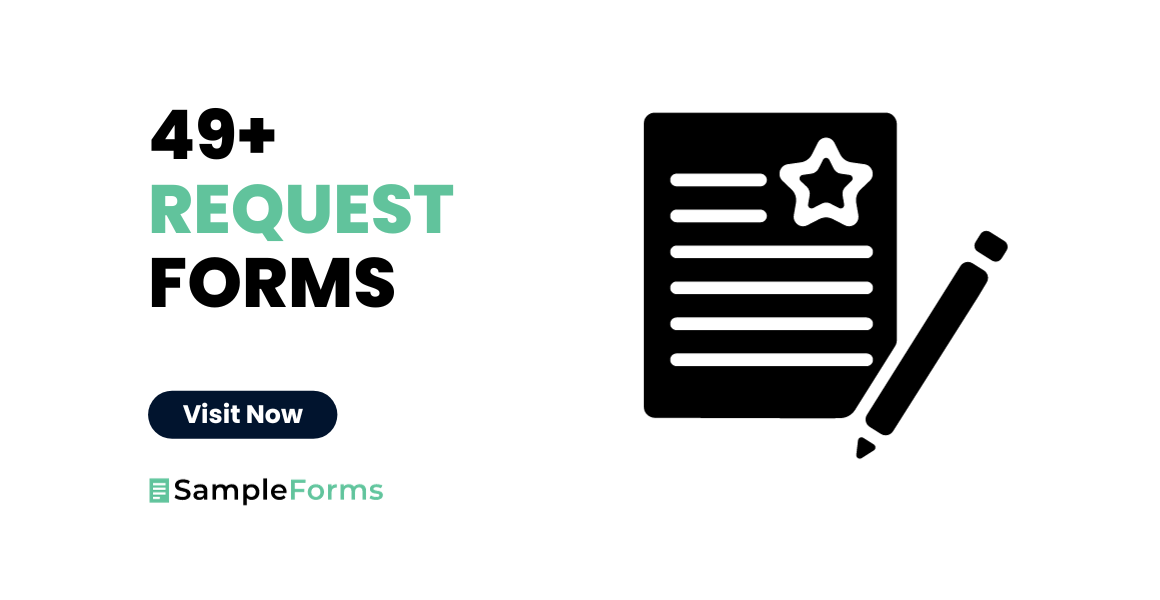 Whenever you request someone for something, then it could mean two things. The first is that you are asking that person to do something for you; the other is that you are asking permission from someone regarding something that you would like to do.
The more important the action being requested, the more formal it should be written. This is why there are many people who make sure that whenever they request for something of high importance, they use forms such as Holiday Request Forms to help them get what they need. Forms such as those will make sure that these requests are all properly documented for serious consideration.
Holiday Request Form Templates
Employee Holiday Request Form
Free Holiday Request Form
Basic Holiday Request Form
Vacation Request Forms
Staff Vacation Request Form
Annual Vacation Request Form
Change Request Forms
Plan Change Request Form
Project Change Request Form
Software Change Request Form
Time Off Request Forms
Paid Time Off Request Form
Employee Time Off Request Form
Vacation Time Off Request Form
Check Request Form Templates
Background Check Request Form
Replacement Check Request Form
Church Check Request Form
The Different Types and Purposes of These Request Forms
There are many varieties of these types of forms, and each of them allow just about anyone to make the request that they need to help them out. Below are a couple of examples:
For Change Requests
Plan Change Request Forms are used in the event that a student wishes to shift to another major. In order for them to transfer to a new major of their choice, they will have to provide sound reason as to why they wish to do so. Some reasons as to why a student would decide to shift majors include him being no longer able to qualify in his current field of study, or perhaps another major piqued his interest. Once the student is firmly decided and grabs a copy of these forms, all he has to do is place in his personal information, along with the student identification number. After submitting these papers to the proper department, they just have to wait for approval.
Project Change Request Forms are the kind of forms that are utilized in the event that anyone wishes to change certain parts of a project they deem necessary. Not every project is perfect, no matter how carefully planned out it may seem. There will always be those uncertain factors that will force the people in charge of the project to make changes to ensure its success. When that happens, these people may then use these forms to report to their superiors about the changes they need to make. In these forms, they will have to state the title of the project in which the change needs to be made. Then these people will have to state what they have to alter along with the reason as to why the alterations are being done. It's also best that these people can tell the kind of impact these modifications can make on the project.
Software Change Request Forms are forms that are made use of by people who need to request to use different software. In a job that puts the employee in a position that requires him or her to be in front of a computer all day,  these computers already have default company software installed in them. These are what employees use to conduct their services day in and day out. However, there will be moments that these software might become obsolete, as there is always more software being developed that could better serve their purposes. When that happens, those in charge of handling company computers, such as those in the IT department, may use these forms to request a software change. All they have to do is specify the kind of software being changed and what it's being replaced with.
Maintenance Request Form Templates
Vehicle Maintenance Request Form
Free Maintenance Request Form
Tenant Maintenance Request Form
Training Request Form Templates
Training Request Form
External Training Request Form
Sample Training Request Form
Travel Request Forms
Business Travel Request Form
Foreign Travel Request Form
Probation Travel Request Form
Purchase Request Form Templates
Sample Purchase Request Form
Purchase Order Request Form
Capital Purchase Request Form
Project Request Forms
Marketing Project Request Form
Graphic Design Project Request Form
New Project Request Form
For Maintenance Requests
Vehicle Maintenance Request Forms are used whenever someone wishes to have a vehicle fixed. There are a ton of vehicles and all of them have their own uses. The most popular one among them is the car in which people use every single day. Their convenience has allowed us to travel to far locations in the most convenient way possible. However, these vehicles don't last forever and they will eventually break down. When that time comes, the owners of these vehicles may use these forms to make a request from any maintenance crew to properly fix their vehicle. The owners of these vehicles must state what kind of vehicle needs the repairs. They will then have to state the nature of the problem.
Tenant Maintenance Request Forms are utilized whenever a tenant in any kind of building would like to have certain parts of his or her living quarters fixed. Landlords often get these requests because buildings always have a problem or two that pop up every once in a while. These tenants might not understand the cause of the problem and even if they do, they might not know how to fix it. In such a case, they use these forms to make certain that they are able to request aid from the maintenance department from their building. These tenants will have to provide their names, along with the room number they belong to. They will then have to state the issue or issues within their living quarters. These tenants will also be required to place in the preferred date that they would like the maintenance to proceed. This helps the tenant know when they should expect the maintenance service to happen, and it also allows those in charge of the maintenance to see if the date is agreeable to them or not.
For Training Requests
Training Request Forms are often used by employees. There are those people who feel that they don't have the sufficient skills or knowledge to be able to live up to the standards of the company that they work for. Whenever that happens, these employees request from their higher-ups that they would like to undergo further training to improve themselves. These employees must place in the reason as to why they need the training. It will also have to be stated in these forms how the training will benefit the employee and the company. The employee will then have to place in the start and end dates in which the training will take place. This will help management decide whether or not these employees who made the request are given permission to take part in the training. It is also good to list down the expenses that will be made when doing the training. This is so that in the event the request is approved, the company may reimburse the employee for all the necessary expenses made. All that's left is for the employee to place in his name, along with the name of the supervisor, and the position and department that he or she is situated in.
Request For Leave Form Templates
FMLA Request for Leave Form
Military Request for Leave Form
Staff Request for Leave Form
Request for Payment Form Templates
Contractor Request for Payment Form
Medicare Request for Payment Form
Construction Request for Payment Form
Request for Quote Form Template
Printable Request for Quote Form
Generic Request for Quote Form
Request for Training Form
Sample Request for Training Form
Free Request for Training Form
Request for Donation Form Templates
Free Request for Donation Form
Sample Request for Donation Form
Request for Overtime Form
Sample Request for Overtime Form
Request for Overtime Approval Form
Request Form Template in Word
Change Request Form Example
Data Request Form
Project Request Form
Request Form Template in Excel
Blank Office Supply Request Form
Payment Request Form
Purchase Request Form Sample
For Travel Request
Business Travel Request Forms are used whenever an employee in any kind of company wishes to travel for business purposes. Business travels are conducted every single day, but they're only approved if the reason for doing so benefits the company. This is why employees who wish to conduct these business travels can use these forms to make a formal request from their higher-ups. They will have to state their name and position, along with the purpose of the business travel. There could be many reasons why an employee would want to do this. A good example would be that there is a job fair at a certain location which would be the perfect opportunity to find new recruits for the company. Or it could be that there is an important meeting in which the employee can form strong relations with other companies. As long as the reason is valid, the employee's request will most likely be approved. The employee must also state the location of the travel and when he or she will leave and return. If the employee is being accompanied by someone, then it is best to place that person's name in the form. The expenses made for necessities, such as the travel tickets and lodgings, must be placed here so that the company will know just how much of their finances will be used.
For Purchase Requests
Purchase Order Request Forms are the kind that are utilized by just about every business in the event that they need to purchase certain resources. There are a lot of businesses that need certain materials in order for them to provide the public with what they need. When they run out of these materials, they will need to order more. These forms help them do so by allowing these people to make a request as to what they need. It has to be specified in perfect detail as to the type of material that's required. They will also have to put in the right quantity of these resources they will need. The purpose of needing these products must also be stated so that those in charge of approving these requests can see whether or not they're required to perform business-related matters. The expected delivery date must also be placed.
For Donation Requests
Donation Request Forms are used by just about any organization for when they require certain products or materials. These organizations aim to help people who are less fortunate than most, but they cannot do that if they don't have the resources. And most of these organizations are nonprofit, so they opt to ask for donations from others who are willing to do so. They can use these forms to submit to any company or even other organizations who are willing to help their cause. The people they are requesting donations from would want to know who they are donating to, so it's best to place in important details such as the organization's name, contact details, and purpose. Once that's done, these organizations will have to put in the name of their event and the kind of donations that they will need, whether monetary or material.