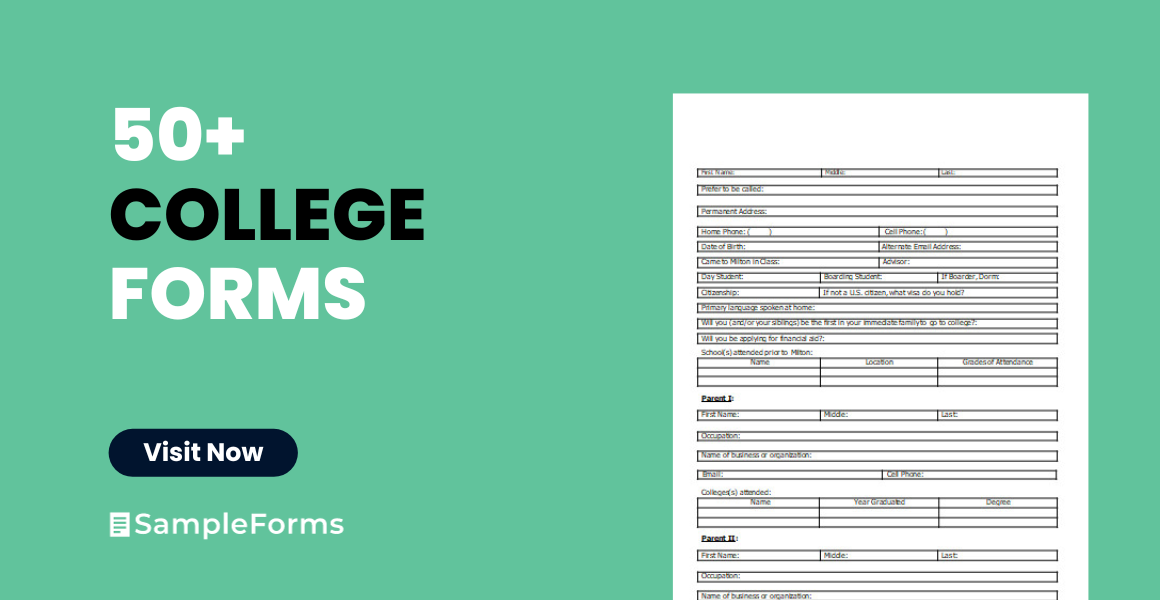 Navigating the world of academia requires familiarity with various college forms, each serving a unique purpose in the educational journey. From applications to financial aid, these documents are pivotal in shaping a student's college experience. Understanding their meaning, recognizing the different types, and knowing how to create them are essential skills for both students and administrators. This guide will illuminate the path through the maze of college forms, offering practical examples and expert tips to master the art of printable form creation and usage.
What is a College Form ? – Definition
A college form is an official document used within academic institutions to capture and process a wide array of information pertinent to students' academic and administrative needs. These fillable forms serve as formal requests or provide essential data for various purposes, such as enrollment, financial aid, housing, and course registration. They are foundational tools that facilitate the efficient operation of college systems and support the educational journey of students.
What is the Meaning of a College Form?
The meaning of a college form extends beyond its physical appearance as a document; it represents a structured method for students to communicate with their educational institution. College forms are integral to academic administration, serving as a conduit for information exchange, requests, and records. They embody the procedural aspect of college life, from admissions and enrollment to graduation, encapsulating the necessary steps students must take to fulfill their academic objectives.
What is the Best Sample College Form?
FREE 50+ College Forms
51. College Budget Request Form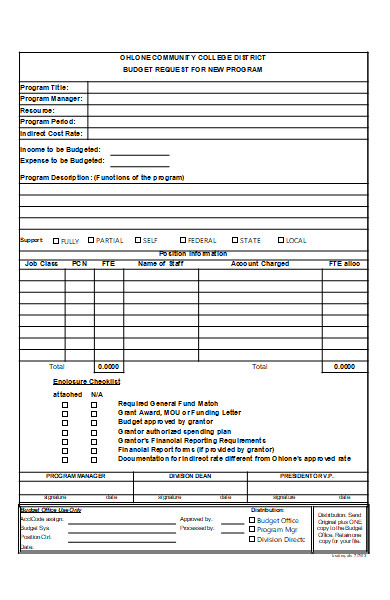 How do I start applying for College?
Applying for college is a significant step in your educational journey. Here's a step-by-step guide to help you start the process:
Step 1: Research and Select Colleges
Begin by researching potential colleges that align with your academic interests and career goals.
Consider factors like location, size, majors offered, campus culture, and financial aid options.
Step 2: Understand the Requirements
Each college will have its own set of application requirements. These can include standardized test scores (SAT or ACT), high school transcripts, essays, and letters of recommendation.
Visit college websites or contact admissions offices to gather this information.
Step 3: Prepare for Standardized Tests
If required, register and prepare for the SAT or ACT exams. Consider taking practice tests and possibly enrolling in test preparation courses.
Step 4: Attend College Fairs and Visits
Take the opportunity to attend college fairs, visit campuses, and meet with admissions representatives to get a feel for the schools.
Step 5: Gather Application Materials
Request your high school transcripts early and ask teachers or mentors for letters of recommendation well in advance of deadlines.
Start drafting your college essays, if required, focusing on topics that highlight your strengths and experiences.
Step 6: Fill Out the Application Forms
Most colleges accept online applications through their own websites or through common application platforms like the Common App.
Carefully fill out the college forms, ensuring all personal and educational information is accurate.
Step 7: Submit Applications
Double-check all materials for completeness and accuracy.
Submit your applications ahead of the deadlines. Keep track of different deadlines for each college, including those for early decision, early action, and regular decision.
Step 8: Apply for Financial Aid
Complete the Free Application for Federal Student Aid (FAFSA) to apply for federal financial aid.
Look into scholarships and grants offered by the colleges, private organizations, or community groups.
Step 9: Follow Up
After submitting your applications, monitor your email and application portals for any communications from the colleges.
Some schools may request additional information or an interview.
Step 10: Make Your Decision
Once you receive your acceptance letters and financial aid offers, compare your options.
Consider all factors important to you and make an informed decision by the deadline given by the colleges.
Starting early, staying organized, and being thorough with each step can make the sample college application form in pdf process manageable and successful.
How to make an admission form?