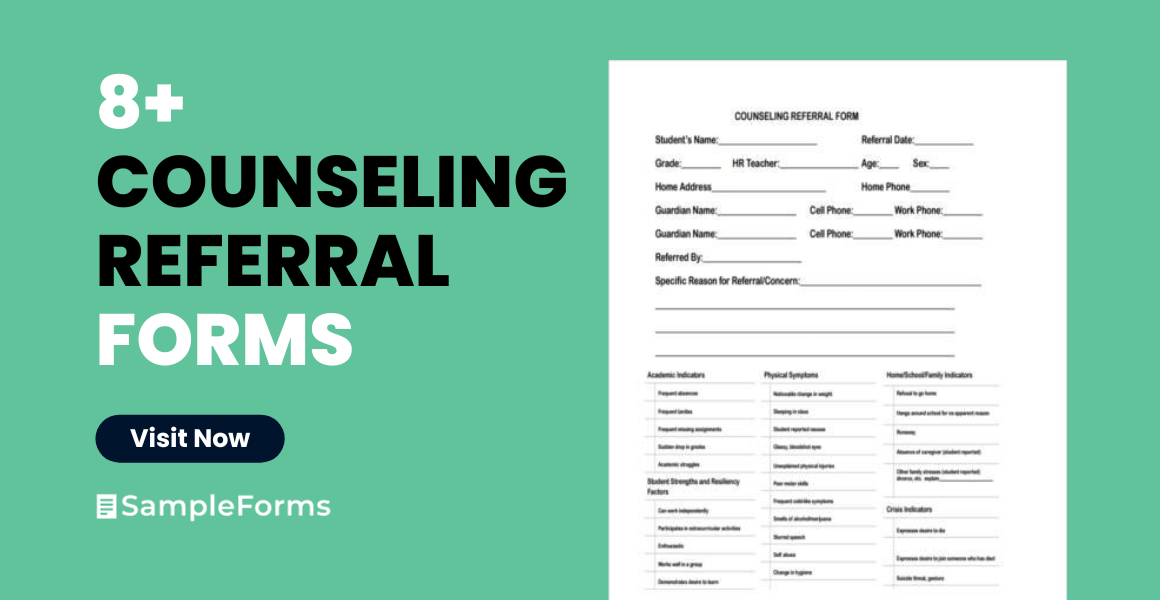 Counseling is the provision of assistance and guidance in resolving personal, social, or psychological problems and difficulties, especially by a professional. There are some people who are experiencing problems that could be affecting the way they interact with others, education, or performance at work. That's why it's also the job of others to refer these people for counseling if they truly need it.
However, before these people can even be referred for any kind of counseling sessions, they need to make sure that these referrals are official first. You wouldn't want someone to just suddenly whisk you off to a session without your consent or agreement, especially if it's not official.
So to help out with this, there are Counseling Referral Forms.
School Counseling Referral Form
Group Counseling Referral Form
Counseling Services Referral Form Example
College Counseling Referral Form
Counseling Self-Referral Form
The Different Types of Counseling Referral Forms
There are lots of these types of forms that just about anyone can use when they see that a person, such as a coworker, is long overdue for a counseling session. Here are some examples of these types of forms.
School Counseling Referral Forms are the kind of forms that are utilized by any school when they feel the need to counsel one of their students that seem to have problems with their education, or other issues that are affecting how they perform in school.
Counseling Referral Evaluation Forms are forms that are used by those who have been referred to these sessions by properly evaluating how they went and things that can be improved upon. These include how well the counselor is able to handle their duties such as the advice they give, along with the duration of the session, and if it was helpful or not.
College Counseling Referral Forms are mainly used by colleges if they have students that are in serious need of any form of counseling due to unruly behavior or performing poorly in their studies.
Counseling Referral Form in PDF
Counseling Center Referral Form
Counseling Teacher Referral Form
Counseling Referral Form in Word Format
The Importance of Counseling Referral Forms
The reason for having forms such as General Counseling Referral Forms is because it's the job of every employee to make sure that the performance of their coworkers are not affected due to any kind of issues. This is to make sure that the problems of that person or employee are addressed and that they're given the help that they require.
These can be very beneficial to companies as there may be some employees that might be under performing for unknown reasons. If a company manager notices this, then they may use these referral forms to make certain that the employee is referred to a counselor that could very well fix his problem and bring back the quality of performance that was lost.
It's not just important to businesses, but these can be used by just about anyone with problems that could seriously affect their performance with anything. It could be a student that's having issues in school due to a personal problem, or it could be someone that just needs help in adjusting in life. Either way, in the event that you see someone that's in dire need of a counseling session, then make sure that you use these forms to help them out.