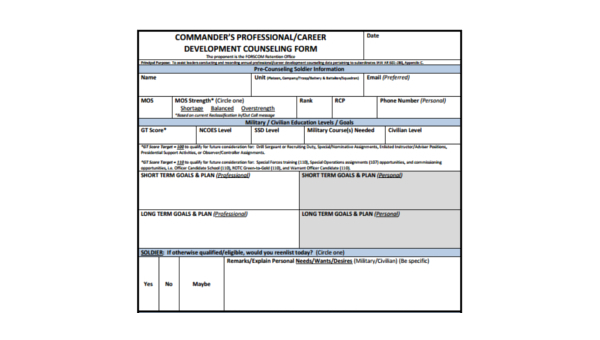 Developmental Counseling is for the use of understanding and helping out anyone in need. It is based on theories of individual uniqueness, human growth and development, family and environmental systems, wellness, multicultural awareness, counseling and therapy, and change. Basically these are used to make sure that people are helped out with any problems they encounter that could possibly stunt their development and progress. This is why there are a ton of establishments that hold sessions to make sure that these people get the necessary counseling to improve themselves.
However, before certain companies or professionals can even conduct these sessions, they need to make sure that such sessions are official first. They'll need the person's consent, along with other requirements, before they can hold these meetings. This is why there are forms such as Army Development Counseling Forms to help them out.
Sample Army Developmental Counseling Form
Officer Developmental Counseling Form Example
Developmental Counseling Continuation Form
Blank Developmental Counseling Form in PDF
Military Developmental Counseling Form
Military Developmental Counseling Form
The Different Kinds of Development Counseling Forms
There are tons of these kinds of forms, such as Employee Development Counseling Statement Forms, that just about any person or company can use when they need to make sure that their employees or coworkers get the counseling that they need. Here are some examples of these types of forms:
Army Developmental Counseling Forms are the kind of forms that are utilized by those military establishments that need to properly develop their soldiers by holding these meetings. These make sure that these men understand what they have to do and help them become better soldiers that can defend the country from any and all threats.
Officer Developmental Counseling Forms are mainly for the purpose of having sessions with those who have taken up the career path as an officer. The job of an officer is to uphold the law and to make sure that others abide by it as well. These sessions help make sure that these officers develop enough to the point where they'll be able to do all that without question.
Career Developmental Counseling Forms are for use when people need to understand how they can properly progress and develop in their career. These forms are extremely useful for any type of career as it allows them to see what they can do to make sure that they're successful in the career path they've chosen.
New Developmental Counseling Form
Soldier Developmental Counseling Form
Career Developmental Counseling Form
Developmental Counseling Regulation Form
The Importance of These Developmental Counseling Forms
When there are companies that conduct interviews, they need to check if that person has any problems or not. If stated in these Interview Evaluation Forms that an applicant has all the potential to become a valuable asset to the company but has certain areas that they'll need to work on, then that's when developmental counseling can come in handy. This is why these kinds of forms are very helpful in making sure that these people get the help that they need.
These counseling meetings give these people a chance to understand what their problems are, and the people conducting the session may be able to help by giving the proper advice so that the counseled individual can further improve themselves.
It doesn't matter who you are, these sessions can be really useful in guaranteeing someone getting the kind of advice they want to hear, just so they can get back on their feet  and do more than what they initially thought they could do.
So if you plan on helping anyone with their development, no matter what it's for, then these forms can be of great help. Who knows? You might just be helping out a future manager of a successful business firm or someone else who could end up being really important.