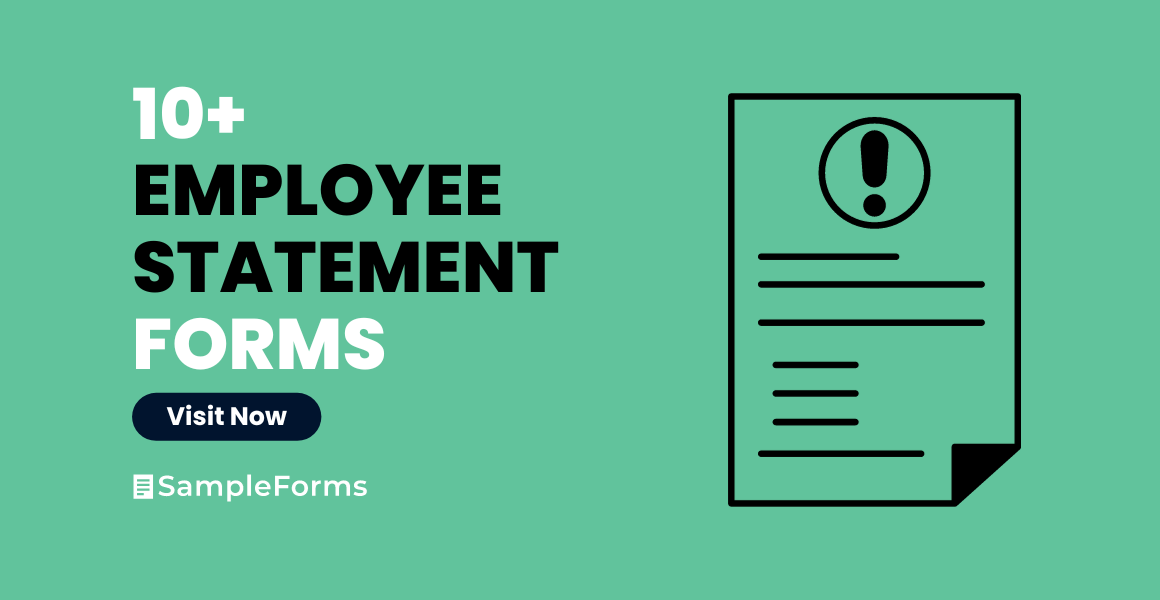 Statements can be used in different legal, official, professional and/or formal undertakings. Forms with statements of individuals may include reports, confidential information, facts, and views. Hence, these are really important for employees who have witnessed something that could very well affect them or their performance, or if certain authorities want to make sure that the information an employee gave out was indeed factual and not falsified.
Statements can really help employees out. However, before they can proceed, they'll need to have the proper forms that will help them do so.
So before an employee can issue an official statement, he or she will need Employee Statement Forms. Feel free to browse examples of such forms below.
Employee Witness Statement Form
Employee Accident Report Statement Form
Employee Injury Statement Form
Employee Statement Form in PDF
Employee Income Statement Form
The Different Types of Employee Statement Forms
There are various types of Employee Statement Forms that these employees can use to make sure that the information they have is properly documented and kept on official record. Here are some examples of these types of forms:
Employee Witness Statement Forms are the kinds of forms that are used by those employees who have witnessed any form of incident. These are used to make an official record of the information the employee gave about anything that's related to the incident.
Employee Travel Expense Statement Forms are for those companies that need to know the travel expenses incurred by a certain employee. These employees may have been authorized by the company to go on a business trip, and these forms help keep records of what the employee may have spent on.
Employee Income Statement Forms are used by companies when they need to get an official statement of how much income an employee makes to make sure that they're getting paid appropriately.
Employee Accident Statement Forms are for employees who either witnessed or were involved in an accident and would like to give any information regarding such.
Employee Travel Expense Statement Form
Employee Statement Form Example
Employee Incident Statement Form
Employee Confidentiality Statement Form
Employee Accident Statement Form in Word Format
Employee Expenses Statement Form
The Importance of Having Employee Statements
Employee Statements can really help employees out whenever they need to give companies information on certain matters. For example, let's say that an employee needs an advance on his or her salary due to financial problems. The company will need to know if that is indeed true, so they take a look at the employee's Financial Statement Forms, and if indeed the employee does have financial problems, then the company may be able to grant him the advance.
These also help companies out whenever there are problems that involve actions that come from the employees themselves. It could be that there was an office incident involving a number of employees. Each of them will need to give their official statements and the company will deduce the facts before taking the appropriate action.