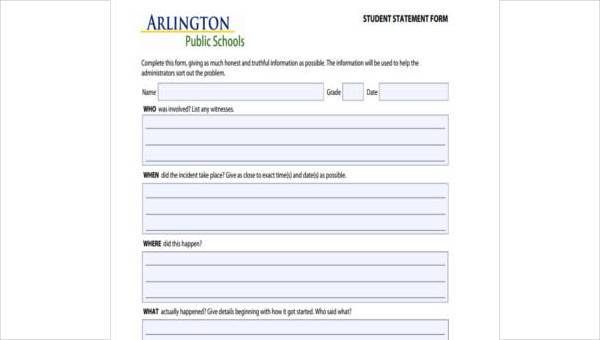 Statements are an official account of facts, views, or plans, especially for the purpose of release to the media. In this case, student statements can be very important pieces of information for the school. Students need to make sure that each and every bit of information they have is heard and made out in clear and understandable writing.
So how would these students be able to do that? How would they be able to voice out their side of whatever issues or concerns they're involved with?
With the help of Student Statement Forms, they'll be able to do so.
Student Discipline Statement Form
Student Official Statement Form
Student Statement Form in PDF
Student Financial Statement Form
Student Witness Statement Form
The Different Types of Student Statement Forms
There are various types of these forms that a student can use to make sure that they have an official account of the facts and views of whatever situation they were involved in or witnessed. Here are some examples of these types of forms:
Student Witness Statement Forms are the kind of forms that are used by students to make official statements as witnesses of any form of accident or incident that happened to a student or teacher within campus.
Student Financial Statement Forms are forms for schools to make sure that they keep an official record of the students' financial statuses and if these are either worrisome or not.
Student Personal Statement Forms are used by students to give out statements that contain their personal information, such as their capacity to study, their motivation for studying, their personality, and so much more.
Student Incident Statement Forms are used by students to give out the important details and facts of any form of incident that happened within the confines of the school.
Student Statement Form Example
Student Incident Statement Form
Student Disciplinary Statement Form Example
Student Personal Statement Form in Word Format
The Importance of Having Statements from Students
There's a reason why these statements are made in the first place: to make sure that the students give out important facts and details that the school needs. For example, let's say that a school needs to learn of the financial status of the student to see if they're still able to pay for the school's services or not. The student is then handed Financial Statement Forms for him and his parents to sign and fill out. After the student hands these back, the school can then properly evaluate the financial status of the student and take the necessary actions.
These are also really important for when the student witnesses any form of suspicious activity that could affect the school. These will give the school all the important details and help them out in solving these problems.