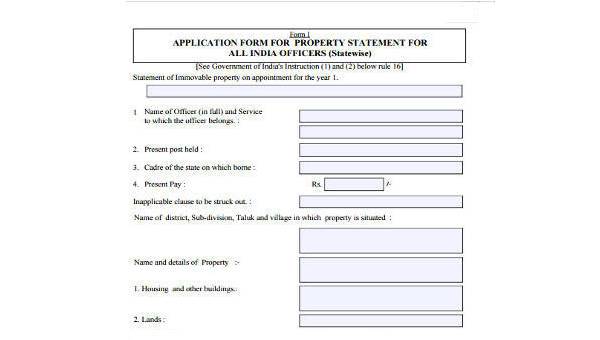 People are made to acquire things that will help them live a sustainable life. The relationship between an individual or any entity to an object gives them a bundle of rights over the object. It also obliges the owner to defend and protect such acquisition from other people's interests.
Property Statement Forms are tools for an individual or group to acquire a title or right of ownership that establishes their possession of and connection to a property. These also give them the right to develop or to dispose of the property as they see fit.
Business Property Statement Form
Personal Property Statement Form
Property Condition Disclosure Statement Form Example
Application Form for Property Statement
Property Loss Statement Form
Types of Properties
Real Property
Refers to the combination of land and any development made to or on the land. Popularly called real estate, realty, or immovable property; this includes residences, buildings, water systems, roads, mines, among other things.
Personal Property
Possessions belonging to a person are considered personal properties. They are movable, which is in contrast to real properties. Examples are tangible acquisitions such as furniture and jewelry, as well as intangible possessions like stocks and bonds.
Private Property
This is a property owned by legal persons, business entities, or individual natural persons. Most of these properties are taxable, so they are the ones who use Financial Statement Forms the most.
Public Property
Possessions owned by the state and available publicly are known as public property. They are dedicated to public use as they are collectively owned by the population of a state. Their interest and purpose are vested in the betterment of the society.
Intellectual Property
Exclusive rights are given to owners of intellectual properties such as artistic creations, inventions, discoveries, etc. These rights include trademarks, copyright, patents, industrial design rights, as well as trade secrets.
Property Condition Disclosure Statement Form
Immovable Property Return Form
Property Statement Form Example
Seller's Property Disclosure Statement Form
Immovable Property Return Form  in Word Format
A Property Statement's Purpose
Legal Ownership
Most of the time, a property does not only gain interest from a single person or organization. To establish the right to ownership of a certain property, a statement is essential.
Assessment
The cost, type, and the year a property is acquired are stated for the purpose of assessment. When owners want to sell their possessions, prices can be determined through appraisal forms or Income Statement Forms for businesses.
Protection
Some properties jointly belong to more than one party, and a dominant party usually has more rights than others. To protect these rights, a statement that indicates each part of ownership should be placed.
Taxation
Tax revenue is the lifeblood of any community, so it is just right for a citizen who owns valuable property to share their income to society. A property statement determines the levy owners should pay.