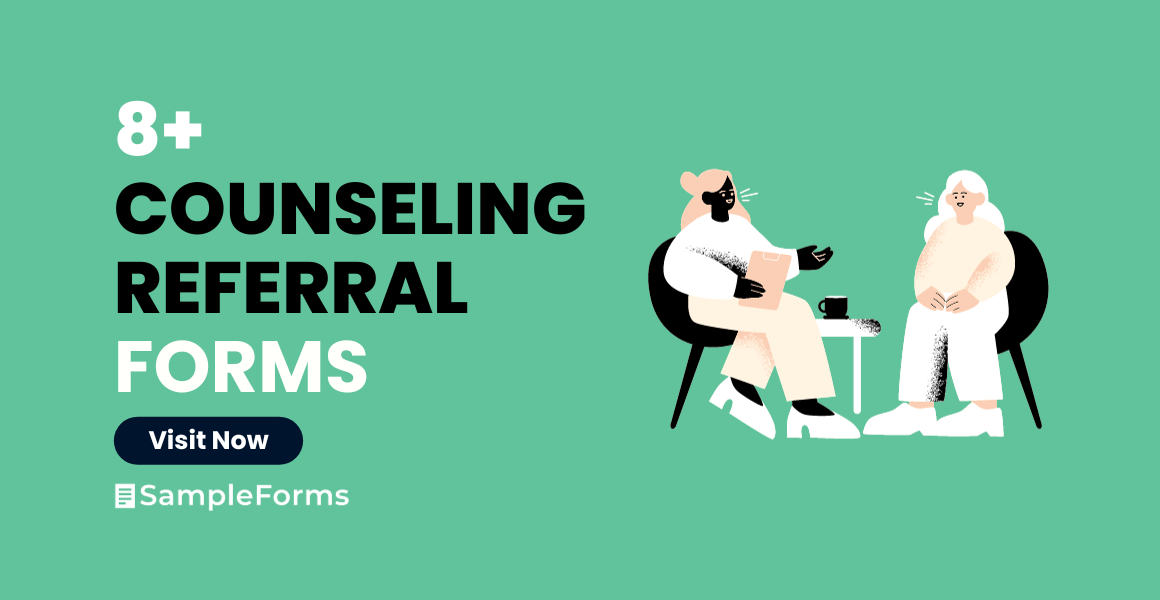 Stressing out with a lot of work to do and deadlines to meet might be an employee's concern. Others might also have some trouble with dealing with colleagues and superiors. That is why some members of the Human Resource Department in offices might end up referring someone for an Employee Communications Counseling.
Counseling is highly needed as some may not notice how much their mental health has been affected by circumstances. An example of those who need it most are members of the military. Before any soldier comes home to his family after being sent to war, they need to fill up an Army Counseling Form to know how much the war has affected them mentally and emotionally.
School Referral Form
Nutrition Counseling Referral
Health Counseling Referral
Group Counseling Referral in PDF
When to Make a Referral for Counseling?
Aside from intentional purposes of counseling such as when a student needs to file an Entrance Counseling Form to avail of student loans, there are many other times a referral for counseling might be needed:
When seeking for further help. Although known as experts in the field of counseling, some counselors might see that the client requires additional help which is beyond their capacity.
When there's need for a specialist. Some individuals might not realize that they may already require medical health concerning their mental capability.
When Actions speak. When some individuals might be harming themselves or doing things that concern their productivity.
How to Get Counseling Referrals?
As a counselor, here are some things you can do to get more of these referrals:
ASK. It's not pitiful to ask for referrals. This only shows that you wish to extend more help which is why asking for referrals can be very effective.
DEAL. Most counseling may be required by insurance companies. Try tapping them.
REVIEW. Keep records of your previous Developmental Counseling Forms and review it once in a while, call your clients for a follow-up and show them that you are really concerned about their progress.
College Referral Form
Self Referral
Center Referral Form
Counseling Teacher Referral
Personal Referral
What is Referral in Guidance and Counseling?
A referral in guidance and counseling means that an individual, who needs mental and emotional help, is referred to an expert for his services. This means that the individual may need to be guided of what must be done so he would feel a bit better and be more productive in his daily activities.  This, however, does not mean all referrals need help. Others such as those who need to apply for a loan or those who wish to know which paths to take in life through filling up a career counseling form may also get these referrals for counseling.
How to Write a Counseling Referral?
Writing a counseling referral may concern the individual who is subjected for the counseling services. It's not like you will be filling out School Counseling Forms where you only need to record and assess whatever your student has shared. Here are steps to make writing a counseling referral more considerable to the individual involved:
Approach the client. Before anything else, approach your client and explain why he needs to be referred to another counselor or for whatever services may help his welfare.
Anticipate. Have at least an idea of what the client may think of and ask after knowing that he is being referred to a specific counseling service and give him answers.
Explain. Explain the purpose of the referral. Basically, you need to make sure you include some history or background of the individual.