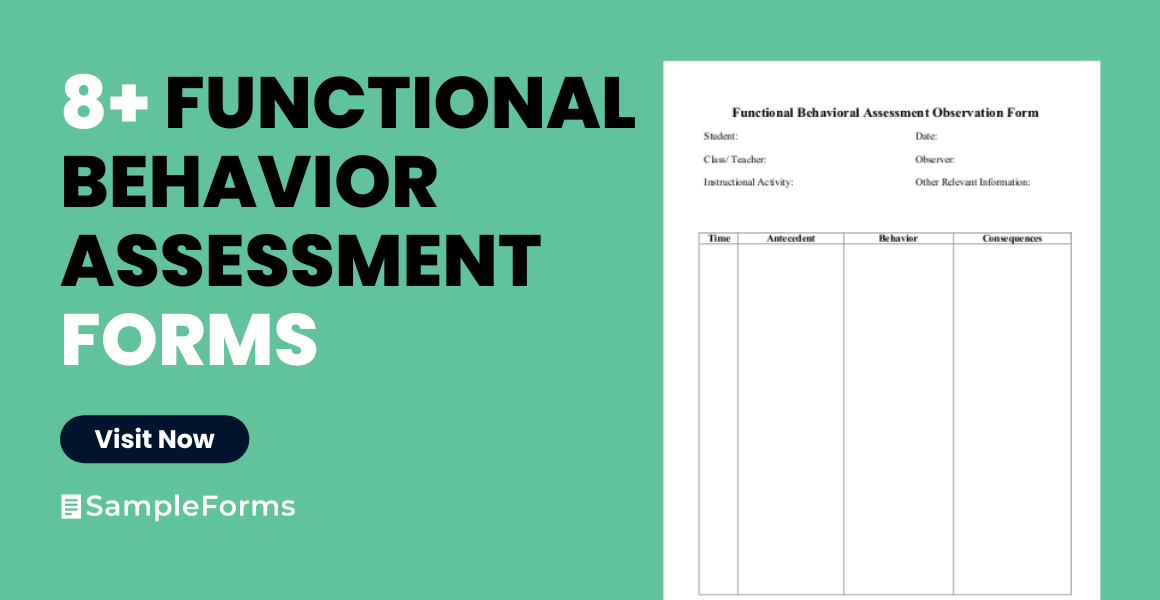 Assessment Forms are useful for a variety of purposes where the key objective is to analyze and improve a certain behavior. Naturally, one place this could have the most use is in educational institutions. Teachers and other administrative authorities can perform functional behavior assessments on problem students to formally identify and articulate which behaviors are maladaptive and must be changed.
If you're not sure how to go about assessing behavior in the classroom, this list is a great place to start. Here are a variety of layouts and samples for behavioral assessment, available as free templates you can download as PDF or Word doc files.
Functional Behavior Assessment Observation Form
Sample Functional Behavior Assessment Interview Form
Functional Behavior Assessment Consent Form in PDF
Functional Behavioral Assessment Screening Form
Functional Behavioral Assessment Model Form
Why Functional Behavior Assessment?
This kind of assessment is also called "positive behavior support" and is a part of behavior modification for behavior management tactics. Basically, analyzing for problems and planning for disciplinary action.
Creating a formal document for such corrective measures is standard procedure for tracking the improvement or worsening of a student's behavior.
How to Employ Functional Behavior Assessment
Weigh the strengths as well as the weaknesses of the student in order to get a fuller picture of the individual situation.
Identify and record the student's routines by means of interview or observation. Pinpoint when and where such problem behaviors are most likely to occur, and in whose company. This will give you context of the problem and help you predict when this behavior is likely to reoccur.
Define the problematic behavior(s) as precisely as possible. Describe the behavior, its frequency, its average duration, and the level of danger this may pose to others. This will lock down your target behavior.
Identify the efforts of correction that are already in place and have failed or only partially succeeded.
From the above information, summarize the situation and propose a plan of action to respond to this behavior in future. This would include strategies to limit or prevent its re-occurrence.
There are some great resources on sampleforms.com for a variety of assessment templates that you might find useful for other scenarios:
Functional Behavior Assessment Form Autism
Waiver Functional Behavior Assessment Form Example
Protocol Functional Behavior Assessment Form
Functional Behavioral Assessment Support Form
More Resources
Every other area of our lives could benefit from assessment. Check out our Sample Insurance Assessment Forms for even more examples of assessment forms to help guide you in screening your others affairs for management and success.